--Remind me to thank the NHL for scheduling the Flyers eight times this season.
--Erik Christensen: one of the most subdued goal celebrations of all time in the second period.
--The Georges Laraque fight watch is at three games and counting. You may be waiting a while, as opponents are in no hurry to challenge "BGL".
--If Laraque isn't stirring the pot to your liking yet, focus your eyes on one Gary Roberts.
--Does anyone know what planet Brett Hull resides on? Follow his argument during the intermission of the Pens-Flyers game on NBC on Sunday: if a team trades a pending free agent at the trade deadline, they shouldn't be allowed to sign him next year. Think the Penguins trading Mark Recchi to Carolina last year, then the Pens' subsequent re-signing of Recchi for this season.
No, I didn't understand his point, either.
--For the
third straight year,
Pitt winds down their regular season on a low note with a second loss to Marquette. In front of a national audience, Levance Fields completely lost his shooting stroke, going just 2-for-13 from the floor, including 1-of-8 from three-point land. If just a few more of those shots fall, with just a four-point defecit...
--Aaron Gray turned in a solid 18/13 effort in his last regular season game as a Panther. The Grayzilla finished with 14.4 points and 10.1 rebounds per game for the season...very similar to his 13.9/10.5 marks of a year ago. Looking back, I think we can agree that Gray had a solid season. But worthy of Preseason Big East Player of the Year? Let's not get carried away. (By the way, Gray's draft stock has fallen to #24, according to
nbadraft.net
).
--Anyone else catch that icy "handshake" between Jamie Dixon and Tom Crean after the game?
--After spending much of the year in the driver's seat, Pitt now falls all the way to third in the Big East with the loss. They'll most likely play Marquette in the first round of the tournament, as long the Sons of Dwyane Wade can get past 11-seed St. John's. Check out
Pitt Blather
for the complete Big East bracket.
--The NFL free agent period fascinated me:
-I think the Denver Broncos made an offer on every single player available. McGahee. Lewis. Henry. Kerney. Buckhalter. Graham. Geez, they're even bringing in Brad Johnson for a visit.
-The Texans gave $23 million to 30-year-old Ahman Green a year after turning their nose at Reggie Bush. There's a reason why they're the Texans.
-Tampa Bay now has three veteran QBs who've never won anything after picking up Jeff Garcia and Jake Plummer.
-Good call by all of the "experts" saying Garcia would sign with Denver to "mentor" Jay Cutler. I have news for you: Jeff Garcia is mentor to no one except
Carmella Decesare
.
-The Browns gave $49 million to former Bengal Eric Steinbach. Expect him to suffer a career-ending injury on the first day of minicamp.
-Joey Porter's name has been linked to Cleveland and Cincinnati. Words can't even begin to describe the fun either one of those possibilities would bring twice a year.
-Throughout the entire weekend, I never heard the words "Steelers" and "bringing in a free agent for a visit" uttered once.
--
Duke loses again
, this time giving a bloody nose to an enraged Tyler Hansbrough in the process. I see where the "Psycho T" nickname comes from.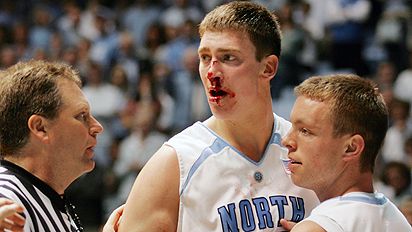 --You have to check out Idiocracy with Luke Wilson on DVD. Best comedy I've seen in a long, long time. It was written by Mike (Beavis and Butthead, Office Space) Judge. There are plenty of conspiracy theories regarding its release, most notably the anti-corporate theme throughout the film.
I recommend Idiocracy almost as much as a certain DVD that hits on Tuesday:
--Try and catch Andrew Dice Clay: Dice Undisputed on VH1. It looks like I've found the show to fit my "one reality show at a time" quota. I was never a Dice fan, but I heard him on Stern last week and was immediately hooked. Looks like a keeper.