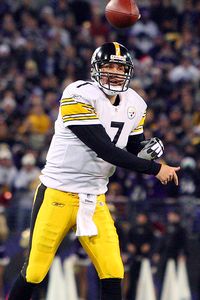 --Everyone's emailing me this link about James Walker
proclaiming Ben Roethlisberger's superiority over Eli Manning
, and really, it's just common sense. I mean, who's really debating about this topic at this point in time (
other than Matt Mosley
)? It's like having a discussion about whether or not the Pirates will win the World Series this year: it's an argument that takes about two seconds to close the book on. [ESPN AFC North Blog]
--Stan Savran has
re-signed with FSN Pittsburgh
as the primary host for Pirate and Penguin pre-game shows, the Mike Tomlin press conferences, and the Mike Tomlin Show. Sportsbeat, however, will end its 18-year run tonight. [Bob Smizik Blog]
--Jamie Dixon's under-19 team
captured gold at the FIBA World Championships,
ending an 18-year drought of gold medals for the U.S. with an 88-80 win over Greece. Pitt's Ashton Gibbs scored 13 in the final. [PG]
--Could a Freddy Sanchez-to-the-Giants deal
include Zach Duke
? Sure! Why not throw in Alvarez and McCutchen for good measure? [MLB Trade Rumors]
--Justin Hartwig has
broken one of his toes when he dropped something on it.
But what did he drop that would've caused a break? An anvil? A Super Bowl trophy? [Behind the Steel Curtain]
--Bloated comedian and noted Joe Buck-basher Artie Lange got a DUI over the break from taping the Howard Stern Show, but fear not: he says
he's innocent
. [TMZ]
--And finally, from

A.J

.:

"Click this link

, then be prepared to waste at least an hour."

Email: Mondesishouse@gmail.com

Twitter

:

twitter.com/mondesishouse

Facebook

:

Facebook Group