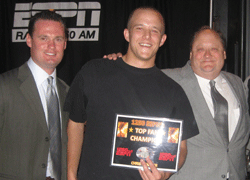 Last year, North Hills resident Chris Mueller captured the title of ESPN 1250 "Top Fan", winning their
American Idol
-style talent search in front of a panel that included Beano Cook, Mayor Steelerstahl, and Mike Logan. Shortly after his victory,
I
caught up with him for a brief interview
, and Pittsburgh learned a little more about their newest sports talk radio personality.
With 1250's Top Fan contest in full swing again this summer, I thought it would be a good idea to catch up with Chris and see how things panned out after his victory last year. And don't forget, more qualifiers for this year's contest are
being held this week,
so don't miss your chance!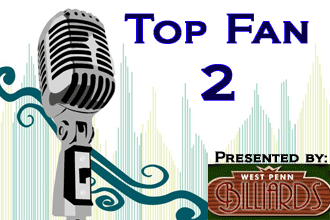 Mondesi's House: The last time we spoke, you were busy gaining fame and notoriety as ESPN 1250's inaugural Top Fan. With your victory came the promise of a gig at the station, and even better, $500 in free dry cleaning. So tell us a little about how the year played out...and please, feel free to update us on the status of your remaining balance with the dry cleaners.
Chris Mueller
: To be honest, I was kind of in a daze for a week or two after winning, seeing as I'd always wanted to do some kind of sports broadcasting as a career. I did a few quick appearances on the air, and went to training camp to watch and report on the proceedings, so that was fun. Once training camp was over, I started co-hosting
Gamenight
one night a week, usually with Ken Laird, and after about five months, the training wheels came completely off and I started solo hosting shows, which is comparable to Bubbles the Chimp being being given command of the International Space Station, but it got easier and more comfortable as time went on, and there was a lot of positive feedback from callers, which I really appreciated. Plus, being on the air with guys I grew up listening to was and still is a blast when I take a step back and think about it.
Oh, and as for the dry cleaning, I must confess I never had a use for it, though if you saw my get-up at the competitions, that comes as no surprise.
MH: During your first year at 1250, were there any memorable interactions with athletes, celebrities, or co-workers that you could share with us? Any moments where you stepped back and were a bit awestruck about your new job?
CM:
The easy answer is that there were tons of them. This might get my Yinzer license revoked, but this past summer was the first time I'd ever been to training camp, so seeing the guys I was used to cheering for up close was really cool and definitely a "fan" moment. Like I said earlier, sitting on the air with Stan and Guy for any length of time was kind of a surreal experience. One of the hardest things about the job was trying to make sure that I was still bringing good takes and opinions to any show and not just responding with, "Stan, Guy, love the show." Plus, any time I heard Scott Paulsen say, "Next up, it's Gamenight with Chris Mueller," I had to chuckle in disbelief, even months into the gig. I was also fortunate enough to get a chance to represent the station on an "Aircheck" segment on ESPNEWS in April. Even though I was nervous as all hell (and it showed, at first), that was far and away the coolest thing I've ever done. Oh, and getting asked to do an interview on this very site was pretty surreal and just about as cool as winning the contest. (Checks nose for traces of brown)
I will say this about every person at 1250 from the talent on down, they were welcoming and friendly from moment one, and really made me feel like I'd been working there for years. Eddy Crow in particular was especially supportive and friendly from the second the competition ended, and when he started making cruel jokes about me and coming up with derogatory nicknames, I knew I'd be alright. Joe DeStio was also really helpful when I started doing solo shows, as he dealt with my ridiculous nervousness and chatter in the hour or so leading up to the start of the show, and always had a fact or a point of view that made the shows much better. Plus, I feel like I learned several good habits from Ken Laird, and observing the way he prepared for a show and structured it on the fly was a huge plus early on.
To get back to the first part of the question, the most awestruck I was by any celebrity was definitely Roy Jones Jr. I had a one-on-one interview with him before he fought Joe Calzaghe and the thought occurred to me that at one point, he was arguably one of the 10 or 15 most famous athletes in the world, so that was a big thrill.
Sorry for writing a book there, but there really have been too many great experiences to count, and whoever wins this year's contest has plenty to look forward to. Still, that was long winded, so as Mitch Hedberg would say, I'll fix that answer next time by taking out all the words, and replacing them with new ones.
MH: This year's Top Fan contest is already underway. Any first impressions of the contestants? Any advice you could share with them?
CM:
I honestly haven't heard any of the contestants thus far, but that will change pretty soon. The best advice I can think of is to be funny, relevant, self-deprecating and engaging. That advice is more geared to helping if they make it to the round of 10 or the finals, but it really holds true even for the preliminary rounds. In the preliminary round, just make sure you pick a topic you can really rant on for a long time, cut it to two minutes, and when there's thirty seconds left, start recapping and wrapping it up. If the Pirates are one of the topics, I'd suggest talking about them.
MH: With one year of professional broadcasting in the books, what's the future hold for Chris Mueller?
CM:
Currently I'm waiting on an offer from a radio station in State College to do a morning show. It's a Kiss-FM type of station, so that would be a departure from what I'm used to, but I'd be co-hosting the show with a good friend from Penn State who previously worked on a large, nationally syndicated show out of Washington D.C.
Obviously, I'm hoping that situation works out, because it would be a great way to get practice and hone the craft five days a week. If it works out, I'm hoping we can package ourselves as a show and move up relatively quickly to a bigger market, as we both have experience in decent-sized cities. He's got a sports background as well, so I think we'd be a pretty versatile team.
Assuming that everything in State College comes to fruition, I'd also like to do some fill-in work for 1250 on the weekends and maintain some kind of presence in the Pittsburgh sports media for the foreseeable future. I have talked to some of the higher-ups at 1250 about this, and amazingly they didn't run screaming for the hills at my suggestion.
So, in the interest of maintaining some presence here and in the interest of shameless plugs, I'm hoping some of your loyal readership might meander over to my blog,
Mueller's Musings,
which has been on hiatus for two and a half months, due to me searching for a radio gig with most of my free time. I am in the process of re-launching it, and I promise that it'll be more thoughtful and funny than a Bob Smizik blog post at least 12% of the time.
And now, a few questions on the Pittsburgh sports scene and beyond:
MH: Nice little hockey season we just witnessed. But as Pittsburghers, we're already planning the 2010 parade route. What do you think about Ray Shero's initial moves, post-Cup?
CM:
I don't mind seeing Hal Gill go, for one thing. I liked him, and he was a great playoff defenseman, but he's replaceable. Rob Scuderi's departure, inevitable as it seemed, hurts a little more. He had matured into the main shutdown guy for this team, and obviously his plays at the end of Game 6 might just have been the biggest plays made by anyone for any team this past season. That said, Scuderi isn't worth the money he got from L.A. He's a good but not great defenseman who cashed in because winning raises anyone's profile. I'll miss him, and I'll cheer for him, but Jay McKee ought to be a more than adequate replacement, for a fraction of the cost. Oh, and don't forget about Ben Lovejoy, either.
Shero's best moves so far have been re-signing Guerin and Fedotenko, for discounts, no less. Guerin is the perfect lieutenant for Sid the Kid, and Fedotenko played solid hockey even when he wasn't making it onto the scoresheet. Both guys took less than they could have gotten, and both figure to make a solid impact on the club next year. Winning the Cup is nice, isn't it?
MH: What does your crystal ball forecast for our other championship team? Another Super Bowl run, or 2006 all over again?
CM:
If another hero like Bernard Pollard turns Tom Brady's knee into an avant-garde art project again this year, then the road is paved for a repeat. The Steelers can certainly beat the Pats with Brady, but it'll be a hell of a lot more difficult. The reason I'm only mentioning these two teams is because they should be the class of the AFC. The Colts might threaten, but I don't think the Steelers have lost enough important pieces to see them playing any role but title contender next year. The reason 2006 happened was because the team had won its first Super Bowl in over 20 years, and it was known that Bill Cowher was seriously thinking about retirement. That bred complacency, which led to all the losing. Well, complacency and the franchise player losing a headbutt fight with a Chrysler. This team won't be complacent under Mike Tomlin, and Ben Roethlisberger won't be on a motorcycle anytime soon. I say 12-4, and a repeat. Why not?
MH: Let's venture into college sports for a moment. Do you see the Pitt Panthers improving upon their nine-win total of a year ago, or taking a step back with the losses of players like LeSean McCoy and Scott McKillop?
CM:
They won't win 9 games unless the defense does a Steel Curtain impersonation. Watching Pitt games in-person made their reliance on Shady McCoy even more glaring than it was on TV. They'll have a great D, even without McKillop, and their receiving corps should be solid, but who's going to throw them the ball? Bill Stull? Pat Bostick? Those two don't exactly bring to mind Montana and Young under center. If one of the two QB's really plays well, they might get to 9 or even 10, but 8 sounds a lot more realistic to me.
MH: What did you think of the Sam Young/Dejuan Blair free-fall in the 2009 NBA Draft? Do you think their respective situations will actually work out well for them?
CM:
This will sound like a homeriffic rant, but they both got shafted big time. I won't go into the litany of players that went before them, but man, what were some of these GM's thinking? Tyler Hansbrough? Really? I saw highlights of Blair in a summer league game today, and yes, that's not the greatest barometer for future success, but he looked trim, and he was doing the exact same thing he did in college; gobble up rebounds, and post a double-double. 13 and 10, to be exact. You're going to tell me he won't contribute more than a guy like Hansbrough or some project from overseas? To me, that's mind-boggling. He won't be an All-Star, but I'll bet he's either starting for the Spurs or in the top 8 of their rotation this year, and if he develops a 15-footer, the guy could put up 15 a game. Blair is proof that the Spurs know something the rest of the league doesn't, and that's why they win championships. I'm happy he went somewhere where he'll likely have a long, productive career.
Young is another guy that just got killed by stupid GM's drafting on potential. He can score 16 to 18 a night right now in the league, and the rest of his game isn't as unpolished as it might appear. He can guard the 2 or the 3, even the 4 in a pinch, he's got a mid-range game (Rip Hamilton Lite) and he's more mature, both in age and mentality, than just about everyone in the draft. Now, the fact that he's playing for the Grizzlies sucks for him, but hopefully he can put up nice numbers there and then get out ASAP.
Bottom line is, at least 5 or 6 of the guys picked ahead of Blair and Young, if not more, won't be in the NBA in 3 years. I'm betting both of them will be playing important roles for their respective teams well before that. The guy I feel worst for is Jamie Dixon, because it would have been nice for him to be able to say that the Panthers had two first-round picks, like they should have, but Blair and Young's freefall does nothing, at least for now, to erase the perception that Pitt produces nice college players, but not good pro prospects.
MH: Quick hitters, beyond our Pittsburgh bubble:
A. Who's the starting QB for the Minnesota Vikings in Week one?
God, I hope not Brett Favre. I think I speak for everyone with a functioning frontal lobe when I say STAY HOME AND CUT YOUR GRASS. He's like the Paris Hilton of sports. It'll probably be Tarvaris Jackson, though, and I'll laugh and laugh and laugh because I don't think I've ever actually seen him complete a pass. For a wild card, why don't we go with Vince Young, via a blockbuster trade.
B. How many home runs does Albert Pujols finish with this season? (He has 32 though 90 games)
If he got to play every game against the Pirates, 131. Since he doesn't, I'll go with a reasonable number like 59. Mark my words though, if he breaks Roger Maris' record, there will be whispers that he's a cheater too. No one's safe in today's game.
C. You're starting an NHL franchise. You've got the #1 pick. Who are you taking?
Taking into account age, it's gotta be Crosby, even though I think Malkin is going to end up having the better career, numbers-wise. If the goal is to win games, it's Crosby. If the goal is to sell tickets, it's Ovechkin. If the goal is to never ever win a championship for as long as the player is on your team, it's Hossa. Obviously, though, uh, the uh, correct answer is uh, Mario Lemieux.
D. Is Ricky Rubio playing in the NBA this season?
No. Spain or Minnesota? Spanish weather or Minnesota weather? I'd say Spanish women or Minnesota women, but my personal experience in that department has actually favored the North Star State. Seriously though, who wants to play for the T-Wolves?
If Rubio was smart, though, he'd wait and see if Favre signs with the Vikings, because if he does, Rubio can have a full season to work out kinks in his game before anyone in the Twin Cities remembers that the Wolves exist.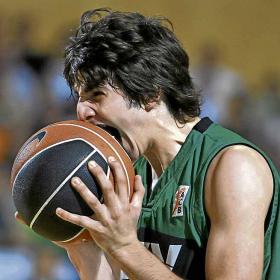 E. Celebrity we've lost in 2009 that you'll miss the most?
Billy Mays. Death comes in threes, but leave it to Billy to throw in one more at no extra charge.
MH: And finally, I know you've got some thoughts on the Pirates' wheeling and dealing and the subsequent fan reaction. You've got the floor, my friend. Go nuts.

CM:

If you've read this far, Mondesi's House patron, I beg that you read just a little bit more. Oh, and you deserve a gold star. Anyway...

The uproar over the Nate McLouth trade, and to a lesser extent, the Nyjer Morgan trade, has me utterly baffled. I'd like to think that the sports fans in the City of Champions aren't this dumb. When McLouth got traded, you could go onto facebook and you'd have thought the Pirates dealt away Pujols, A-Rod and Johan Santana for Rafael Belliard and Kevin Polcovich. Sorry, but the people bemoaning these moves are insane. Insane, or proof that the Nuttings have finally won. When the fanbase is crying in their beer over the loss of a .260 career hitter who had precisely one somewhat above average season under his belt, you know they've been conditioned to accept and embrace mediocrity. I actually heard people say that the worst part about losing McLouth would be his defense. Are you kidding me? Anyone that says that needs to go to Fire Joe Morgan and read up on some of the advanced defensive metrics used in baseball these days. Nate might have won the Gold Glove last year, but according to those advanced metrics, he was one of the worst defensive players in the game.

Nate McLouth was not a superstar, and almost certainly never will be. He is a slightly above average player who would be a nice piece for a contending team. He was not the future of this club. The future centerfielder of this club happens to be manning the position right now, and he's probably as good right now, at age 22, as McLouth was ever going to be. He won't hit for power like McLouth, but he'll play far superior defense and cause havoc on the bases. Did I mention he might be one of the two or three fastest players in the majors?

Here's a news flash: The Pirates' minor league system is bereft of talent. They need all the depth they can get. If Charlie Morton becomes a serviceable major league player, and Gorkys Hernandez turns into anything near what the club thinks he can be, the Pirates will have won that trade, big time.

The Morgan trade, thankfully, received less scorn than the deal that sent away McLouth. Acquiring ultra-talented players with some baggage is what the Pirates have to do to have a chance with the game in its current economic state. With Lastings Milledge, the Bucs got a player that is as good as Morgan right now, and is five years younger. When the Nationals acquired Morgan and Burnett, one member of their organization called them "cornerstones of the franchise." Do you realize how pathetic that statement is? Do you want the Pirates to sink THAT low? If you checked yes in response to these questions, then continue to complain when Jack Wilson, Adam LaRoche, Freddy Sanchez and John Grabow are traded away (and boy, do I hope that each and every one of these guys is gone after the deadline). I'm sure Bob Nutting would be glad to authorize spending several million on a journeyman pitcher or a past-his-prime third baseman. That is absolutely a better plan for winning than, you know, trying to acquire talented players and develop them in the farm system. The Neal Huntington/Frank Coonelly front office actually appears to have a battle plan, and they're sticking to it.

But hey, if 81-81 is your goal, or you're a big dreamer and you're looking to 82-80, keep moaning and complaining. Keep wondering out loud why the Pirates traded all their "stars" and "great players." Hopefully no one listens to you.




Email: Mondesishouse@gmail.com

Twitter

:

twitter.com/mondesishouse

Facebook

:

Facebook Group