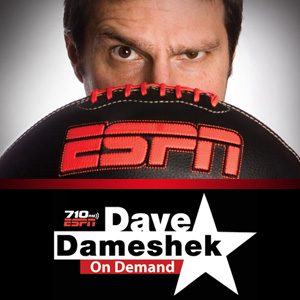 You're all familiar with the phrase "
a very special episode
".
Diff'rent Strokes
had one.
Growing Pains
had one. And now,
Dave Dameshek on Demand
has one.
Why is this a special episode? We won't exactly be tackling teen drinking or kidnapping. But if enough of you listen to this particular episode, my nerdy voice may become a weekly feature alongside Dave's. Which makes it somewhat special to me.
Before you quickly scurry for the "x" in the corner of your browser, take a quick look at the topics we'll be tackling in this installment:
--
Pens/Capitals
: It could do for hockey what Bird vs. Magic did for basketball. It's the series Gary Bettman (and fans of both teams) always dreamed of. And it starts tomorrow.
We'll talk about the past playoff history between these two teams, I'll compare Ovie to an NBA player you might not expect, and finally, we'll both make our predictions, which you can probably figure out already. But you don't know how many games.
--
Pitt/Penn State
: Dave and I both long for the day when these two teams renew their rivalry. Dave cynically thinks JoePa's latest statement about Pitt joining the Big East isn't with the best intentions. I just wish they could find common ground and settle it on the field.
--
LeSean McCoy
: Shady took a calculated risk leaving the Pitt Panthers for the riches of the NFL and ended up as a mid-2nd round pick. We'll talk about the situation he finds himself in now and how he could turn out as a pro.
--
The Steelers' draft
: The NFL is set up for all teams to go 8-8, yet teams like the Steelers usually do well while teams like the Bengals usually stink. Is this year's draft a reflection of their long-term philosophies?
--
The Battlin' Bucs
: Jaded as we are, Dave and I are both excited about ending April above .500. We'll talk about an offseason acquisition that went under the radar as well as hopes for the future and when the Pirates could
really
make some noise.
--
The closing credits
: Dave's '60s Spiderman cartoon-inspired theme song takes us to the weekend. What else can I say? The man has good taste in television.
Send your news, tips, and links to Mondesishouse@gmail.com.