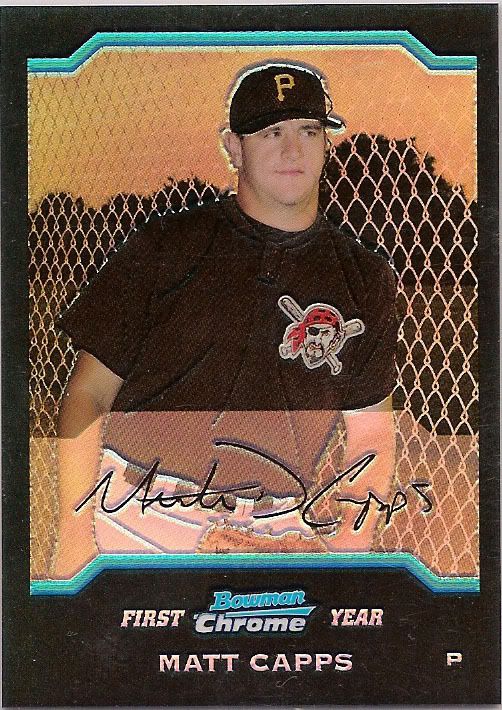 No, you weren't seeing things on Sunday; that
was
Matt Capps' third blown save in four games. Luckily for the burly closer, he was bailed out by his teammates and
pitched a scoreless 10th to pick up his first W of the season
.
With the win, the Pirates narrowly escaped a three-game sweep at the hands of the Baltimore Orioles, and they left The Land of Ray Lewis and Crab Cakes with a 34-36 mark on the season.
The series was kicked off on Friday night as the Pirates blew yet another chance at a .500 record in a 9-6 defeat. At one point on Friday the Buccos led 6-1, but as we've all learned over the years, it's not a victory until the 27th out is recorded. And as we were reminded today, sometimes even 27 outs is not enough.
The story of the 2008 Pirates is their uncanny ability to avoid the hallowed .500 mark at all costs. After opening with a 7-7 mark,
the Pirates are 0-5 in games where they could reach .500
:
May 12: Pirates (18-19) lose to Atlanta, 8-1
May 14: Pirates (19-20) lose to St. Louis, 5-1
May 16: Pirates (20-21) lose to Chicago, 7-4
May 18: Pirates (21-22) lose to Chicago, 4-3
June 13: Pirates (33-34) lose to Baltimore, 9-6
Frankly, I've never seen another team that appears to afraid/incapable of taking the next step outside of the Pitt Panthers basketball team (and at least they won
something
). It's frustrating, it's depressing, it's not easily explained. In other words, it's everything we've come to know as Pirate baseball.
And despite their current standing of a mere two games under .500, the Pirates are already 11 games out of first place, in part due to the presence of two of baseball's four best teams under the same NL Central roof as Pittsburgh.
So are the Pirates
really
playing that great, relatively speaking? Well, on this date in 2007, they were at 29-38; in 2006, 26-41; and in 2005, 30-33, after reaching .500 three days earlier (only to have that euphoria last just one day and never again for the rest of the season). Their final records in those years were 68-94 (2007), 67-95 (2006), and 67-95 again in '05.
On the other hand, they
have
outperformed 12 other MLB teams so far this season, including the pricey/hyped Mets and Tigers, the World Series Rockies, the ALCS-losing Indians, the Padres (89-74 last year) and the Joe Torre-led Dodgers.
Of course, the cynical part of the brain says that while the Pirates are better than 12 teams, they're still trailing 17 others. So to answer my own question, the Pirates have made some progress only in relation to their own failures of recent history. In the big picture, they still have a ways to go.
Next up, the Pirates have three games pending with the 38-31, AL Central-leading Chicago White Sox. And in addition to newly-christened "staff ace" Phil Dumatrait, the Pirates will throw Ian Snell, he of the 5.33 ERA, and Tom Gorzelanny (6.65) at Ozzie Guillen's boys. Will that be enough to win the first two of three and reach .500? History tells us no.