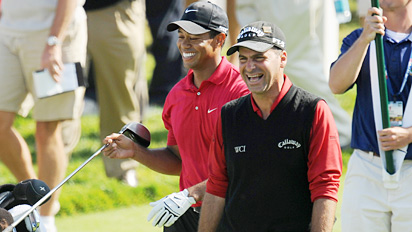 OK, he's not a hacker. He's actually pretty good. But Rocco Mediate (given name: Greensburg's Rocco Mediate) has the tall task of a one-on-one for all the marbles against none other than Tiger Woods at the 2008 U.S. Open.
After eight holes so far today, Roc found himself down one stroke; not too bad for a 45-year-old who has never won a major (his highest finish was 6th at the PGA Championship in 2002).
For those of you who spent Father's Day on Mars or some other distant planet, Mediate had the unfortunate luck of watching along with the rest of America as Woods sank this putt to close out the day's action:

As one would imagine, this has become quite the big story around Pittsburgh. Mediate's whirlwind experience has been arguably the best thing to come out of the city of Greensburg since Westmoreland Mall opened its doors in 1977.
Can David slay Goliath this afternoon? That remains to be seen, but whatever the outcome, it will be the defining event of Mediate's career since he turned pro in 1985.
Follow the action: