The Trib did their homework in unearthing an actual Saltsburg man
whose name is Stanley Joseph Cup
. And to top it off, he's a Pens fan with a tattoo of his namesake on his back.
Stanley Cup, a steel worker who puts in daily 10-hour shifts at the Akers National Roll mill in Avonmore, doesn't think of himself as a talisman. Nope, he said, he's just a regular guy.
OK, let me get this straight: a 59-year-old steelworker named Stanley Cup who happens to be a Penguins fan is out there and he's not being trotted out to every home game? This may be a bigger crime than the banner fiasco.
We also learned today in Penguin Fan News that Steelers DB Deshea Townsend has joined Mayor Ravenstahl in the
"Celebrities Looking For Free Tickets" Club
.
"I'll just call upstairs and see if they can pull it off," Townsend said of trying to score a few tickets through Steelers executives. "It's a great opportunity to be involved. Those are things you talk about later on in life; you're able to be involved when someone wins a championship."


In addition to Stanley Cup,
Naked Flip-Flop Guy
, Townsend and Ravenstahl, others are coming out of the woodwork to show their support. Steelers QB Ben Roethlisberger plans on attending one of the games in Detroit. Pirates 1B Adam LaRoche recently admitted his new affinity for the game. Casey Hampton
nearly broke the glass
during the Rangers series. And it was also revealed that both Dan Rooney and Kevin Colbert have season tickets.
As for actual news on the players everyone is behind, here's a few links:
--ESPN is warming up to hockey again.
Mike and Mike
featured not only Mark Messier, but our very own
Sidney Crosby on their show this morning
.
--The .com end of the WWL featured Sid on the front page and
compared him to Magic and Bird
.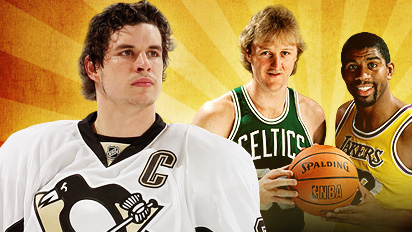 --Ryan Malone was featured at length for his
blue-collar mentality
. Props to Scott Burnside for his fresh angle on a Pittsburgh athlete. Was a smash-mouth Steeler unavailable?
--John Buccigross calls this
the ultimate finals
. SI's Michael Farber
echoes Bucci's sentiments
.
--TSN is
all about MAF.
--Scotty Bowman
is a consultant for the Red Wings
and scouted the final three games of Pens-Flyers.
On a side note, he looks more and more like George Costanza:

and
BREAKING NEWS!
Mayor Ravenstahl is ---gasp--- paying for his own tickets!

Stanley Cup, 59, backs Penguins
[Trib]
Steelers and Pirates supporting Penguins in big way
[PG]