NFL:
The Ex-Burgher asks, "
Which Christmas Cookie is YOUR AFC Contender
?" I'll give you a preview: the Steelers are Baklava.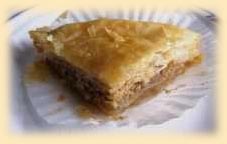 Former New Orleans Saint and FSU Seminole QB Adrian McPherson sues the Titans. Why? Their mascot ran him over in the preseason. And to answer your question, no, PacMan Jones was not in the mascot suit when the accident happened.

Mondesi regular Cecil from Cecil sends over this Bengals article from ESPN.com. Be sure to check out this part:

"...As if that weren't bad enough, Bengals wideout Chris Henry had been seen vomiting out the side window of Thurman's SUV. Henry, meanwhile, was just two weeks removed from pleading guilty to a gun charge in Florida. In January 2006, while in Orlando, police there say, he stepped from a limo wearing his own black-and-orange Bengals replica jersey and pointed a 9mm Luger into a crowd."
Terrell Owens is fined $35,000 for spitting. So does that mean he has 35,000 less reasons to live?
MLB:
SI.com's John Donovan gives us the major leaguers stealing money. That $50 million Gary Matthews Jr. deal still amazes me.
NBA:
The fines and suspensions are in from the Knicks-Nuggets brawl:
Carmelo, 15 games, as well as a new reputation as a punk
The Knicks, $500,000, which is one week's salary for Larry Brown not to coach them
The Nuggets, $500,000, or a little less in their "Allen Iverson Rainy Day" jar
Mardy Collins, 6 games, and a tryout in the NFL as a safety
Nate Robinson, 10 games, which means he can't alley-oop to himself for a while
Jared Jeffries, 4 games, mostly for being unable to catch Carmelo as he sheepishly backtracked
Nene, 1 game, for thinking he is cool enough to go by one name
Jerome James, 1 game. He won't be able to score his 2.1 points and grab 1 rebound. And all of that output for just $49,090.90 per game! That Isiah, what a GM!
Isiah Thomas, 0 games. How he managed to sneak past the prison guard is beyond me. By all accounts, he instigated it in the first place. I think Isiah thinks he's still a Bad Boy Piston.
MEDIA:
The newest round of ESPN Radio's
"Off Mikes" cartoons
are now online. Can someone PLEASE, PLEASE, PLEASE answer me one question...who watches these?
RANDOM FUN STUFF:
Cracked.com counts down the
9 biggest wusses in rock today
Here's something we all need...
the Yappin' Yinzer
, a talking Pittsburgh doll