For a few hours on Saturday afternoon, Mondesi's House dropped in on the gluttony of everything baseball that is FanFest, at Pittsburgh's David Lawrence Convention Center. For everyone who ever wondered how many corporate sponsors you can cram into two floors of a massive convention hall, the answer is many.

The $15 admission and $5 we paid to park seemed like a reasonable price to stand in line behind about 500 people for Chuck Tanner's autograph. Fortunately, I was bright enough to skip that fiasco and visit the Baseball Hall of Fame Exhibit, which was mighty impressive.

The lineup was exquisite: we had the actual, game-worn jerseys of Ruth, Gehrig, Cobb, Clemente, even Christy Mathewson, who I think played so long ago that dinosaurs roamed the earth. The combined value of the memorabilia on display is probably more than the Pirates' payroll for 2005 and 2006 combined. And yes, they also provided more enjoyment than those teams. Do indulge in some Peter Parker-esque photos shot by the crack staff at Mondesi's House:


Jerseys of Lou Gehrig and Babe Ruth. Notice no Yankees logo on the Ruth jersey. This particular Ruth jersey was worn before he won his first title, and thus not branded a "True" Yankee yet.
Ty Cobb jersey with an American flag patch on it. Because if anyone stood for the virtues of America, it was Ty Cobb.
Pink-shirted fan fantasizes about a man named Christy.
The man, the myth, the legend.


After the Hall of Fame exhibit, I hit up the Hunt Auctions area. If only I had an extra $100,000 in my pocket, I might have been able to bid on a few things in their silent auction. I mean, who wouldn't want to own a
1960 World Series trophy
?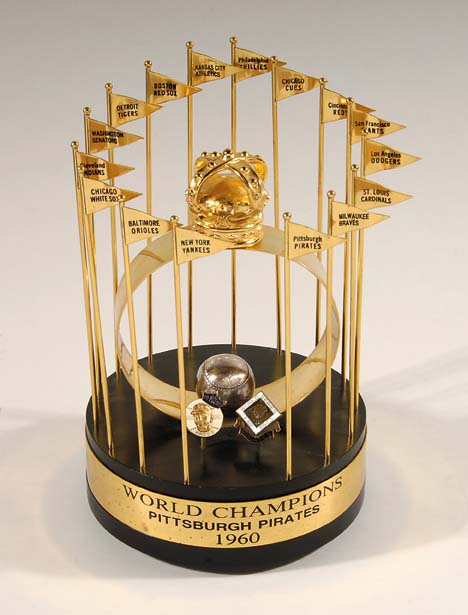 Would look great next to my autographed Dave Wannstedt picture

I then hit up the "card show" portion, where I saw very few dealers who looked like this:

.


Smartly, most of the dealers present had a variety of non-2006 Pirates memorabilia on hand, just in case fans might not want to remember this season in bobblehead form. The coolest was definitely the Michael Jordan "Breaking Through" piece by Upper Deck. The monstrosity has a half of a real basketball sticking out of the frame. The photo was signed by Jordan. The price, a mere $1,700.



Michael Jordan. From his non-Birmingham Barons days


We then had the "FanFest Exclusives" portion of the show, (you know, junk you are only privleged to buy once you've forked over $20 to get in), which consisted of Willie Stargell and Roberto Clemente commemorative statues. I don't know about you, but I think the Clemente commemorative market has just about reached its saturation point. I mean, after the Romito Porcelain Statue, the Starting Lineup figure, the Beanie Baby, the McFarlane figure, the various Bobbleheads, the PNC Bronze statue giveaway...the average Pirate fan's mantlepiece must look like a Toys R Us aisle devoted to #21.


The Clemente doppelganger, in porcelain form

Of course, the Pirates don't exactly help their own cause in the collectible department, either. Until we get some consistent, HOF-quality players, it will be more Clemente, Stargell, and Maz collectibles until the next All Star Game in 2032. Until then, we'll be stuck with dust-catchers like these:

What, no room for Vogelsong on here?
Although I was hungry, I had too much self-dignity to stand in line for a free Taco Bell taco. People were camped out for these like they were giving away $100 dollar bills. Remember, these cost .79, and they're open until 1 A.M...this isn't like the line at Christmas to buy an X-Box for $300 that you're going to flip on eBay for $600 a few hours later. This is a Taco Bell taco, people. The lines were shorter at Disney World.
There were a lot of "personalized" experiences you could purchase at the FanFest this year. "Get your face on Wheaties", "Get your face on USA Today Baseball Weekly", "Broadcast on FSN Pittsburgh", "Own the Pirates After the All Star Break"...OK, I made the last one up.
One of the many young Tigers playing hard for Jim Leyland
Nothing says true fan like a fake magazine cover
A young Bob Walk and Greg Brown in training. It's a freak show.

Fanfest is geared towards kids, presumably the same kids who have never seen winning baseball and now play soccer on Saturday mornings. But they try anyway...


The first thing you learn in t-ball is never go to bat without your oversized Taco Helmet


4 years old and already throws harder than Oliver Perez


Practice sitting the All Star bench like Jason Bay in 2005


All in all, the Fanfest was a pretty enjoyable experience. I wish I could be there on Tuesday afternoon to see Cal Ripken and A-Rod, but I'll have to settle for my memories of Manny Sanguillen. It's still running for a few days, so if you have some free time on your hands, and enjoy waiting in line in your spare time, FanFest is for you!