Give yourself the
Keisel Beard treatment
. I have a question: when did Brett Keisel become so marketing-savvy? Where was this hiding all these years? [KeiselBeardMe.com]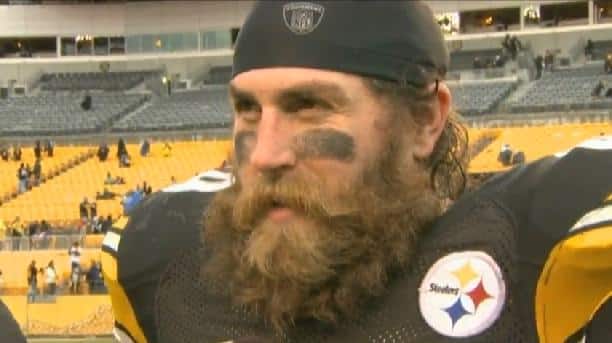 In unsurprising news, Hines Ward
has no plans to retire
.
Call it a gut instinct, but I just don't see his Pittsburgh career ending well. He'll feel like he can still play when the evidence shows otherwise someday. Then he'll feel insulted by the Steelers, he'll get released, and then he'll play for some team like Baltimore. It's a recurring nightmare I have, but I've seen the Hines Movie too many times. Any perceived slight makes him want it more. [PG+]
"
Peter King of Sports Illustrated writes
in today's Monday Morning Quarterback column that NFL Commissioner Roger Goodell told him he talked to two dozen Steelers while he was deciding how to punish Roethlisberger at the beginning of this season, and to a man, Roethlisberger's teammates declined to say anything supportive of their quarterback" [PFT]
From
TMZ
: "
Piven -- No One Wants 'Rapist-Berger' in Super Bowl
". Because we all care about Jeremy Piven's thoughts on the Super Bowl. [TMZ]
LaMarr Woodley
having fun at the expense of that horrible, horrible Pro Bowl
[Twitter]
And in the realm of celebrity Steeler fans:
Black and Yellow
is now the
#3 song in America
. Prediction: #1 within a week. [Billboard]
PG
charts the rise of Wiz Khalifa
. Most would describe it as "meteoric". [PG]
Snoop Dogg and his famous, drug-loving-yet-family-friendly lifestyle will be
coming to Stage AE in February
[PG]