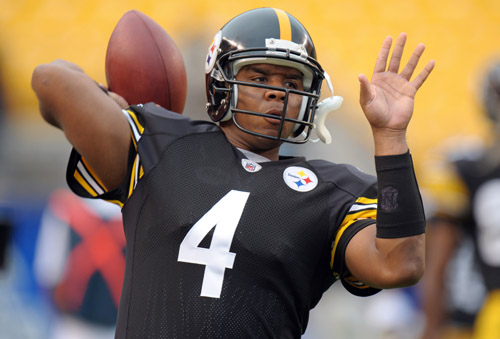 The Steelers bring back a QB, the Pens ink another long-term deal, a contest to benefit Casey's Clubhouse, Ronnie Florian news, some instant classic-level photos, and
MUCH
more in today's links:
BYRON LEFTWICH
, who was released over the weekend, is expected to be
re-signed by the Steelers today
, which means one of his teammates will be released to even out the roster. There is a possibility that Leftwich could start against 2-0 Tampa Bay next Sunday, the same Tampa Bay that dumped him to the Steelers this off-season. Drama! [PG]
RAY SHERO
and the Penguins
agreed to a five-year contract today
. Originally joining the Penguins in 2006, Shero's future looks bright with a nucleus of Sidney Crosby, Evgeni Malkin, Jordan Staal, Marc-Andre Fleury, Brooks Orpik, Kris Letang, Zbynek Michalek and Paul Martin all signed to long-term deals. [PittsburghPenguins.com]
Make any size donation to
SEAN CASEY'S CLUBHOUSE
and get entered to win this
limited edition bat autographed by Sean
!
Happy 1st birthday to the
FIGHTING WANNSTACHES
, who celebrated the milestone with a
new video pumping up Panther fans for the Miami game
.
SIDNEY CROSBY
was one of many young NHL stars on hand for a party recently thrown in NYC by Graydon Carter of Vanity Fair. Alex Ovechkin also attended, getting all dressed up and
sporting a t-shirt
. [Zimbio]
SWIN CASH
of McKeesport
won a WNBA title with the Seattle Storm last week,
but I'm sure all you WNBA fans living in Pittsburgh already knew that. [PG]
RONNIE FLORIAN
news? You know it. From reader
Adam
:
I'm a long time reader who remembers your love of all things SuperPiratesFan Ronny Florian. I'm listening to the podcast of Rocco Demaro's "Extra Innings" from Friday night, which was taped live at the HOF Club at PNC Park. Rocco was fielding comments from the in-house audience, and at about the 18:00 mark, "Ron" takes the mic, then rants about how Tony Pena needs to be hired as the Buccos new manager, calls the Pirates an embarassment to the city, and how refers to Frank Coonelly as "Mr. Frank Wannabe In Charge of All of Baseball Coonelly," before signing off as "Ronny Florian, Baseball FAN."
Here's the link
Some fantastic photos I posted on the MH Twitter feed in the last day:
"Creepy Colts helmet catcher and angry female (or possibly male) Colts fan"
(via Deadspin)
Plaxico Burress, in a happier moment - definitely avatar or wallpaper material
(also via Deadspin)

-------
And finally, passing along some public service info on a neat event some of you might be interested in attending...
Pittsburgh AMA Fall Kickoff at the CONSOL Energy Center
September 29, 2010 at the CONSOL Energy Center Upper Concourse from 5:30pm to 8:00pm
Join the Pittsburgh AMA and other top marketing professionals as they kickoff the fall lineup of events at the brand new CONSOL Energy Center. Enjoy drinks, hors d'œuvres, and lively networking at one of the hottest venues in Pittsburgh. Jerry Richey, the Executive Vice President and Chief Counsel at CONSOL Energy, will be speaking about the branding challenges of their increased local presence. Admission price also includes two drinks and a tour of CONSOL Energy Center. A silent auction featuring Penguins and other Pittsburgh sports memorabilia will take place throughout what promises to be a memorable night!