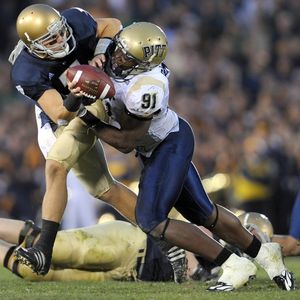 First, the Pitt Panthers had to deal with an ugly DUI/hit-and-run/underage drinking incident involving one of their players early Sunday morning. Now, their week (and year, for that matter) just got a whole lot worse with another dose of bad news.
Romeus was a preseason All-America candidate and the reigning Big East Defensive Player of the Year, but did not play against New Hampshire after suiting up in the opener at Utah, where he had four tackles and deflected a pass. He is considered out indefinitely, but could return later in the season.
Said the 'Stache today:
"Our top priority is doing what is best for Greg. After consulting with him, his family and our medical staff, it was determined that immediate surgery is the best option for Greg both personally and athletically. We expect him to have a full recovery and return for the conclusion of the season."
Pitt is off this week, and their season picks up with a ginormous game against Miami on Thursday, September 23, at Heinz Field and on ESPN. That game just got a whole lot tougher to win with the pending absence of their stud defender, but these are the kinds of unforeseen obstacles that a team must get by if they have conference championship hopes.