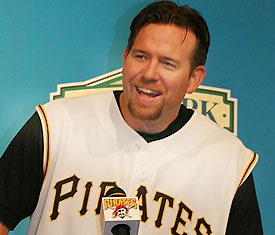 On Tuesday, I had the pleasure to talk to "The Mayor", three-time All-Star 1B and Upper St. Clair's own
Sean Casey
, on a variety of topics, including his MLB career, his time in Pittsburgh, the state of the Pirates, his work on the MLB Network, his recent trip to Haiti with Max Talbot and Mike Rupp, and his new charity, Casey's Clubhouse.
MH: You had a first-hand experience of playing for the Pittsburgh Pirates organization in 2006. How hard is it to erase the culture of losing from that clubhouse?
SC: It's tough to deal with the losing culture, the feeling that we're going to get crushed again this season. When you show up at the park and it feels like it's going to be tough to win tonight, it doesn't change overnight.
As close as I could see to something parallel to where the Pirates are now is 2006 when I was with Detroit.
[ed. note: Sean was traded by the Pirates to the Tigers on July 31, 2006, for P Brian Rogers]
They had had a ton of losing seasons in a row and Jim Leyland came in and said, "You know what, it's going to stop and it's going to stop now."
He brought a culture into the clubhouse that you could feel. When you came in, you could tell the expectations were higher. We're not going to just go out and compete anymore, we're not going to just say, "Oh, we hope to be just be around .500."
He was here to win and we ended up going to the World Series that year. He was really a presence in that clubhouse.
MH: What type of manager would best serve this team's needs? While you were on the team, they had Jim Tracy, who didn't have much success here and certainly has done well since leaving Pittsburgh. Does it have to be someone with a fiery personality?
SC: Jim Tracy was a great manager. I loved playing for Trace, I loved everything he brought to the table, we just didn't have the talent to win ballgames.
I don't really know John Russell that well. I know him a little bit. I think at some point you need a guy that's going to be a big communicator to those young kids, to let them know how this is how handle business, you know, "This is how you become a pro in the big leagues, this is what you need to do and how you need to do it."
But I also think at some point you need to mix in some legit veteran leadership with those young players. You can't have too many young players on one team, because sometimes they don't know how to handle their business, and you can't have all aging veterans on the back end of their careers.
Hopefully with Neal Huntington, you hate to keep saying a five-year plan, but you have to look at Pedro Alvarez, they paid money for him; Tony Sanchez looks like he's going to be a good player; they paid money for Jameson Taillon and Stetson Allie this year, some big money in the draft.

Maybe we are seeing the Pirates go in the direction of not just taking the signability guys in the draft, and they're signing the legit players, guys that are the #2 picks of the draft overall, giving them the money they need to get this turned around.
It's tough right now to justify going out and getting a free agent if you know you're going to lose anyhow. But it is getting old for all Pirates fans, for all people who live in Pittsburgh, to just keep losing every year and not even be close to .500.
MH: What do you think about the direction of the Pirates? Do you think there's light at the end of the tunnel, or are there still too many gaping holes they'll have to fill in?
SC: There's still some gaping holes, but I think they're headed in the right direction. I love Neil Walker, I think he's a great player. I think Andrew McCutchen's an exciting baseball player. Pedro Alvarez has a lot of power that you can stick in the middle of that lineup. Tabata looks like he's for real. They have some good young players and that's a good thing. I think the bottom line, the end of the day, your position players are not what wins for you - pitching's what wins for you. When you see Jameson Taillon and Stetson Allie getting signed, and the Pirates putting up millions of dollars to get those guys, that sends a good message to me.
Hopefully, if those guys turn out to be legit, then at some point you can get some veteran players to mix in. Just the same old attitude that we're a small market team, I mean, the Pirates are making a lot of money the last three years. That just doesn't fly anymore, with the revenue sharing and all the other things MLB has to help out the small market teams, you have to put it into your club.
SC: [Big laugh] That was one of the greatest moments of my career. I marked it off on the calendar in the offseason that we were playing the opener at PNC Park, and I was so excited. I was hitting fourth that day and I was like, "Aw, man, I wanna hit third."
I usually hit third and I wanted to get up in the first inning. So Dmitri Young gets down 0-2, and I'm thinking I won't get up because there's already two outs, and then Todd Ritchie pegs him. But I remember getting that 1-1 fastball from Ritchie and hitting the first home run at PNC Park. It was so special rounding those bases.
The ball bounced back into play, and Adrian Brown ended up throwing it into centerfield. I was like, "Oh no, throw it in!"
It was one of the coolest moments of my career; I had 70 tickets that day for friends and family. After the game, I had Ken Griffey Jr. go out and offer bats, balls, and jerseys, to that guy [who had the ball]. Our PR guy said the fan was going to meet me after the game and get me the ball. I said great, it means so much to me being from Pittsburgh, a local guy. The guy never showed up.
The next day our PR guy said "Yeah, he'll give it to you for $9,000."
I said, "What? You gotta be kidding me!"
But I think a local memorabilia shop bought it for $8,000.
MH: What would you call the greatest moment in your MLB career?

SC: Playing in the 2006 World Series. Hitting a couple home runs in the World Series, that was just like a dream come true. You always dream when you're in the backyard playing wiffle ball that you're gonna hit a home run in the World Series, and having hit two in the 2006 World Series was two of the biggest highlights of my career. But hitting the first home run at PNC Park will forever be one of my greatest memories.
MH: Describe what it was like playing in Boston, which you did in 2008. I've always thought of the atmosphere as being similar to what the Steelers experience in Pittsburgh.

SC: Aww, no doubt about it, man. People were like, "Who can you compare it to? "
I said, "Listen, I'm from Pittsburgh. You can compare Red Sox Nation and the craziness of Red Sox fans to the Steeler fans. I think there are maybe only two organizations that have such a rabid following like Boston and Pittsburgh have. The comparisons are right on the money."
MH: How have you enjoyed working on TV for the MLB Network? And would you ever consider a career in coaching?
SC: Not coaching right now; I don't miss the grind of the season. I don't miss the travel and playing every night and all that stuff. You miss the guys a little bit here and there.
I love what I'm doing at MLB Network; they're great guys here. It's been a great transition for me, I've really enjoyed it, they've let me pick my schedule. I'm only working every other week for a few days, I'm home most of the time.

It's nice being home with the kids. It's really the first two summers I've been home since I was 17 years old. It's been great, I've really enjoyed having time with my family, I've enjoyed doing the stuff with MLB Network, and hopefully I stay in the broadcasting field for a while.
MH: I've read about your trip to Haiti with Max Talbot and Mike Rupp, and it left me speechless. Can you describe what that was like and what that trip meant to you?

SC: That was a great trip. We went down, we're trying to build an orphanage. We're in the middle of building of orphanage for kids. Two levels are done, we're still working on the third level and the roof.
Talbot and Rupp are great dudes with big hearts. Brad Henderson showed us around, he's the chaplain of the Pirates and the Penguins. He's a good friend of mine. It was a great trip, an eye-opening experience. It makes you realize how fortunate and lucky you are to have healthy kids and really not want for anything. It was pretty eye-opening.
MH: Tell us about your new charity, Casey's Clubhouse, which is attempting to bring a Miracle League ballfield to the South Hills area. What was the inspiration for such a project?
SC: When I was in Cincinnati and Detroit, we helped build a couple Miracle League fields. I thought of the kids' faces, of how awesome the field was, and how exciting it was for them to finally take the wheelchair or whatever disability they had and get on the field play baseball like any other kid could play baseball, having their parents sit in the stand and watch. It was just an awesome thing for a whole community.
I always said that when I was done playing I'd like to take the time and try and build one of those and that was pretty much the inspiration, seeing the kids faces of how excited they were to play baseball
MH: Do you have a location picked out yet?
SC: We're trying to build it at the Upper St. Clair rec center. We're really excited, we're at the stage now to try and raise the money to make this thing a reality for all the kids in the South Hills Area, not just Upper St. Clair. That's what we're working on.
There's a field up in Cranberry right now. I have a couple friends that drive all the way up there on Saturday, and that's a long drive. We hope we get one for the kids in the South Hills to come and appreciate it.
MH: Is there a date you're shooting for to have this ready?
SC:
In the next year, year and a half we'd like to get this thing done with. We're in the stages of trying to get this money raised and trying to get this thing built.
---
A major thank-you goes out to Sean for the interview and for all he continues to do in the community. If there were more athletes like Mr. Casey, the world would be a better place.
Mondesi's House: The Director's Cut (more links, commentary, etc): twitter.com/mondesishouse
Email: mondesishouse@gmail.com