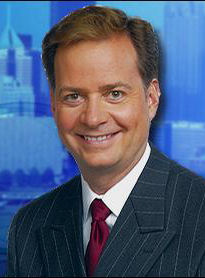 Predictably, I was a little ticked off at the "Tweet" and
aired out my problems with it
, as well as the similar thoughts on bloggers expressed at the time by the PG's Paul Zeise (who, ironically, authors a blog himself).
Now fast forward to April 22. I'm standing around at The Fan's NFL draft-night party and a guy asks me the score of the Penguin game. I turn around to answer the person and it's none other than Bob Pompeani.
Never before have I confronted someone in person that I've taken to task to that degree on the blog. Fortunately, Bob had no idea who I was to see me; it's not as if I make a lot of public appearances. But after I gave him the Penguin score, I introduced myself and the lightbulb went off. Luckily, we got the "Blogger vs. Media Member" awkwardness out of the way relatively early in what would be a lengthy conversation.
After we each said our peace with our respective positions, I asked him if he would be willing to basically take this conversation public and answer a few other questions for the site in an interview, which he happily agreed to. What follows is a Q&A that Bob and I recently conducted via email; hopefully it will serve to further clarify his comments on blogs and get a few of his opinions on other relevant issues on the record.
Mondesi's House: Recently, you were critical of blogs in their coverage of the "Pitt to the Big 10" rumors. As you know, I took offense to your broad criticism of blogs, arguing that it is very dangerous to paint an entire group with a broad brush. I know that you would like to clarify your comments on the issue, so please take us back to those remarks and explain your position.
Bob Pompeani: I guess it was two months or so ago, when world spread quickly about Pitt not only heading to the Big Ten, but according to some blogs, that announcement would happen Friday of that week...essentially two days away. I knew, without a doubt, that was never going to happen, that week, as I had just spoken to Mark Nordenberg about that very issue. He said no talks were scheduled and didn't even think a decision about Big Ten Expansion would take place in the next 6 months. That is why I took exception to all those unnamed bloggers who were spreading rumors as if they were news. I have no problem with people expressing themselves but, with anyone capable of setting up a blog and dispensing information...I think people need to have at least some connection to the subject before commenting on it.
Opinions are terrific. Its what sports call-in-shows are all about. But when those opinions are expressed as fact, then I have a big problem...People need to check and accurately state where they get their information before making a blanket statement. Just my opinion.

MH: I think it's fairly safe to say that you are an "old-school" style journalist, yet you have made the leap into avenues such as Twitter to reach a different demographic. What place do you think new-media outlets such as blogs, Twitter, etc., have in today's media environment?
BP: I like the new technology available to people. It makes news quickly available and for me, I get a chance to exchange information and opinions with people who watch our shows. I use the various forms of social networking as I do like to keep up with the times...but, my biggest complaint, especially for younger people, whom I see wanting to break in corporate business...is that it takes away from face to face contact and the ability to communicate without using technology
I see it everyday with interns at our station who don't have the ability to converse...face to face, eye to eye....to carry on a conversation. As a young person, I think you must be able to handle yourself in a comprehensive manner when faced with an interview or an assignment which requires conversation.
Otherwise, I'm cool with all of this stuff.
MH: Getting back to the topic in question #1: anytime the words "Pitt" and "Penn State" are mentioned in the same sentence, people take notice. How do you feel about the fact that two schools' football rivalry is dead, and do you ever think it will be revived?
BP: I certainly want, very badly, to see Pitt and Penn State play football once again. In many ways, that game represented more than anything else in conference play. To me, the only way it will be possible to return this game to the schedule, is thru Big Ten expansion. Penn State appears to have dug in, unwilling to schedule unless its a 2-1 series in their favor. It will absolutely have to be scheduled as a conference game, forcing Penn State to play Pitt....otherwise, it will not occur...Its a shame. For the betterment of the game, They must play football again.
MH: Switching to pro football, this has already been a nightmarish 2010 for the Steelers, and we're only in May. How do you see the first month of the season playing out for the team sans Big Ben?
BP: Yes, it has been the off-season from hell for the Rooney family and the Steelers. But, its a good thing its happening now and not in September. I think this team, even without Ben Roethlisberger for the first month of the season, is very capable of going 3-1. Their defense will be significantly better with Polamalu and Aaron Smith both healthy again.
I still have some unanswered questions about their offense...aside from quarterback play....they need more help in the backfield Rashard Mendenhall will carry the load but what after him? They need capable complimentary backs. They might have drafted a player from Ga Tech who can help...but he is still an unknown.
Their offensive line needs to be better...and it should be. Their wide out spots are thin...at best...so, I still have concerns but I believe, overall, they are still good enough to win 3 of their first four games....whomever is at quarterback. On that subject, I believe they should go with Dennis Dixon with Byron Leftwich as the primary backup. Dixon showed me enough last year in Baltimore to give him a shot. He can run and handle the pass game efficiently enough to run this offense until Roethlisberger is back with team.
The AFC North is better that it has been in years....Baltimore has helped itself considerably, especially offensively....so, one of those 3 wins I spoke of earlier better come against the Ravens in Week Four.

MH: More than a few people believe that the city of Pittsburgh is embracing the Penguins more than ever in the wake of the Steelers' various bouts of misbehavior. Two-part question: do you agree with that assessment, and if so, what can the Steelers do to start repairing their image with fans?
BP: The Penguins have certainly provided the perfect storm when it comes to overall team popularity. A new Arena coming with a team that has the potential to become a current day dynasty..a 6,000 waiting list for tickets..and the perfect marketing strategy. They have done a great job from the pizza giveaways with players during Student Rush....or the big screen, a terrific plan hatched 3 years ago....and surprise ticket giveways for unsuspecting people in the lawn prior to games.
They also have some very affable and dedicated young players who understand the responsibilities that come with being a professional athlete.
The Steelers have certainly taken their shots this off season and need to make amends as we move forward. First and foremost, when the season begins, they need to continue to win games...that always settles a restless fan base.
The Steelers, as a team, have been involved in a lot of charitable events. I have seen them firsthand do great things for local charities....That needs to continue and actually increase in light of the events of this off season. In the end, its good to have several popular teams in this town...Winning is the biggest cure to whatever ails them.
MH: Another topic that's polarized the locals is the direction of the Pittsburgh Pirates. Some feel that the situation is utterly hopeless, while others buy into the McCutchen/Alvarez-led future. Where do you fall?
BP: When Frank Coonelly and Neal Huntington took over, I understood their plan. After all, We have seen these plans before and so there were no surprises here.
The Pirates believed in flooding the system with talent and then developing that talent....to have and use for a 6 year duration before free agent years take over.
That plan is predicated on the execution of that plan. There was no question, because of previous development issues, this team was not gonna win as it was constituted and so another fire sale began.
They picked up 8 players in moving Jason Bay and Xavier Nady. I had not problem with moving them. But this plan is only as good as the value you get in return. So far, I have not seen a very promising return. Craig Hansen wont be a factor after another injury. Andy Laroche is, at best, a good utility man for a good team. To me, he cannot be your starting third baseman. Brandon Moss has been a huge disappointment and Bryan Morris has just been promoted to double A, perhaps 3 years away
The Yankee trade is more promising, however, it will all depend on the development of Jose Tabata. He's doing well in triple a right now but until he gets up here and plays at a high level, this deal wont be viewed as a good one
Ross Ohlendorf has a chance to be a good pitcher...but McCutchen and Karstens are very mediocre.
For Pirate fans to see, at the very least, an end to this 18 year stretch of losing, Pedro Alvarez, Tabata, Garrett Jones and Andrew McCutchen all have to be better than average major league players. There's a good chance that will not all happen at the same time.
The other question, who is to say the Pirates will actually sign one of their own beyond the free agent years. They say they will but have not yet been put in that situation.
So, in a nutshell, I want to be positive and believe these kids will flourish and contend. But 18 years have worn me down!!!
MH: We'll move onto a different controversy: where do you stand on the great Mellon Arena debate? Keep it or level it?
BP: Simple - level it and move on..too much property for a building that wont be consistently used
MH: I'm sure you've seen your share of exciting moments at the Igloo over the years. Is there any one that stands out as your favorite memory at Mellon Arena?
BP: First and foremost...The Stanley Cup Years. So many great moments and seeing some of the greatest players in the NHL will always be huge for me. People around here tend to get spoiled by success. Having Lemieux, Jagr, Coffey, Francis, Crosby and Malkin for several years is way more than most cities have ever experienced
Also, I remember the 3 day Michael Jackson concerts....the best entertainer I had ever seen in person in his prime. Springsteen, Aerosmith, etc....Loved the great concerts.
------
A major thank you goes out to Mr. Pompeani for taking the time to answer my questions