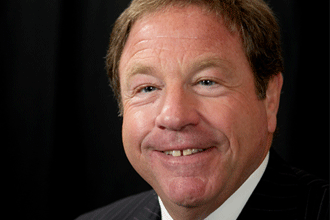 --The star-studded final episode on Savran on Sportsbeat will be re-broadcast tonight at 6:30 EST on FSN Pittsburgh. Maybe this will stop the flood of hate mail being sent to Liberty Media. Nah, probably not.
--Wondering why Pirate bullpen coach
Luis Dorante was pitching to Albert Pujols
at last night's snoozefest of a Home Run Derby? Here's your answer. [Fox]
--Rinku Singh, he of the 12.00 ERA,
was the winning pitcher
in last night's GCL Pirates 10-5 win over the Tigers. This completely validates the Pirates' experiment. [MinorLeagueBaseball.com]
--Pedro Alvarez
homered last night for Altoona,
his 18th home run of the season. And yes, that leads the entire organization. [MinorLeagueBaseball.com]
--Former Pirate Tim Wakefield
makes his All-Star debut
tonight at the ripe age of 42. Better late than never, right? [PG]
--John Russell's not
disappointed in the last-place, free-falling Pirates.
That would require the presence of a pulse. [Bob Smizik Blog]
--Johnny Lujack was once The Man, but unfortunately his legacy has faded a bit over time. Hopefully that will change with his
induction into the Fayette County Sports Hall of Fame
and dedication of the Johnny Lujack Training Facility in Connellsville. [PG]
--ESPN

has a new ombudsman

. Mondesi's House has yet to follow suit. [Awful Announcing]

Email: Mondesishouse@gmail.com

Twitter

:

twitter.com/mondesishouse

Facebook

:

Facebook Group