With today's departure of Adam LaRoche to the soon-to-be-disappointed Boston Red Sox, the Pirates saved themselves about $2.95 million in salary for the rest of the season. As the saying goes, they can finish in last without him, and they probably will.

The salary savings alone would be reason enough to dump LaRoche in exchange for a bag of sunflower seeds, but Nealer the Dealer actually got a few prospects back in return. They're not to be confused with Kyle Drabek or Matt Wieters anytime soon, but they're warm bodies, which fits Huntington's plan of acquiring said warm bodies in Sam's Club-like quantities.

After declaring the trade a success and spending the better part of today holding my own celebration of the deal, I decided to compliment that with a look back at the LaRoche Era as covered on Mondesi's House, from beginning to end. It was quite a ride. For me, he was a gold mine of content, so as a blogger, I'll miss him. But as a Pirate fan, I will not. Cue the dramatic music, and note all the references to batting averages over the years.
"
10. The arrival of Adam LaRoche
. LaRoche was celebrated as if the Pirates traded for a combination of Albert Pujols, Babe Ruth, and Roberto Clemente times 100. Anything less than 82 home runs and 195 RBI this year would be considered a disappointing season."
"Adam LaRoche, in the words of Joe Namath, is struggggling. 0-for-8, 5 strikeouts, 5 runners left on. Of course, being a blogger, my job is to criticize Dave Littlefield if he were unable to trade for LaRoche, then criticize him after two games if the guy is off to a poor start. So direct your anger at the GM.
Even worse, I figured out who LaRoche looks like...the Klopek kid from one of my favorite movies of all time, The Burbs."
"When Dan Steinberg of the Washington Post's
D.C. Sports Bog
emailed me with this, I couldn't believe it was true. The unintentional comedy scale could possibly go off the charts once this project comes to fruition. Let's go over the ingredients of what he is reporting:
1. Adam LaRoche, .216-hitting first baseman of the Pittsburgh Pirates
2. Willie Robertson, the current leader of the famed
Duck Commander clan
and dead ringer for former WWF rassler Hillbilly Jim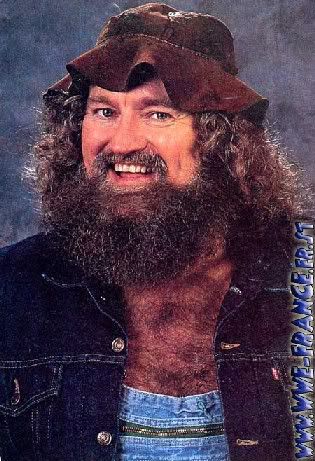 3. A video featuring Adam LaRoche and Willie Robertson."

"Pirates first baseman Adam LaRoche is currently hitting .221 with six homers. On this date last year, he was hitting .211 with seven homers. In Atlanta in 2006, those numbers were .247 and 10, and in 2005, .249 and seven.
So the Pirates acquired this traditional late-bloomer before the 2007 campaign, and his early-season numbers since joining the Buccos have tailed off even below their previous depths. Although some would question the acquisition of such a player by a team that usually holds an annual fire sale in July, we've all learned to never question the wisdom of Dave Littlefield.
With that in mind, a Pirate fan created this incredible YouTube montage of The LaRoche Era, set to LaRoche's own at-bat theme song, "Karate Kid's" You're the Best. For any Pirate follower, it's a must-see."
August, 2008: An updated post on
LaRoche's fascination with hunting
:
"If he were traded tomorrow, my memories of the Adam LaRoche Era in Pittsburgh would include perennial half-seasons of teetering on the Mendoza Line, at least 100 Hans Klopek references too many on my part, and LaRoche's obsession with hunting."
January, 2009: LaRoche signs for the upcoming season

"Adam LaRoche just re-signed for

one year, $7.05 million

, a raise of over $2 million from his .270, 25 HR, 85 RBI 2008 season. Because if anyone deserves a $2 million raise in this economy, it's Adam LaRoche."

"There ain't a guy in here who ain't [ticked] off about it," said first baseman Adam LaRoche, according to the report. "It's kind of like being with your platoon in a battle, and guys keep dropping around you. You keep hanging on, hanging on, and you've got to figure: How much longer till you sink?

"It's fine. Heck with it. We're not the GM. We don't run the team. If they feel like it's the best move for three or four years from now, great," LaRoche said, according to the report. "Unfortunately, that does me no good. I've still got to be in here telling guys it's going to be fine with Nate gone. Well, you can only do that for so long until guys just kind of ... well, they know."

My commentary at the time:

"One finds irony in the fact that LaRoche, who is currently

hitting .245

and traditionally does his best to help sink the aforementioned Pirates' platoon by the All-Star break, felt the need to speak out, especially considering the fact that LaRoche is a pending free agent and will surely exit via that route, unless he's traded first (hopefully for some prospects, for comedic irony)."

"I think it shows zero class and zero professionalism," the Pirates' first baseman said yesterday at Minute Maid Park. "When somebody says that, they know what they're saying, and they know it's going to get out. He knows we're not going to be real happy about it. If you go and say that to your buddies, it's one thing. If you go to the media and make that public for us to hear? Yeah, that's no class."

Email: Mondesishouse@gmail.com

Twitter

:

twitter.com/mondesishouse

Facebook

:

Facebook Group