--The auction of the Pirates' opening-day apparel to benefit the Fallen Heroes fund
is now complete
, and the high-ticket item is.....a
Matt Capps hat and jersey
? Yep, Matt Capps. And it went for a whopping $2,625, one of five jersey and cap sets to crack the $2,000 barrier. [Pirates.com]
--Speaking of the Buccos, that Nady/Marte-to-the-Yankees deal is
looking pretty sweet right now
, no? [KDKA/PSI]
--Former Steeler Carlton Haselrig is coming to Johnstown...
for an MMA event
. OK, you have my attention... [Straight Outta Johnstown]
--DJ Gallo offers up a list of the
best and worst promotions on the 2009 MLB calendar.
The Indians are really having a Wild Thing Vaughn Bobblehead night? Genius. [ESPN.com]
--Does the famous Visionary of Medjugorje
have any insight on the Steelers
? Of course, someone felt the need to ask this at a recent appearance she made in Pittsburgh. [PB&G]
--What's the most popular story on WPXI's website right now? How about "
Porn Film To Be Shown On CMU Campus
"? [WPXI]
--Gotta love
the quotes
from future Pitt Panther guard Isaiah Epps:
"I want to make them No. 1 in the nation," Epps said. "I want to be their leading scorer, lead them in assists, just make them good in everything. I want to be one and done, too. I want to go straight to the NBA after a year."
Sounds like confidence will not be a problem with this guy. And by the way, he's the
#11-ranked point guard
in the incoming class of 2010. [PG]
--Every once in a while, I highlight a really interesting article that isn't exactly Pittsburgh-centric. And this lengthy piece ESPN recently did on
Lenny Dykstra's financial career
certainly fits the bill. It's a must-read. [ESPN.com]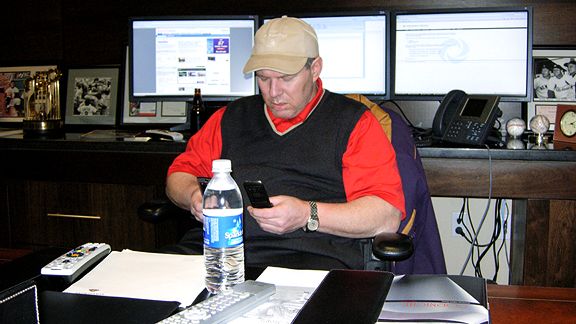 --And on a more positive note, Cal Ripken's entrepreneurial skills have grown into a
partnership with Under Armour
. He's pretty much the anti-Lenny Dykstra in every way possible. [Rum Bunter]
--Snuggie-clad Yinzers recently
invaded the South Side
. At least they were warm. [Kiss 96.1 Freak Show]

Send your news, tips, and links to Mondesishouse@gmail.com.