A few things to put a nice bow on the weekend...
--The Pens took one step forward and one backwards this weekend,
beating Philly on Saturday
and
dropping a Sunday matchup with Washington
. Looks like getting rid of Michel Therrien was not the cure-all that some thought it might be. [PG]
--What went wrong with the 2008-09 Pens, you ask? Luckily,
Dave Molinari has all the answers
. [PG]
--ESPN's
Pennsylvania Mt. Rushmore of Sports
is Joe Paterno, Mario Lemieux, Wilt Chamberlain, and Roberto Clemente. Sadly, there was no room for Big Ben's melon (or any other Steeler's, for that matter). [ESPN]
--Sounds a lot like Nate Washington has
played his last game with the Steelers
. Luckily, we already have another receiver on the roster that's adept at dropping passes, so there should be no drop-off. [Trib]
--Pat White
ran a 4.49 40 at the combine
, and he'll work out as a WR at his Pro Day next month. Just call him Randle-El 2.0. [PFT]
--ESPN 1250 is kicking off their
Lunch with a Legend series
on Tuesday, which means you can hang with Andy Russell and Mike Wagner while dining at Morton's. Sounds like a pretty sweet deal to me. [ESPN 1250]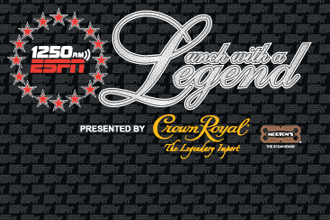 --
Batch or Leftwich
? That's the question facing the 2009 Steelers. [PG]
--Shady McCoy, currently slotted to go to the Cardinals in four mock drafts,
picked a really bad time to get sick
. [PG]
--Troy Polamalu has been
visiting a 10-year-old girl who has Ewing's Sarcoma
, playing Guitar Hero and bringing her chocolates. See, the NFL does have some very kind souls. [PB&G]
--John Russell lost 95 games as manager of the Buccos in 2008 and
got a one-year extension out of the deal
. Yes, I'm still trying to figure it out, too. [Trib]
--
Previewing your 2009 Pittsburgh Pirates...
[We Should Be GMs]
--The
Texas Rangers signed Anna Benson and her husband Kris
to a minor-league deal. I'm sure he'll win at least 20 or 25 games at the bare minimum and contend for the Cy Young. [Trib]
--Nittany Lions players think
JoePa will be "buried on the field"
. That's a nice visual. [SPORTSbyBROOKS]
--Monday brings round two of the
Pittsburgh Bloggers bracket
. Vote responsibly. [Sean's Ramblings]
Send your news, tips, and links to Mondesishouse@gmail.com.