STEELERS (14-4) 23
RAVENS (13-6) 14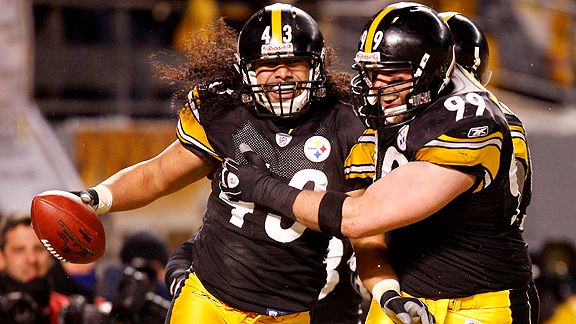 ROETHLISBERGER 16-33, 255 YARDS, 1 TD
PARKER 24-47
HOLMES 2-70, 1 TD

If I may set the backdrop: it's midway through the fourth quarter of the AFC Championship Game; CBS returned from their 289th commercial break of their nearly four-hour broadcast; the now-famous "Renegade" video montage is blaring in the background, and the Ravens and their shaky rookie quarterback are backed up in their own territory. I think aloud, "Now would be a great time for a turnover." And Troy Polamalu granted my wish just moments later with a pick-six that sealed the game for the Pittsburgh Steelers, simultaneously punching their ticket to
Super Bowl XLIII in Tampa
on February 1 against the Arizona Cardinals.
It was an exciting way to end a game that the Steelers led from wire-to-wire yet never really put away until late in the contest. And for the long-suffering Steeler Nation, which has gone all of two seasons without a trip to the Super Bowl, it was the cherry on top of a dominant 2008 AFC Playoff run. The Steeler Complaint Department should be silenced in the wake of this performance, Limas Sweed transgressions aside (but of course it won't...nitpicking is our National Pastime).
Now that World War III is behind us, the Steelers will game plan for Ken Whisenhunt, Kurt Warner, Larry Fitzgerald, and the Cardinals. The Steelers are already
6.5-point favorites
, and I'm guessing that the Super Bowl crowd will be heavily in their favor as well. At this point, the only thing stopping the Steelers from hoisting a sixth Lombardi Trophy in two weeks should be themselves. But enough looking forward.
Let's look back to the game that was: the Steelers' third victory over the Baltimore Ravens in 2008.
1. Let me describe the CBS broadcast experience today. I'll start with "awful", and then use all of its synonyms: dreadful, terrible, appalling, unpleasant, poor, horrible, horrific, and shocking. Phil Simms was off-the-charts bad. My favorite Simms-ism was when he described how the Ravens had the Steelers right where they wanted them. I should add that this was when the Ravens were down 13-0 in the second quarter. Yep, that's exactly how John Harbaugh planned it.
2. Speaking of awful, the officiating was a train wreck. We had the usual holding of James Harrison, the Santonio overturned touchdown, some potential late hits on Ben Roethlisberger that were ignored, bad pass interferences that led to touchdowns, and heck, I'll even throw in the running into the punter call that went against Baltimore. We're lucky none of these calls ended up costing the Steelers more than they did.
3. OK, let's get this out of the way early: Limas Sweed's drop of a touchdown towards the end of the second quarter was an epic failure on multiple levels. Not only did he cost the team a sure seven points, but his lack of getting up as if he were somehow injured cost the team a time out, which would have been handy, I don't know...when they ran out of time at the end of the first half!
We're hard on old Limas (something else I just realized today: he's a 24-year-old rookie?) But his subsequent block on Corey Ivy should be near the top of next year's Renegade video. It's the first step on the long road of redemption.
4. It's hard to quantify the loss of Hines Ward, but consider that the Steelers scored 23 points while their offense managed just one touchdown. Yes, there were two scores (Holmes and Sweed) that should've been, but the fact is that they weren't. The offense was just not the same sans 86. And here I always thought he was indestructible. Hopefully he will be fully recuperated and ready for the Super Bowl.
5. Speaking of recuperation, I hope all is well with Willis McGahee after his
near-decapitation courtesy of Ryan Clark
. Word is that
McGahee had "significant neck pain"
but had movement in his arms and legs. And why were the Steelers
playing music during the injury time out
?
6. Time to talk Seven. No, I don't mean that old Brad Pitt movie, I'm talking about the fearless leader of the Steelers, who completed 16 balls to the tune of 255 yards and one touchdown on Sunday. I said a few years ago that as long as the Steelers had a healthy Roethlisberger, they would be in the mix for a title, and in his first five seasons as a starter, he's taken us to three AFC Championships and two Super Bowls.
On Sunday, he had the offense fully on his shoulders when Willie Parker was rendered ineffective, displaying the confidence and guts of a quarterback who has seen and done it all in a short amount of time. And I have full confidence that he'll do the same in two weeks, as the memory of a mostly disappointing personal performance in SBXL still lingers above his head.
*By the way, as I write this I'm listening to Bob Smizik discredit Roethlisberger's 2008 accomplishments on the KDKA Sports Showdown after the late news. If there's ever been a Human Wet Blanket, it's Bob Smizik. I thought he retired?
7. As I thought all week, the running games would be neutralized, and that pretty much came to pass. The Ravens had 73 yards, the Steelers 52, and neither made much of a difference, save for a few McGahee punch-ins. Baltimore's long carry was Mark Clayton's 16-yarder, and the Steelers' was a mere seven yards from Parker.
I thought that the game would come down to Roethlisberger vs. Flacco, and a quick glance at their numbers showed that the QBs made all the difference: Roethlisberger made the big plays and didn't make the miscues; Flacco made the miscues and didn't make any big plays, unless you consider questionable pass interference calls great offense.
Each time CBS flashed Flacco's stats, I wondered how the Ravens were still in the game.
His passer rating was 18.2
. His throws were off the mark all day, he got no help from his receivers, he never got into any kind of rhythm, he threw three picks and he was sacked four times. As the Ravens know best, if you lose the turnover battle in the playoffs, you will most likely lose the game.
8. Speaking of turnovers...can we give it up for the Steeler defense and one Dick Lebeau? The mad scientist was at his best on Sunday, and if he isn't a Hall of Famer someday I think they might as well close the doors of the place. The Ravens had 198 yards on Sunday, and for an offense, that's usually a recipe for defeat.
Lamarr Woodley was everywhere; Troy Polamalu, nursing an injury throughout the week, bested Ed Reed in the big play department; Ryan Clark delivered the big hits; and the secondary came up with three picks. The defense smothered the Ravens all night long.
9. And now, let us discuss "special teams".
-Jeff Reed is one of the game's true money kickers and it's a travesty that he's never even mentioned for the Pro Bowl. He was huge, delivering thrice on stalled drives.
-The Steelers have the least intimidating kick returners I've ever seen. Let's see, we have a goal-line back (Gary Russell) and a fullback (Carey Davis) running back kicks. Am I missing something? This is an area that needs an upgrade in 2009. Which is such a jerk thing to say about any unit of a team going to the Super Bowl.
-Mitch Berger managed to avoid getting opponent's spit in his mouth, but an early punt was nearly taken to the house, his average was 37 on seven punts, and there was that atrocious 20-some yarder in the second half. I can't wait to see Daniel Sepulveda next year.
-We're lucky this game didn't follow the scripts of AFC Championships in years past with special teams gaffes coming back to haunt the Steelers, although much like the San Diego game, we sure got a scare on an opponent's return.
10. Mike Tomlin is the youngest coach to ever reach a Super Bowl. Congrats to the man in charge for an incredible first two years on the job. Way back when Bill Cowher left and we thought the next man for the post would be a coin-flip between Ken Whisenhunt and Russ Grimm, Tomlin burst through the doors and blew the Rooneys away in the interview process. I'll bet Minnesota wishes they had him back right now.
11. Two words: Heath Miller. The guy never drops a ball, he's a great blocker, and he's always available for a timely catch. He's everything you could want in a tight end.
12. Something tells me that Ravens coach John Harbaugh could very easily grow on me as an annoyance in the coming years. He's constantly complaining/whining/griping about something. In other words, he's the perfect replacement for Brian Billick.
13. If you were listening to one of the countless yarns that Grandpa Simms spun on Sunday, you'll realize that Ray Lewis still won't be wearing his old Super Bowl ring, since the Ravens won't be earning one this year. Surprisingly, I shed not a single tear for ol' Ray-Ray.
14. Willie Parker just had another 2-yard run. I think he's now up to 42 carries for 84 yards.
15. Way to predict that Steeler win, Bill Cowher. And I like the vote for Polamalu over Ed Reed. You know where your bread is buttered.
16. Given that he participated as an honorary captain and presented Dan Rooney with the Lamar Hunt Trophy, I think it's pretty safe to say that Rod Woodson will go into the Hall of Fame as a Steeler.
17. How many guys got injured in this game? Hines Ward, Ben Roethlisberger, Willis McGahee, Frank Walker, Ryan Clark, and Corey Ivy all had some degree of discomfort, and that's just the players we know about. That was as violent a football game as you will ever see in a lifetime. At least they played it in a city known for world-class healthcare.
18. OK, let's get into a few essential SB43 specifics:
Location: Raymond James Stadium, Tampa
Kickoff: 6:20 PM
National Anthem: Jennifer Hudson
Coin Flip: Roger Craig, John Elway, and Lynn Swann
Halftime Show: Bruce Springsteen
TV: NBC - Al Michaels, John Madden, Andrea Kremer, and Alex Flanagan. The pregame show will be a record five hours long and
will
include Matt Millen.
Ads: $3 million for 30 seconds. The big one is a 3-D spot for
Monsters vs. Aliens
.
19. Some quick Arizona Cardinals roster notes: as you know, the coaching staff features former Steeler staffers Ken Whisenhunt and Russ Grimm. There's also offensive coordinator
Todd Haley
, who hails from Upper St. Clair; special teams coach Kevin Spencer, another former Steeler assistant; D-backs coach
Teryl Austin,
a former Pitt Panther; receivers coach
Mike Miller
, from Clarion; defensive assistant
Matt Raich
, from Monaca; and strength coach
John Lott
, a former Steeler.
As for the players, there's Pitt products Larry Fitzgerald and Gerald Hayes; local boys Steve Breaston and Reggie Wells; and a number of former Steelers: Clark Haggans, Sean Morey, Jerame Tuman, and the great Brian St. Pierre.
In short, our opponent is pretty familiar with the way things are done around here.
20. To close, let me say that it's been a true pleasure to talk Steelers throughout the year with all of you. I welcome your comments, input, email, videos, photos, or whatever comes your way from now until the kickoff of Super Bowl 43 and beyond. Check back often, it's going to be a fun ride. Here we go, Steelers. Here we go. Pittsburgh's going to the Super Bowl.
Send your news, tips, and links to Mondesishouse@gmail.com.