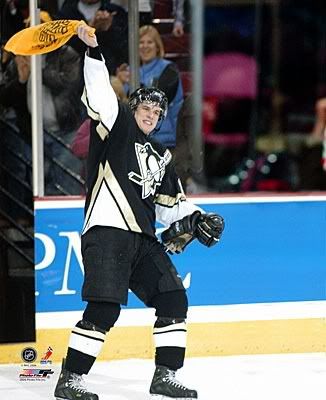 It's a big day in Pittsburgh, and the Penguins did their part,
beating the New York Rangers
before a Terrible Towel-waving throng of 17,024 at Mellon Arena. Sidney Crosby returned after a one-game layoff due to a knee injury suffered against Washington on Wednesday night and had four shots on goal.
Chris Menard, Tyler Kennedy, Petr Sykora lit the lamp for the Pens. And Marc-Andre Fleury stole the show with his postgame performance:
wearing a Steelers helmet and waving a Terrible Towel
. Not a bad way to follow up the 13th shutout of his career.
Send your news, tips, and links to Mondesishouse@gmail.com.