ESPN Radio 1250 in Pittsburgh recently ran a well-publicized competition called "Top Fan" where they held open auditions for an on-air talent position. The contest was dubbed
"a HUGE success"
by the station.
The station ended up
getting 204 contestants
to show up at locales such as Kennywood Park and the Gibsonia GetGo gas station/mini-market to audition for a spot in the finals.
The winner, as chosen by a panel including radio legend Beano Cook, Pittsburgh Mayor/
Penguin fan
Luke Ravenstahl, and former Steeler Mike Logan, would receive a six-month contract at the station.
And on Friday, July 25, at the 1902 Tavern downtown, Chris Mueller became the newest personality eligible for the
Mondesi's House Pittsburgh Sports Media Popularity Contest
, winning not only the six-month contract but also $500 worth of dry cleaning at Owen's Cleaners (my personal choice as the most intriguing talent competition prize of all time).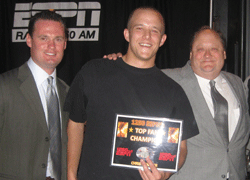 After I posted a short blurb about all of 1250's changes on July 28, including the upcoming reunions of "Stan and Guy" and "Paulsen and Crow", I also added a little snippet about Mr. Mueller's victory at the end. And as it turns out, he's a Mondesi's House reader and sent me an email of thanks for the recognition.
Always on the lookout for an interview opportunity, I thought it would be neat to ask Chris a few questions about his background, the contest, his future at 1250 and some general thoughts on hot Pittsburgh sports topics. He happily agreed, so sit back and get to know Pittsburgh's newest sports media personality, Chris Mueller:
First off, congratulations on your big win. I thought the readers would enjoy getting to know Pittsburgh's newest sports media personality. So tell us, where are you from, where did you go to high school, where did you attend college?
Well, first, thanks for the congrats, everything has been somewhat surreal since last Friday.
I was born, raised, and still reside in the North Hills, Ross Township to be exact. I stained North Catholic for 4 years with my presence, and then went to Penn State and managed to graduate (Class of 2007) on time, much to the surprise of everyone who's ever known me.

Who are some of the sports media personalities that have influenced your style?
I grew up watching Dan Patrick and Stu Scott when I was little, and since I didn't have cable for awhile, their shtick seemed fresh to me every time I saw it. Kenny Mayne's dryness always made me laugh, and is something I try to emulate as well. Locally I was always into John Fedko, but that passed around the time I was 12.
In all honesty though, the primary influences on my "style", if I can even call it that, would have to actually be two non-sports personalities. Structurally, I try to model most of my rants on those of
Daniel Tosh
, a stand-up comedian, and I try to come out of left field with phrases like the late
Mitch Hedberg
did. I'd say they influence what I say more than anyone.

What made you want to participate in this contest?
Truthfully, though I did listen to 1250 somewhat before this, and had heard about it on the air, my uncle was the main reason I did it. He got wind of the competition and told my parents, and the three of them pretty much insisted that I try it, mainly I think because my uncle was convinced I could pull it off. Let's just say I didn't share his opinion on that, at least going in. I did do sports radio at Penn State for four years, so I ended up just saying, "Eh, why not?"

You were the only finalist that qualified with just one audition. What did you talk about that caught the judges' ears that day?
Well, first off I have to say that I initially don't know what caught their ears, because I thought I did horrible when I tried out. The second I walked out of the bar I called my mom and said, "It's a good thing you can do this more than once, because I sucked." Eventually, I just decided that I wasn't going to do it again because I was so annoyed.

When I did go on, I talked about the Pirates and compared them to two other small-market teams that are having lots more success, the Twins and the Rays. I made a few legitimate observations (at least I thought so) about the Twins and Rays being successful in the draft and in trades, talked about how the same could not be said for the Pirates, and then made a few Bryan Bullington/Sean Burnett's arm/Dr. James Andrews jokes and that was it. I did think I was dead in the water because the only thing the interns and ESPN workers asked us to do was end our segment by saying, "Back to Junker and Crow," and all I managed to spit out was, "Uh, back to you, Guy and Eddy." Pretty much thought I'd blown what little chance I had with that gem. Imagine my surprise when they called me and told me I'd made the top 10--I thought it was some weird episode of Punk'd or Candid Camera.

Who were you more nervous to appear in front of: Beano, the Mayor, or Mike Logan?
Definitely wasn't the mayor, because my older brother graduated a year behind him at North Catholic and I went all four years in the same class as his younger brother. When the Mayor was saying hello to the other contestants and introducing himself, I just went, "Oh, hey Luke, what's up," and that was it. I'd say it was Beano because his knowledge and experience is just staggering. No matter what he says, when he says it, you listen. He's a legend.

The championship just happened to be held at a bar. Convenient place to celebrate such a big moment in your life?
It was certainly convenient in the sense that my friends that came down don't need to be asked twice to go to a bar, no matter the circumstances. I had a few beverages after the contest, but I generally kept it together for the rest of the evening because I knew I was playing golf the next morning and didn't feel like being hung over on the first tee at 11:30. The strategy paid off too, because I played the best round of my life by far. I did, however, get pretty housed at an open bar Saturday night, so I think the event was celebrated properly.

Who's the 1250 employee you're most looking forward to working with?
This is the lame opt-out answer, but with all the changes that just happened, I'd have to say all of them. I know that I'm going to be moving around a lot within the station and doing a lot of different shows, but I honestly couldn't pick one person and say that I'm more excited to work with him/her than everyone else. I will say that everyone at the station, and I do mean everyone, has been extremely friendly and welcoming to me.

Have you been given any assignment yet by 1250 or any idea of how you'll be utilized?
I found out that I'll be covering training camp Monday and Tuesday of next week, and I think Monday will be with Stan and Guy and Tuesday will be with Scott Paulsen and Eddy Crow, but beyond that I don't know. I suspect they're going to give me a variety of assignments, and I'll be glad to do any and all of them, because I'm just excited to get a chance to do what I love and soak up all the insights I can from some of the really big hitters in the Pittsburgh sports media community.
A few sports questions to see where you stand on the following issues du jour:
What are your initial reactions to the Nady/Marte trade and the Bay trade?
The Nady/Marte trade still reeks of a "pennies on the dollar" return for the Pirates. When the centerpiece of the deal is someone that sounds like they need a steady stream of Ritalin pumped in their blood, along with a shred of maturity, it's hard for me to get too excited. When you're trading arguably your most valuable asset, you'd hope to get more back than an iffy outfield prospect and a bunch of Van Benschoten and Bullington clones in waiting. And make no mistake, that's exactly what Karstens, Ohlendorf, and McCutchen are, at least once the Pirates minor league coaches get their hands on them.

As far as the Bay trade, there wasn't anything I saw in return that got me excited. Another LaRoche brother? Wonderful. I hope his two-month slump comes at the same time as Adam's so we can get them out of the way. Scouts have said that some of these guys have promise and might be decent, but I don't see an Evan Longoria here, or a Scott Kazmir, or anything like that. When the majority of the commentary centers around how the Red Sox and Yankees really didn't give up much to get players from the Pirates (let's be honest, a happy Jason Bay will be at least comparable to an angry Manny) it probably means the Buccos didn't get the best of things. I'm not happy with these trades at all, if that wasn't completely obvious already.

More disappointing appearance on the PUP list: Casey Hampton after being warned by Coach Tomlin to lose weight, or Troy Polamalu after his extensive offseason conditioning program?
Well, anyone that didn't see Polamalu's woes coming the second they saw his name in the same sentence as Marv Marinovich's is insane. So that's disappointing, especially considering Polamalu's health problems last year, but not surprising to me. The Hampton matter will be a non-issue by the end of camp. The man is a proven Pro-Bowler, and if Tomlin wants to send a message by PUP-listing him, so be it. It's not like he needs to run much on any given play, and to a certain extent, it's his job to be fat. Let the man eat and continue commanding double teams. Polamalu is by far the more disappointing story.

Who retires first: Brett Favre or Joe Paterno?
Favre, because Paterno is going to die on the sideline, probably at the hands of one of his players.

Dave Wannstedt's Pitt Panthers: Over or under seven wins this season?
Over. I think they might be a sleeper BCS team, and as the only Penn State grad who went to games at Beaver Stadium wearing a Pitt t-shirt, I have to say that I hope they significantly outperform Florida State North this year.

Pitt has a lot of things going for it. Star power on offense (McCoy) and defense (McKillop), a young team that got better as last season went on, the good health of Derek Kinder and Bill Stull, an experienced and reasonably capable (if slower than Kent Graham) backup QB in Pat Bostick, and perhaps most importantly, a weakened Big East, with WVU at home. I think this team has something preposterous like 10-2 or 11-1 in them.


Other than players (and coaches) they've re-signed, who's the Penguin offseason additon that you feel will make the biggest impact?
Miroslav Satan. He had a down year last year, but I smell Sykora-like impact and then some from him, which would be a huge plus for this team. Plus, whenever he scores, I get to yell, "HAIL SATAN!" And really, when is that not fun?

And finally…The question I'm dying to ask: what are your plans for the $500 in free dry cleaning?
If you'd seen what I was wearing at the semi-finals and finals, you'd realize that I have no use for such prizes. I'd probably get more use out of a tub of bacon grease--mmm bacon.
Best of luck to a Mondesi's House reader hitting the big time. Listen for Chris in the future at www.espnradio1250.com.