Every once in a while, I trot out something called "The Mondesi Show". I throw out a few hot topics of the day, and you voice your opinions on any or all of the questions in the comments section. Think of it as a sports talk show in blog form.
Since I spent last night working on another "project" post and not something for this morning, this will have to suffice for now.
So here are today's topics:
1. Pitt
finally landed a big-time recruit
in Dante Taylor, a 6'9", 230-pound power forward from National Christian Academy in Ft. Washington, Maryland. He is ranked #23 by Rivals.com and chose Pitt over Kansas, Memphis, UConn, Syracuse, and Villanova. Not too shabby, Mr. Dixon.
Taylor, who will probably (but not definitely) be a "one-and-done", is in line to replace Sam Young, who is going into his senior season. One-and-dones have turned out good for some schools (Carmelo Anthony at Syracuse) and not as good (OJ Mayo at USC, who probably
wasn't worth all the trouble
).
Pitt fans (and non Pitt fans, for that matter): are you in favor of one-and-done players, or do you prefer slightly under-the-radar guys that Pitt has targeted in the past?
2. Josh Hamilton
hit 28 home runs
in the first round of the Home Run Derby last night, then lost to Minnesota's Justin Morneau in the finals. Hamilton's 28 dingers were the most home runs ever hit in one round; unfortunately, Hamilton appeared to be out of energy by the time the finals came around.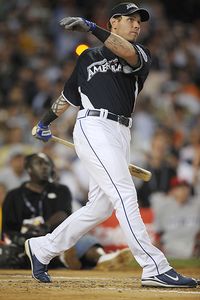 Do you think the Home Run Derby format needs tweaked?
3. The Buccos sit at 44-50, 12.5 games out of first place in the NL Central. They have a 5.24 ERA (worst in MLB), rank 16th in OBP (.325), 12th in HR (98), and 24th in fielding percentage (.982).
Have you seen any reason to believe that things are changing, or is it "Same Old Pirates"?
4. A lot has gone down since the NHL season ended. After the moves they've made so far, where do you see the Penguins finishing next season?
5. And finally, we come to the Steelers. What are your early impressions of the potential new owner, Stanley Druckenmiller?
Those are the questions, so now is your time to have at it. As they used to say on an old Saturday Night Live skit, "talk amongst yourselves."