by Koz
koz81@comcast.net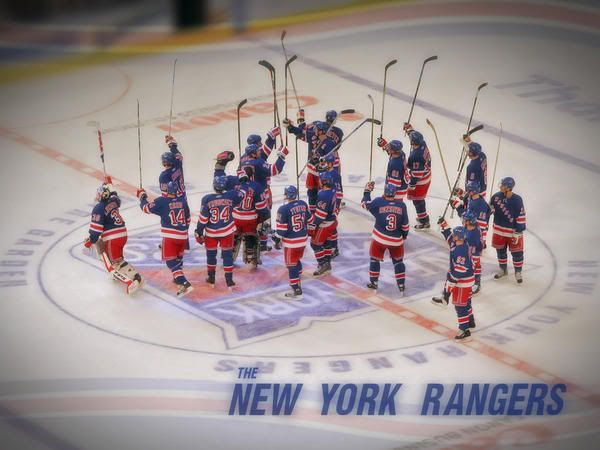 "WE SURRENDER!!!"


Finally, we know who the Pens face in Round 2 and I can finally write this column. I would have preferred to face a team coming off one of the seven game series than the Rangers who've had about as much rest as Pittsburgh, but whatever.

A. The Pens were 3-3-2 against NYR this season.

B. The Rangers were 5-3-0 against Pittsburgh this season.

C. Both A & B are true.

I like looking at A, because it makes me feel better. You decide for yourself.

Motivation: Jaromir Jagr gets his first playoff series against his former team. Yawn. Does he even remember being a Penguin? This is so overplayed. The only drama around this will be if the so-called Penguin Lady who sits near the home runway at the Igloo with the inflatable penguin will wear her Jagr Rangers jersey during the series. Seriously, how does this lady get so much pub? She wears the other team's jersey several times a year! TRAITOR! Rumor is Jagr would consider finishing his career with the Penguins if Don Barden would just hurry up with that casino.



Jagr seen here tracking his bets on the out of town scoreboard

Sergei Gonchar is not one of the three finalists for the Norris Trophy. That's just garbage. Lidstrom is an obvious candidate and the likely winner, but Phaneuf and Chara? I won't go into nerdy detail about, but just know that plus/minus ratings being equal, the guy with 70% of his points coming on the powerplay should get a little more credit. Let's hope this inspires him to score 10 power play goals this week (that will be totally unimpressive to traditionalists, unlike an ungodly amount of penalty minutes, okay I'm done now, I promise).

Leading Scorer: Jagr (25-46-71). Edged out Scott Gomez by one point.

Public Enemy #1: Sean Avery. I don't even have to go into the details of this character's douchebaggery, because in the immortal words of Barenaked Ladies, "it's all been done." What I will say though, is Avery could really be a fly in the ointment for the Pens. They have to stay disciplined like they were against Ottawa (after game one). Ron Cook mentioned in the PG that Coach Therrien specifically asked Jarkko Ruutu to take fewer penalties. That's a tall order against Avery, but it certainly is a must.



Captain of the Al Qaeda dek hockey team

Goaltender: Swedish supermodel Henrik Lundqvist. He's one of the three nominees for the Vezina Trophy (sorry, I won't make a case for Ty Conklin). He's been on People World's 100 Most Beautiful People list. A drunk guy once impersonated him on YouTube and a Swedish tabloid had to run a retraction about it. Everyone (including me) was concerned about Gerber being the weak link but he was the best thing going for Ottawa. All signs point to King Henrik as the strength of the Blueshirts. Maybe he'll have a meltdown? Maybe someone can introduce him to Steelers placekicker Skippy Reed? Maybe someone should take him to the Ikea out near Robinson Town Center and he could get lost in there? Just some ideas.

Soon to be Overplayed Storyline - The Brothers Staal: Jordan vs. Marc. I was tough on Jordan a few weeks ago for his play this season, but he had a great series against Ottawa (but didn't everyone?). His faceoff percentage (nearly 53%, a ten percent improvement over his regular season rate) led the team and his defensive play was excellent. On the other side, Marc had a critical error in Game 3, but redeemed himself with his first playoff goal to win Game 4. You'll see that Staal family home video from the backyard rink a few dozen times within the next week.

Oh yeah and Jaromir Jagr used to play for the Penguins. Did you know that?

Playoff Link of the Week: The Edge Playoff Beard Gallery – I don't think the Pens even have a nominee for this yet. Maybe next series?

Watch Out for These Guys: Chris Drury has a reputation for clutch playoff performance going back to the 1989 Little League World Series. Brandon Dubinsky is leading all rookies in playoff scoring right now. Also, Nigel Dawes scares the hell out of me when he has the puck with speed. Wearing #10 doesn't hurt either, since it gives me flashbacks of the greatest pure goal scorer of our lifetime.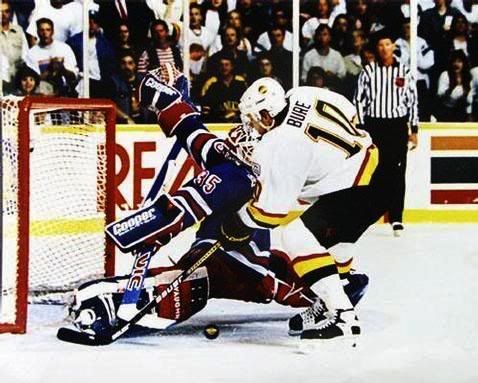 I am prepared to fight anyone who disagrees with my previous statement, even though this photo ironically depicts his most famous rejection.
Speaking of people to watch out for... can you believe Montreal rioted after winning game seven in the first round over the 8th seed??? Amazing photos are available here. Someone has to derail the Habs. Can you imagine what would happen if they won the Cup? Quebec would finally secede from Canada and I think they'd try to take Vermont and New Hampshire.
Let's Go Pens!