The NFL Combine is the one week when general managers leave the film room –– after looking at NFL hopefuls' "body of work" –– and take a long look at the players' actual bodies. Throw in a motor-skill rally and a few Double Dare physical challenges and you have yourself the NFL Scouting Combine.
The trees of this spectacle are the evaluation of players, but the forest, well, looking at this event from afar can seem rather farcical. Ed Bouchette compared the event in last week's Post-Gazette to a kennel club dog show only without a Best in Show award. Kansas City Chiefs coach Herm Edwards, while lounging in his 40-yard line seat during the NFL Network's wall-to-wall telecast, compared the event to the swimsuit competition of a beauty pageant.

The titillating commentary
was borderline homoerotic
. No, make that a standing broad jump over that line. A jaw-dropped Jamie Dukes did his best Kevin Arnold-gawking-at-Winnie Cooper line ("… and look at the body on this guy") when Kellen Davis of Michigan State stepped up to the vertical jump platform. Michael Silver of Yahoo! Sports fetched some good quotes from the
Market's finest Meat
in his column about the televised weigh-ins: "I felt like I was a model for Fruit of the Loom," said former USC offensive lineman Chilo Rachal. "I don't care if they want to (talk about my butt), as long as they don't touch me in that way," said ex-UTEP tackle Oniel Cousins.
All in all, the last "sporting event" in RCA Dome history was fun to watch. Perhaps having a Hulk Hogan-type sideline reporter force the players into awkward moments of American Gladiator trash talk would help. As far as the information value, you would think with 430 media members, 1,900 team personnel and 334 players present we'd all have a unified Mock Drafts after this week (more on that later). Instead, we'll have to wait to see where free agents land as well as where potential draftees slide on the Arabus of "stock rising" or "stock falling."
Here are a few notes and musings from watching the NFL Combine and scouring a few draft web sites:

After watching the NFL Network gush over Marshall Faulk during last season's Steelers-Rams game, the Faulk lovefest continued over the weekend when he made an appearance on set complete with footage of his first game played in the RCA Dome. (The only thing Faulk brought was a mildly funny Price is Right reference when calling a player-on-the-rise a "Yodeler.")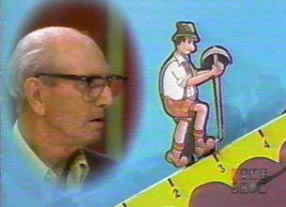 Steelers director of football operations Kevin Colbert is not the most revealing sound bite (take his first-round mantra of "
anyone except a quarterback or a tight end
" the last two years). However, some interesting Colbert blurbs appeared on the web:
I got a kick out of how
Mike Mayock
, the Mel Kiper of the NFL Combine, totally pigeonholed every player at the Combine with positive/negative labels that scrolled at the bottom of the screen during the NFL Network telecast. For example, "Chris Williams, OT, Vanderbilt: Positive: Finesse Blocker / Negative: Needs to Get Physical." That could be the worse thing to call any lineman, but Mayock still raved about him.
Here are some of my favorite of the "Positive" variety …
Branden Albert: "Specimen"
Roy Schuening: "Good in a Phonebooth" (This guy may by Superman but he sure looked like
John Belushi from Animal House at the Combine.)
Trevor Laws: "Energizer Bunny"
Curtis Lofton: "Downhill Thumper"

Phillip Merling: "Complete Player" (Then why was there a negative?)

Matt Ryan: "Off-the-Chart Intangibles" (This is either redundant or illogical since only tangibles can be charted.)
Kory Lichtensteiger: "Nasty Attitude"

Dustin Keller: "Rocked-Up WR"

Tyrell Johnson: "Tough-in-the-Box SS" (His girlfriend would call that a negative)

… And here are some amusing "Negatives"

Ryan Clady: "Hand Placement" (Needs to practice on that Twister mat)

Darren McFadden: "Legs Dead on Contact"

Sedrick Ellis: "Gets Washed Easily"
Kenny Phillips: "Not Ed Reed"

Curtis Lofton: "Short & Tight-Hipped" (Also a big no-no in the Amish community for child-rearing)

Xavier Abidi: "P.O.A. Issues" (This means Point Of Attack but for some players this could mean Power Of Attorney)
For those wondering who the Draftnik "experts" think the Steelers are going to take in the first round, it's anybody's guess. In sampling 25 draft web sites –– and I'm sure there are plenty more –– the resounding opinion is offensive tackle. While some haven't been updated since the
Max Starks news broke
, here are the picks. Take them for what little they are worth:
Six for Branden Albert, OG/OT, Virginia:
We'll have more coverage of "Who the Steelers are Going to Draft" in future posts once the remaining stool samples from the Combine are thoroughly analyzed.