These were the tragic last words of one Cesar Izturis upon hearing the news that he was joining the Pittsburgh Pirates on Thursday. Izturis was traded along with perennial Pirate favorite "cash" for a player to be named later (and not the Pirate Parrot,
as reported earlier
). Izturis joins a team only 2.5 games behind Tampa Bay for the worst record in the league. But fear not, dear Cesar:
We Will Excite
. Actually, now you will have to excite. Or not. It's kind of an open-ended promise. You'll figure it out when you get here.
Excited about Dave Littlefield's latest acquisition, Bucco faithful? You shouldn't be. Why not? Well, the first clue should be that Dave Littlefield made the trade. The second clue would be Baseball America's take on Cesar, in an article entitled, "
Cubs Dump Izturis On Pirates
":
The 27-year-old Izturis never has done much offensively, and his lack of ability with the bat cost him his starting job with the Cubs. Izturis hit just .246/.298/.304 with no homers and eight RBIs in 65 games, and Ryan Theriot supplanted him at shortstop. Izturis also seems to have lost a step in the field.
Don't worry...I'm sure Greg Brown will find a way to make him sound like a combination of Ozzie Smith, Derek Jeter, and Cal Ripken times ten thousand.
So I guess the Pirates
were
buyers at the deadline after all, because this guy looks like a perfect fit for their team, although I'd rather Littlefield had traded for
Cesar Millan
, the Dog Whisperer. Maybe he could at least teach some of his new Pirate teammates something productive, or at the very least not snapping at anyone (I'm looking in your direction,
Mr. I Know Who Stole Signs and I Will Get Them
).
The other shoe to drop on Thursday (besides the
Zoom Vick V
) is the apparent movement of one Jack "Steve-O" Wilson. Wilson is on the books for $5.25 million in '07, $6.5 million next year and $7.25 million in 2009. Not unreasonable for a legitimate major league shortstop, but unreasonable for any Pittsburgh Pirate. So Wilson will probably be sent packing, joining tragic figure Don Kelly as they exit the Pirates in unison. Actually, Kelly got a head start, because the Pirates designated him for assignment on Thursday. He will be missed.
Besides Wilson, Damaso Marte, Salomon Torres and Shawn Chacon are all looked at as trade bait. If only the Pirates could find a fish dumb enough to take the bait of all four, they'd save $20 million in salary the next two seasons. That's music to Bob Nutting's ears.
But who would the Pirates take in return? A proposed blockbuster deal with the Cubs, where the Pirates would acquire Jason Kendall, Aramis Ramirez, and the rights to Mark Cuban as owner, was predictably shot down by Nutting and Littlefield. However, there is one other player out there who may be over the hill, but leads his team with 19 home runs and plays for a team in last place and willing to make a move...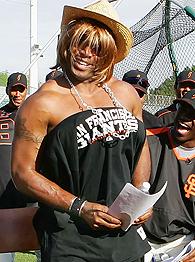 It's time to welcome home Barry Lamar Bonds.