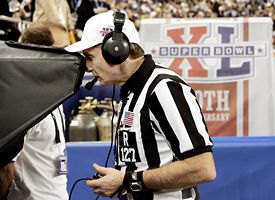 On a Pittsburgh-centric football weekend in Canton, Ohio, what is leading the local Saturday football headlines? Something that happened in 2006.
"It was a tough thing for me. I kicked two calls in the fourth quarter and I impacted the game, and as an official you never want to do that," said the veteran of 15 NFL seasons and two Super Bowls.




"It left me with a lot of sleepless nights, and I think about it constantly," Leavy said of the game in February 2006. "I'll go to my grave wishing that I'd been better."
Naturally, Seattle fans are using this as a validation that they were robbed of a championship, but as I've said all along, they're letting their own team's lousy play that day totally off the hook by blaming Leavy and Leavy alone.
Look, bad calls happen in the postseason, and if your team is good enough, they can overcome them. As an illustration, look back to the 2006 playoff game against the Colts, when Troy Polamalu clearly intercepted Peyton Manning but the call was overturned. A horrible call, yes, but the Steelers ultimately were able to overcome it in the end.
Less-intelligent fans point to the Steelers getting favorable calls over the years merely because of who they are, but I can't even begin to count the amount of apologies the team received from the league for blown calls during the Bill Cowher Era. And if you really want to get into it, pull up the 2001 AFC Championship against New England, when the officials had so many incorrect calls overturned that Cowher literally ran out of challenges and couldn't do anything to get their future botched calls in the game corrected.
Did Bill Leavy allow a 75-yard touchdown run to Willie Parker? Did Bill Leavy allow a 43-yard touchdown pass to Antwaan Randle-El? I didn't think so. It's high time Seattle accepted their team's weak showing in the game and stopped pointing to the zebras. Unfortunately, Leavy did nothing but rip the scab of off that wound for Seahawk fans.
While his act of soul-cleansing was therapeutic for his own good, I'm not sure who else exactly was helped by this. Seahawk fans certainly aren't happy with the revelation, and Steeler fans are bristling at claims that their championship is tainted. But as long as Bill Leavy can sleep better at night, I guess that's all that matters.