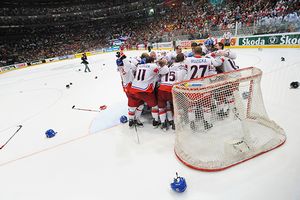 Lots to catch up on, including the Czech Republic/Russia championship game, the possible end of the road for Jack Wilson, Peter Gammons talkin' Bucs, and a trio of bizarre local arrests, along with much more...
Former Penguins Michal Rozsival and Jaromir Jagr
helped the Czech Republic to a 2-1 win over Russia
in the 2010 IIHF World Championship title game at Cologne, Germany on Sunday. It snapped a streak of 27 consecutive World Championship games won by the Russians dating back to 2008, as the disappointing 2010 hockey calendar (Olympics, NHL Playoffs, IIHF Championships) continued for Evgeni Malkin and Sergei Gonchar.
Jakub Klepis scored just 20 seconds into the game for the Czech Republic, while captain Tomas Rolinek made it 2-0 towards the end of the second period. Pavel Datsyuk scored with 35 seconds left in the game on a pass from Ilya Kovalchuk to pull the Russians within one, but it was ultimately not to be. Czech goalie Tomas Vokoun was simply too good, stopping 35 of 36 shots and outdueling Russia/Washington goalie Semyon Varlamov.
Jaromir Jagr left the game after being clipped by Russian defenseman Alexei Emelin midway through the third, a move that earned Emelin a major penalty and a misconduct.
There was speculation that this could've been the last international game for Jagr, who had this to say on the topic: "I hope it wasn't my last game [with the national team]. I love the game, and want to play as long as possible." [NHL.com]
"This is when you actually look at your career and if it's going to last too much longer. In reality, there's nothing more that I can do. If it ends up pulling, there's nothing you can do about it. You're out two weeks every time you do it."
Wilson, who was traded to Seattle last season, signed two-year, $10 million contract extension with the Mariners last November. According to Baseball-reference.com, Wilson has
earned over $35 million in his career thus far,
so he should be pretty financially secure if the end is truly near. [Sporting News]
Peter Gammons
of the MLB Network
recently appeared with Seibel and Starkey [audio]
and he thinks that the Pirates' plan will eventually lift the team to respectability. Of course, Gammons also predicted that Kris Benson would win the NL Cy Young Award in 2000, so take his picks for what they're worth. [93.7 The Fan]
Michael Sanserino
penned a fantastic article for the Sunday PG about
potential Big Ten expansion
and the domino effect it could have on college sports, including the case for and against Pitt joining the conference.
I don't know, maybe it's just me, but it gets a little tiresome to continually hear about such enormous sums of money being discussed against the fictitious backdrop of amateur athletics. I realize this is just business, and I can accept that...BUT...can we drop the part where schools pretend that these athletes are anything but cash cows for the universities?
I think it was this comment that turned me off the most:
Academic concerns have prevented the Big Ten from expanding in the past, but those issues likely will not hinder Big Ten expansion anymore.




"The landscape has changed," the [unnamed] Big Ten university administrator said. "I don't think presidents care a great deal about academic standings. They're looking at the dollars."
Mark Madden
unveils a major potential scoop
regarding the Pittsburgh Pirates and where those millions in revenue-sharing bucks have been going. It sure hasn't been on the 2010 roster. [Mark Madden/WXDX]
Joe Starkey
has had it with the Ben Roethlisberger stories,
making the unique yet spot-on comparison to the "Band Camp" stories from
American Pie
. As I've said before, I totally agree. We've heard enough of them for a lifetime. He's been a jerk off the field for a long time. I get it. Time to move on. [Trib]
Adil Minocherhomjee, 22, of California, Neville Medhora, 27, of Texas, and Shazad Mehta, 28, of Illinois were jailed, charged with criminal trespassing and criminal conspiracy. [WPXI]
Robert Strohmeyer
, 42, of Columbus, Ohio, is being charged with two counts of endangering the welfare of children after
leaving his six-year-old daughter at the Jerome Bettis Grille 36
while he left to go to the Pirate game.
Police say Strohmeyer was found at a tailgate party, and then taken to the Allegheny County Jail. You can probably count him out of the running for 2010 Father of the Year. [KDKA]
Anthony Dodson
, 35, of Uniontown, has been jailed on charges that he
threatened his girlfriend with a meat cleaver
while they argued about the BP oil spill in the Gulf of Mexico.
According to the criminal complaint obtained by Channel 11 News reporter Dave Bondy, at one point during the argument Dodson admitted to holding a meat cleaver near the victim, telling her "I'll show you how crazy I am."
Oh, Fayette County. Don't you ever change. [WPXI]
Email your feedback, questions, and tips Mondesishouse@gmail.com