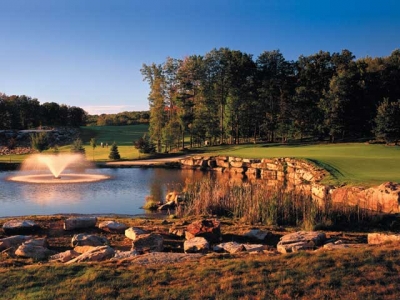 We're down to the five finalists for the Mondesi's House/
Nemacolin Woodlands Resort
"Best Golf Trip Story" Contest, as selected by a panel of judges from the resort. At this point, it's your turn to be the judge - so as always, vote responsibly.
Nemacolin Woodlands Resort
, the world-famous, five-star treasure nestled in the Laurel Mountains, has offered up the following prize package to the winner of this contest:
-Luxury accommodations for two nights
-Breakfast for two mornings
-One round of golf for two on The Links
-One round of golf for two at Mystic Rock
So sit back, check out these five stories, and vote for the best one as you see it. The voting closes May 27 at 11:59 p.m. EST, with the winner being announced on May 28.
#1: MIKE ROSSETTI
"I went to Ohio with my father in law and his friends for a golf trip. One of the guys with us on the trip begins drinking at 5:30 in the morning for an 8:00 o'clock tee time. Of course I am selected to drive his cart. About 3 holes in he lets one rip. I'm driving down to our tee shots and I look over and, to my surprise and dismay, see crap running down his leg. He's unaware of the situation. I clue him in and end up taking him back to the car for a change. After finishing the round we head back to the hotel for beer and cards. I am watching them play Pinochle as well as watching some kids swim around the pool. Suddenly I notice one of the kids floating at the bottom of the deep end and his friend holding on to the side trying to reach him. I jump up, flip my wallet out of my pocket, and dive in. I grab him under the armpits and bring him to the surface. My father in law jumps in to help. I get him to the side, it is the deep end, and with all I have in me lift him and throw him up over the side where his chest slams off of the wall of the pool. This forces water comes pouring out of his nose and mouth. It's about this time that the lifeguard, who happens to be changing in the lifeguard shack for a night out, comes jumping in on top of me after hearing the commotion. My thoughts are that she wanted to be wet in case management or the authorities showed up. At any rate, I'm glad he slammed off of the side of the pool as it opened up his airway and that really helped matters. He lay there for about 10 minutes shaking in shock. I've never seen anything like it before or since. His arms and legs were shaking uncontrollably and I hear from witnesses that when I brought him up to the surface his eyes were rolled up in the back of his head. Surprisingly, his friends took him back to his room and management never even was aware of the situation. I never even got a "Thank you" from anyone but I saved a life that day. Later on I head to the bar for a few drinks with some of the guys. Of course when traveling to Ohio I always wear my Steelers gear. At the bar is a guy in all Browns gear who starts giving me a hard time. Imagine that. I apologized to him for the performance of his team and pretty much rubbed it in his face. All in all it was a great weekend with some interesting, unforgettable, and pretty remarkable experiences."
#2: BRIAN DAQUELENTE
"I am not sure of this constitutes as a "trip" per se, but about 7 years ago my girlfriend (currently my wife) Emily and I went on an afternoon golf trip with her parents. Seeing as how this was my first time really spending any time with her parents I was a bit nervous. I consider myself an athlete and I felt like I could make a good impression on the golf course. Her parents were both very good golfers, so I thought it would be perfect for them to see myself as one too. After all, if I have something in common with them it would be just one more thing that would endear me to Emily whom I already knew that I wanted to marry.
So the day begins strong. It had rained earlier in the morning but cleared up to become a gorgeous day. The course was playing at a good pace and we all got off the 1st tee without any hitches. This positive karma continued throughout the early afternoon. We were talking and laughing and really hitting it off. It all seemed to be perfect, in retrospect maybe too perfect! After finishing up the 6th hole, par 4, we pulled up to the 7th hole which happened to be a par 3. There was a little backup at the tee box so we waited our turn. After what seemed like an eternity (it really messed with my mojo as well), we finally had the box. Now the way the tee box was positioned the men's tee box was almost directly behind the women's giving really no relief to the women. Normally Emily's Dad and I would hit first and then we would drive to the ladies tee-box for the women to hit but since we were next to each other the women were able to tee off right there. The tee box was a bit wet from the morning rain and had yet to dry out. We noticed this when my wife teed off and chunked her shot. She sent mud flying! This made Emily's Mom rethink her club and so she went back to the cart for the change. Well by this time it had been awhile since I hit so I decided to drop back and get some practice swings in. Well I was really getting into swinging when unbeknownst to me Emily's Mom was walking back down the stairs to the tee box when I did the unthinkable! I chunked my practice swing so bad that I unearthed what seemed to be half the tee box! Well wouldn't you know it that the unearthing all but hit my (future mother-in-law) directly in the side/back of the head! There was immediate dead and awkward silence. I am not even close to knowing what to say and by this time Emily was over helping her mother clean the mud off of her face and from in her hair! It was by far the worst and unimaginable thing that could have ever occurred that day. Needless to say, the rest of the day was like walking on eggshells! Even on the ride home she was still picking mud out of her ear!
Now with most things, time heals all wounds. We were eventually able to laugh about this and it now is brought up at family functions by my in-laws to tell the tale of how their son-in-law makes the best first impressions. If I were to win this contest, I would treat my wife and I, then of course invite my in-laws along so that I could continue to work on my impression. In spite of everything, how could I not set a great impression with a first ever trip to the one of kind Nemacolin Woodlands Resort. Then again, my history of impressions speaks for themselves........"
#3: TERRY JACKSON:
"It was 1991, and I was brought into what most would call a "work out" situation for a coal company that was owned by an oil company in Houston. The Chairman of the Board of the parent company and the coal subsidiary, was a cavalier character who had founded an American Company that was traded on the British Stock Exchange, and he bragged that he founded it from his garage in California with as he told it $800, and the company had grown to a $300 million publicly traded company by the time I joined it.
Well the boss was quite a character, and he had become rich as the Chairman of this company. He attended the Doug Sanders Junior International Golf Championship fund raiser where they had an auction to raise money for the development of youth golf and the boss who maybe had too much to drink ended up bidding and winning a 4 day all expenses paid trip to Pebble Beach. All that he had to do was to get 4 golfers to Pebble Beach, and they would play 6 rounds of golf, two rounds at Pebble, two at Spyglass, one round at the Links at Spanish Bay, and since there was a tournament there and they couldn't host the 2nd round, the pro got the final round at the Monterrey Penisula Country Club. I was told that the boss had bid $30,000 for the trip, which was pretty foolish, and Doug Sanders was so impressed that he committed to being at Pebble and playing some golf with us while we were there. It was a 4 day trip with a guest house provided as well as two days of a single round of golf and one round on the day of our arrival and departure.
I was brand new with the company, and I had been so busy with work that I hadn't even picked up a golf club in almost a year. Plus, I and everyone else expected the boss to take some of his golfing buddies from the Oil Company as his guests. Well, there had been an ongoing conflict and a "Palace Coup" that was being fomented with the shareholders that would eventually unseat the boss, but in the meantime, he came to me and told me to get two of my friends from the Coal industry and they would join him and me on this trip.
Needless to say, it was the trip of my lifetime. Not only did two of my closest industry friends get to join us, but Doug Sanders is a character. It was too much golf for me with the shape of my game, but I soldiered through it. Sanders accompanied us for at least a round a day telling bawdy stories constantly and even helping me with the problems I was having with my game. I was stunned at the absolute beauty of those courses and the Monterey Peninsula, my two industry friends are eternally grateful to me for the experience for all of us, and as a guy who was an 18 handicap player in my best day, I would match those four days and those four courses against anything that most people can do in a four day span in their lifetime.
The coda to the story is that the boss got ousted, but sued the company for a generous settlement and won. I settled the problems in the coal company, but ultimately got asked to liquidate it to pay off parent company debt working myself out of a job. I guess the oil guys couldn't find oil in the Baytown Refinery because several years later, they were out of business too. So it goes. At least I got the golf trip of a lifetime."
#4: SAMUAL JACKSON
"To describe this memorable golf trip in just one word it would be Lucky. Not because one of us sunk a 50 foot putt, chipped a ridiculous chip, or came anywhere near making a hole in one, but Lucky to make it to the 19th hole (the bar) without being physically injured or killed.
Our first omen occurred on the first tee box. Myself, my friend Brandon, and the bachelor-Anthony gathered at the 1st tee box to decide who would go first. After an argument of how we were going to decide who would hit first, and concluding that three-way rock, paper, scissors doesn't work for this situation, we decided to throw a tee in the air and which ever person the tee pointed to when landing softly on the ground that person would hit first. So I throw the tee in the air, and out of no where the wild and wonderful West Virginian wind takes the tee and sends it sailing into Anthony's eye!! He was okay minus a tear or two, but this is only the beginning!! (Not too mention he was getting married in two weeks, the tears are only preparing him for the rest of his life).
For the second hole the only thing we were hitting were the woods!! The sexy sound of a swing, followed quickly by the lovely PING sound from the club followed by the CRACK of the ball hitting the trees, then followed by a nice THUD, and a ball rolling softly back into play. This was not just one of us getting this LUCKY bounce but all three of us. Woosh, PING, CRACK, THUD,"Holy s**t did you see that?" Woosh, Ping, CRACK, thuuud, "Wooohoo I did it too", Woosh, Ping CRACK, Crack, crack, THUD, "HAHHAHA Oh My God!!!!" is pretty much how it went.
As we went to retrieve our balls down this steep trough that our balls rolled down into, I had forgotten the heavy rain that came through early that morning making the grass slick, and very difficult to control a golf cart on. Sure enough, we went sliding down the hill sideways headed straight for an even rockier landing. Brandon again screaming "Oh s**t" and bailing from the cart as I am solo-piloting the cart to what is a certain vehicular accident. As this rocky trench gets closer and closer, I was not sure if time actually slowed down, or if my mind just saw everything in slow motion, but I am within a foot from this "edge" when I hit a bump with my back tires and somehow landing on a hidden tree stump that was never cleared. Well the "bump" was Brandon's flailing leg that I had ran over, and he unknowingly disturbed my certain path of an early quit by pushing the cart onto a rotted stump., halting my golfcart!! We all looked at each other with an "AHHHH" look on our face, "gave" ourselves a par and just shook our heads as we drove on!!
Other than a couple of slick slides from the wet grass the rest of the afternoon carried on without any close calls....until the 8th hole!! A pretty short hole, par three, very easy as long as you keep your ball to the right of the green, otherwise you are chipping up a 40ft hill. Sure enough Brandon and Anthony are on in one. I hit my ball on the green, but left and rolling, down,down, down. It is my next hit, that will never ever be forgotten. Brandon and Anthony will both be telling their kids one day about their near death experience.
I make my way down to my ball and call up to the guys for some direction on where to aim my ball. Anthony for some reason is holding the flag with his left hand telling me to hit it right at him, and Brandon is practically standing on top of Anthony, bumming some matches to light his cigar. I warn them that I am hitting the ball and that they should look out. They both argue back by saying, "Goddammit Sam if you can't pitch it from there without killing us you should give up golf". "Okay!!", I said and I swung my sand wedge, and sure enough caught it with the edge of my club sending a line drive straight for their heads. The ball was moving so fast I wasn't sure which one it was going to kill but I knew it was going to get ugly. There was a helpless moment where I could see what was about to happen but couldn't say anything because it was all happening too fast. The ball, at head level was about to hit them both on the inside cheek as they stood shoulder to shoulder. The ball then curved, heading straight for Brandons left eye, then tailing right past Anthony's left ear, clipping the yellow pencil as it wrapped behind his head. The ball flew so fast, it was already past them before they could even react!! Cursing and falling to the ground, looking down at me with face so white you think they had saw a ghost!! July 15th 2009, Brandon and Anthony used one of their 9 lives on the 8th hole that day. Today, about two years later, they refuse to let me play that hole.
We will always talk about the day that lady LUCK herself was on the links that day.
PS. I bought the beer that day :)"
#5: MATT EONTA
"I really couldn't narrow it down to one story, so I had to put down two, which are special to me for very different reasons.
1. THE CROSSROADS
I used to live down in Washington, DC, and one day, a group of friends and I went out for a morning round of 18 at Langston Golf Course on Benning Rd. in DC. Langston is set in one of the WORST areas in DC, but it's actually a decent track. So the five of us made our way down there, took in all the surrounding sights, and booked our two flights for 18 holes. Since five is an odd number (both literally and for a round of golf), we had to split up into groups of three and two. Looking at the overall caliber of the players, it was a pretty simple schism. My friends Brien and Ryne (or team "Too Cool to Spell My Name the Normal Way", as I like to call them) grew up near/ with access to golf courses. They routinely shoot in the low 80's. They were just head and shoulders better than everyone else. So they took the first group out. The three remaining hackers were myself (32 hdcp), and my friends Ben (32 hdcp) and Kevin (approx. 153 hdcp). While some may view us as the less-fortunate of the group, we held the distinct benefit of being the group that managed to get our case of Natural Light onto the course.
So we tee off without fanfare or incident. Have a decent couple holes, and have an overly-decent amount of beers. Next thing I know, we're about 7 holes in and I have a SERIOUS beer buzz on. I was 23 at the time, so my tolerance was at an all-time high, so I must have been about 7 beers deep or so. However, it then hits me to look at the scorecard. Through 7 holes, I'm sitting at a cool 34. This is an unbelievable score for me. And there were no mulligans, no shenanigans, and two other witnesses. Immediately, I decided to call my father. "Dad, I'm unconscious right now," I said. He replied by saying, "What?" And I explained to him that I had reached a crossroads. Sitting at a 34 through 7 holes practically GUARANTEED me the round of my life, which at the time was a 93. Not everyday do you have an opportunity to achieve such a feat. However, I was in the "remedial" threesome, and therefore there was little pressure, and our goal was to just have a lot of fun, which, at 23, was dependent upon having a lot of beers. My old man told me it was my decision, but he thought I should go for the glory.
And go for the glory I did. I had one more beer, then called it quits on the alcohol. Kept playing, kept feeling my stroke, kept burying long putts, and kept on keeping on all the way to the 18th hole, where team "Too Cool to Spell My Name the Normal Way" was waiting. Just as they asked me what I was sitting, I put down my special putting ball (which looks like a magic 8-ball) and banged it right into the hole from about 20 feet. Carded an 87 for the day, which to this day is my career best, and it put an extra glint in my grin because I finished with a Crosby (87) and my scorecard was clean of any Ovechkin's (8's) while I was playing in DC.
The two guys in my group, who I had never golfed with before, accused me of sandbagging, while the two better golfers finished with 83's and 85's. Overall, it was a great example of how it can all just come together for you one day. The drives, the short game, the greens, and THAT is what keeps you coming back to the course. Even when you shoot a 130 (which I have done on more than one occasion), the knowledge that you have that 80's score in you is what keeps you swinging. It's a beautiful thing.
2. THE BILLY CLUB
Every year, my family goes down to Myrtle Beach for vacation. And when I say family, I mean like 30 people. Parents, siblings, cousins, aunts, uncles, grandparents, and a few friends/ significant others. And just about every year, my Uncle Ed (the only man I know who has gotten a hole in one on a par 4) puts together a scramble for us to play in at one of the seemingly millions of golf courses in Myrtle Beach. In 2000 (or I believe it as 2000, somewhere around there), he got us on at Wild Wing Plantation, a pretty nice course not far from where we stay. So with 30 people on vacation, obviously the age range varies pretty greatly. We had two foursomes. It was me and two of my uncles, along with my 14 year-old cousin. The other foursome had my dad, two other uncles, and another cousin in it.
So we're on the first hole, and we see the sky is getting pretty dark. Uncle Ed normally schedules our rounds for 6:30 or so in the morning, as we want to beat the oppressive heat and humidity, and it's usually gorgeous at that time. Today, however, the clouds remained a little ominous. We get to hole 3 or 4, and still the same. By the time we hit I think it was hole 5, it's looking REALLY bad. But we've still yet to hear a horn. I had been struggling up to this point, shanking most of my drives (the best part of my game, even at 16) and sitting 4 or 5 before I had even pulled out a pitching wedge. So I asked my Uncle Ed if I can borrow his driver. He obliges. I grab this behemoth of a driver and march to the tee box, as rain starts to sprinkle down from the sky. I inspect the driver as I'm walking, and notice two things: 1.) the price tag is still on it. It was $19.99. Apparently Uncle Ed picked it up at Sam's Club a few days before we went down. 2.) It was called "The Billy Club" and had a picture of a police nightstick on the bottom of it. Not a huge golf aficionado, either then or now, I went with it and teed it high.
I set my stance, look out onto the fairway, and realize it's the Longest Drive Contest Hole. This is my chance to really flex on everyone, get some mega distance and show off my best talent on the course. So I wind up with the Billy, and BOOOOOOOOMMMMMM!!!!!! Lightning strikes probably 50 yards in front of us RIGHT as I make contact with this poor, unfortunate golf ball. The lightning throws everyone off, and the sudden southern downpour kind of blurs are vision. But somehow, I absolutely destroyed this ball. If the lightning struck ground 50 yards in front of us, the ball struck ground about 6.5x as far away. I hit the ball about 322 yards, right down the heart of the fairway. I was ecstatic, but the weather was threatening, so the horn blew and we all had to all it quits for a while until the storm passed. And I don't know if the wet track helped preserve my title, but it certainly couldn't have hurt, as I won the long drive contest by a healthy, healthy margin.
After we had finished our round, carding something ridiculous like an 11-under. We sat down and waited to see the winners of the scramble, and of the individual contests. They did the longest putt first. Then the longest drive. And some big southern guy gets up and is like "Now for the winner of the longest drive." He stopped to chuckle. "And boy oh boy, I'd like to shake this man's hand and buy him a beer, 322 yards was the final distance." He called my name and I walked up like the conquering hero. His jaw hit the floor when he saw how old I was, glanced at my family to make sure it was legit, and then glanced back at me, shook my hand and gave me my winnings: A brand new Wild Wing Plantation golf towel. Wonderful. The winner of the scramble got something like $1,000 (which by a margin of 3 strokes, was not us), so I was hoping for a huge payout. Didn't wind up getting it, but still got the story and found reason to guy buy a new driver for myself. At Sam's Club. For $19.99.
Chicks dig the longball…"
A sincere thank you goes out to Nemacolin Woodlands Resort for their sponsorship of Mondesi's House and this incredible prize package!
101 Ways to have FUN = 101 Reasons to choose Nemacolin!