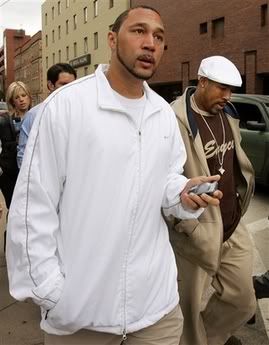 Charlie Batch
signed a new two-year deal
with the Steelers today, and will compete with Dennis Dixon for the backup job in 2010. Batch has been with the Steelers since 2002 and has thrown just 135 passes during his time with Pittsburgh. While not spectacular, Batch is an efficient 3-1 in his four starts for the Black and Gold, with a passer rating of 88.3, eight touchdowns, and four interceptions. [ESPN]
John Russell
appeared on The Fan with Seibel and Starkey
and tried to explain his version of what "It's Time" for. Which means he's probably not entering our contest. [93.7 The Fan]
Evgeni Malkin
will
miss tomorrow's game against the Flyers,
leaving practice today after giving it a go for about 15 minutes at Southpointe. This will be the third game in a row that Malkin will miss and the fifth in the last six for the slumping Pens. Malkin's status for Sunday's game against Toronto is unknown.
Also, Sergei Gonchar may miss his second game in a row on Saturday due to illness. Not a good week for the Russian Penguins. [NHL.com]
Jamie Dixon
will
serve as an in-studio analyst
for
CBS College Sports Network during its coverage of the NCAA Tournament this weekend,
appearing on Friday's broadcast between 7 p.m.-12:30 a.m., on Saturday from 6 p.m.-9:30 p.m. and Sunday between 1:30-4 p.m.
That's all fine and good, but I'm sure he'd rather be coaching this weekend. [PittsburghPanthers.com]
Kelly Naqi
has been reporting on the Ben Roethlisberger case for ESPN, and broke the story last night that one of Roethlisberger's friends was
blocking the locked bathroom door
where the alleged incident occurred, according to Capital City bar manager Rocky Duncan. An excerpt:
Approximately 30 seconds after he saw Roethlisberger talking to the woman, Duncan said one of the accuser's friends approached Duncan and said, "I think my friend is in the bathroom with Ben, but the door [leading to the bathroom area] is locked, and I'm trying to get back there, and this guy [one of Roethlisberger's friends] wouldn't let me through." Duncan said she also told him, "I think my friend may be drunk."

Duncan said the accuser's friend "did not seem frantic, it was someone just looking for her friend." He said he told the woman she could either try to hop over the divider that separated the stage room from the bathroom area or "go around to the back and go through the backside entrance, because that door doesn't have a handle to it and you can go in that way." Duncan said he didn't know if the woman tried to get back into the bathroom area.
Mayor Luke Ravenstahl
asked city employees, downtown workers and university students to wear black and gold and gather at the City-County Building Friday afternoon. The purpose of this gathering was to
spell out the word "Google"
in the hopes of becoming the test site for Google's new ultra high-speed network.
Maybe it's me, but don't those collected Yinzers look more like a '9'?[WPXI]
Evgeni Malkin

+ Dapper Dan Acceptance Speech = recipe for a good video clip

Email: Mondesishouse@gmail.com

Twitter

:

twitter.com/mondesishouse

Facebook

:

Facebook Group