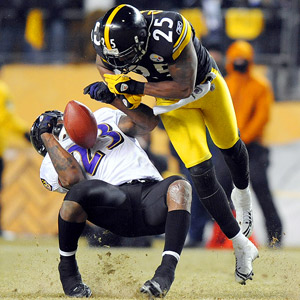 An interesting season of free agency starts on Friday in the NFL, and on the football fan's version of Christmas Eve, a few final moves were made (and not made) before the action starts.
The Steelers were
not able to reach terms
on a deal with S Ryan Clark, so he will officially hit the open market on Friday. The 30-year-old Clark was a starter since his arrival in 2006 and has certainly had his share of memorable moments over the years (just ask Wes Welker and Willis McGahee). But his play was criticized in 2009, and he did not take it well,
calling the media "turds"
and posting an angry fan letter in the locker room. Most recently, he took to the airwaves to
publicly discuss the lack of an offer
, which came off in a less-than-flattering light. Given this combination of developments and a price tag that's probably above what he's actually worth, it would be no surprise if he has played his last game in a Steeler uniform.
RB Willie Parker will also be a free agent on Friday, and like Clark, has probably seen his Steeler career come to an end. If that's the case, he will leave with 1,253 carries, 5,378 yards, 29 touchdowns, two Super Bowl rings, and the longest touchdown run in Super Bowl history. And his 2007 season of 1,716 yards of offense and 16 touchdowns will go down as one of the greatest performances by a back in team history. Not bad for a guy who didn't get to play in college.

Despite his accomplishments, Parker never quite got the recognition I thought he deserved in Pittsburgh. The fans were used to a certain style of running back, and he was not cast in that mold. Injuries have limited Parker to just 14 games over the past two seasons, and it's pretty clear to see the writing on the wall in his case. The team finally started seeing a return on their Rashard Mendenhall investment last year, and much like Ladainian Tomlinson, Parker still sees himself as a starter. It's probably inevitable that these two will part ways, but Steeler fans should look back on the Parker Era as a positive one, given that he helped the team to two titles.

CB Deshea Townsend will be hitting free agency on Friday as well, and like Parker, the 34-year-old veteran would part with two rings if this is the end of the line in Pittsburgh. His signature moment was a 2008 pick-six against Dallas in a huge game at Heinz Field, which was one of the more memorable plays in the brief history of the stadium.

Finally, a former Steeler will be hitting free agency tomorrow, as the

Redskins released WR Antwaan Randle-El

. Randle-El famously helped the Steelers on their path to Super Bowl XL, and subsequently cashed in on a seven-year, $31 million contract with Dan Snyder's Monopoly money shortly thereafter.

Like many players, Randle-El did not experience the same success in Washington that he had with his previous employer. He ran back five kicks/punts for touchdowns while in Pittsburgh, and just one in Washington; he played in a disorganized Redskin offense that was in a constant state of confusion, much like the entire team during his time there; and he played in just one playoff game, a 35-14 loss to Seattle in the 2007-08 postseason.

Yes, Randle-El got paid, and paid handsomely. But now he will have to find a new market for his services at the age of 30. Sometimes the grass is not always greener on the Washington side of the fence, but good luck telling that to the inevitable players that will quickly take Snyder's money this year.

Just a quick reminder to check back often on Friday, as I'll be monitoring the start of free agency and posting the latest news - not that the Steelers will be making any of it.


Steelers safety Clark to hit open market

[Trib]

Redskins make it official -- 10 are gone, 10 are tendered

[PFT]


Email: Mondesishouse@gmail.com

Twitter

:

twitter.com/mondesishouse

Facebook

:

Facebook Group