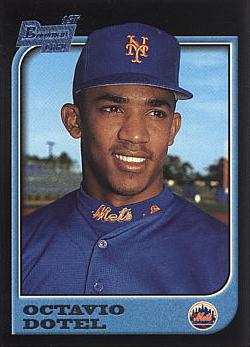 Could this man be the Pirates' closer in 2010? It's possible, according to a
report from NBC's Around the Bases blog
. The supposed deal on the table is for one year and $3 million, plus games-finished incentives.
Dotel, 36, is the definition of a journeyman, playing for seven teams since entering the bigs in 1999. He's battled a variety of injuries over the years, including a season-ending Tommy John surgery with the A's in 2005, tendinitis with the Yankees in 2006, and a right shoulder strain with the Braves in 2007.
Dotel has a career mark of 46-39, with a 3.73 ERA and 86 saves, his high coming in 2004 with 36. Last year for the White Sox, Dotel was 3-3 with a 3.32 ERA in 62 appearances. For that, he was compensated $6 million dollars.
In an interesting side note, it's worth mentioning that Dotel has a rather interesting sponsor of
his Baseball Reference data page
: "The Oakland Committee to Impeach Octavio Dotel," whose sponsorship message reads like this:

Our stance is that Octavio Dotel is the worst closer of alltime and a disgrace to the Green and Gold. September 23, 2004 - the day the 2004 season really ended for Oakland.
September 23, 2004

would be the day that the Texas Rangers beat the A's 4-3 on a two-out double by Dave Dellucci in the ninth inning, finishing off a three-game Ranger sweep of Oakland. The pitcher who failed to close the deal? That would be Octavio Dotel, who also surrendered a home run to Hank Blalock in the same frame. I guess clutch pitching isn't a necessity in the high-stakes game of Moneyball.

In a final sign that this marriage between pitcher and franchise may be destiny, Dotel was once traded to the Houston Astros in 1999...for the one and only Derek Bell. Let's just sign this guy and get him to Pittsburgh already.

----


In other news of the Buccos, they

signed lefty reliever Jack Taschner to a minor-league deal today

, according to ESPN's Jayson Stark.

Taschner, 31, had a 4.91 ERA in 24 appearances for the Phillies last season. He would earn $835,000 if he makes the Pirates' Opening Day roster, and an additional $465,000 in appearance-based incentives.

Taschner made his big league debut in 2005 with San Francisco, where he remained until March of 2009, when he was traded to the Phillies for former Pirate Ronny Paulino.

---


And finally, thanks to everyone who sent over the link to the LA Times article today on

rising political star Raul Mondesi

, who obviously needs no introduction here. It's your "must-read" link of the day.

Email: Mondesishouse@gmail.com

Twitter

:

twitter.com/mondesishouse

Facebook

:

Facebook Group