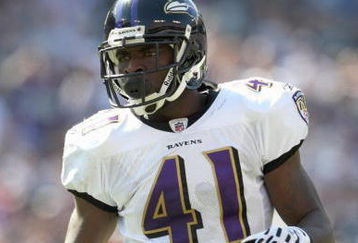 Baltimore Raven CB Frank Walker
is a seven-year NFL veteran, yet his entire professional career has been boiled down to "
the guy who spit in Mitch Berger's mouth
" during one of last year's Steelers-Ravens game. With one act, he joined the hallowed pro sports spitting fraternity, joining such luminaries as Bill Romanowski and Roberto Alomar. But has his attitude been slowed down at all by the Ravens' humbling 0-3 mark against the Stillers last year? Not quite. Fresh on the heels of
Terrell Suggs' anti-Pittsburgh t-shirt
comes a new piece of apparel from those clever Ravens:
Well, cornerback Frank Walker showed off his own Steelers-themed apparel this morning and the sentiment was similar in tone.

Walker wore a black t-shirt that had "Hey Pittsburgh" in big yellow letters and a Raven extending a purple middle finger.
As the Ravens continue their incredulous and uncreative barbs towards the reigning NFL champs, while Frank Walker continues to forget that he's Frank Walker, we Pittsburgh fans can pass the time until our first matchup with Baltimore by gazing at the following photo. See you
November 29
.
Walker continues the feud with the Steelers

[Baltimore Sun]

Email: Mondesishouse@gmail.com

Twitter

:

twitter.com/mondesishouse

Facebook

:

Facebook Group