PICS OF THE WEEK
I'm always up for a good cheap shot at Cleveland. Like this photoshop of the
Dunk Heard But Not Seen Round the World
.
"As natives of the Pittsburgh area who are currently transplanted in Harrisburg, my friend Brian and I jumped all over yesterday's multi-trophy visit. Personally, we were both the most psyched to see Lord Stanley's Chalice, because it is the Trophy, not just a trophy, but hey -- who is going to say no to seeing a Lombardi as well, right? And whatever that weird pointy crown thing was that was sitting beside them. Somebody told me it had something to do with baseball, but I was born in 1982, so I didn't realize baseball had championships. Heck, I didn't even know they had a post season.* I thought the whole point of baseball was to assemble the cheapest payroll possible and change your slogan every few years. Let's go to work! But I digress...
Here are a few shots I snapped of the waiting line, and then my picture of the trophies. The line was long, but it moved remarkably quickly, mostly due to the cop/security guard guys making sure everyone had time for only one or two pictures before moving them along. I was actually rather impressed with the efficiency, overall. I swear I did nothing to doctor the trophy picture, the Lombardi was actually gleaming in the sunlight.
*Yeah, I remember the early 90s. Thankfully I had started watching baseball by that point, which I think is how I still maintain my Pirate fandom. I seriously don't know how I'll ever convince any children I might have to care about them at all." --
Mark B.
---
"I'm a Burgher transplanted in Philly, and my girlfriend and I made the hour-plus drive to Atlantic City this weekend. We were kind of surprised at how rough the city was outside of the casinos and tourist centers, and I said I had heard it was one of the top 20 or so worst cities in America. So I googled to try and validate my claim, and found a list from an old AOL archive. I didn't see AC on it, but Philadelphia was #5 worst city in America. However, the picture they had was this one:
I feel like this could be a number of things: Something that unfolded after a "Here We Go Steelers" or "Let's Go Pens" chant broke out outside Citizens Bank Park, someone finally taking action against Pirates management for embezzling the money and time of their fanbase for 17 years. But I think this would be best suited as the official photo of the Pittsburgh Pirates baseball club. Not sure why, but I just do." -
Matt E.
---
"I wanted to provide you with a couple of shots from my recent vacation to Disney World.
My Terrible Towel traveled with me and it was amazing to see the great opportunities.
My personal favorite is labeled Terrible Tower. That's me holding the towel and the guy two seats to my left (wearing the 'One for the Other Thumb' shirt) was from Kentucky.
He loved the photo and bought one just because the towel was in the pic. Note the two Cleveland fans sitting behind me." --
MurDelEx
INTERNET AUCTION OF THE WEEK

Raul Mondesi's game-used cleats, batting gloves, and and wrist bands
can all be yours for only $109.99
. A virtual steal.
LINK OF THE WEEK
The "If Celebrities Moved to Oklahoma" Gallery.
Very offensive...if you live in Oklahoma.
DAMESHEK ON E!
Dave Dameshek
makes a guest appearance on the E! True Hollywood Story about baseball wives
. Which is funny, because he's not a baseball player nor the wife of one. But a nice appearance by the 'Shek. And nice usage of the phrase "road beef".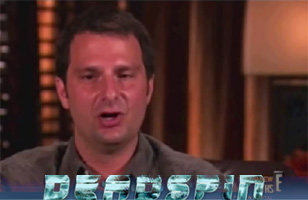 VIDEOS OF THE WEEK
Franco's Italian Army, in all of its glory.
In My Hands: Salute to the Champions from Igloo Beach on Vimeo.
"We Burghers are fortunate to have so much happiness in times like these. I've been chumping all over the place trying to get a home for my Pens tribute video / ROCKIN' SLIDESHOW OF TRIUMPH, but the pitiless contentions of a certain mega-label paint it as a triple-contagious hobo hepped up on Aqua Net. My hilarity aside, the linked is intended to be uplifting, is my creation, and makes me cry. Warning: one profanity at about 0:16." --
Igloo Beach
"City of Champions - Gatorade style", from
Adrian S.
And a public service announcement:
Bruno
opens on Friday. I have high hopes.
QUESTIONS THAT NEED ANSWERED
"I just had a question about Pitt since I don't reside in Western PA. Do you know when the Pitt Athletic Department officially switches over to the Nike apparel sponsorship? I've heard rumblings that it is definitely going to happen. Will there be any jersey changes for the football team under Nike? Also the Basketball team? I like what Nike puts out there for the most part, especially with traditional schools like Penn State. As long as they stay away from all the piping they put on the jerseys. If you know anything or have any connections to this story I'd be interested in knowing more." --
Dan D.
"Calling the soundtracks "questionable" on those two recent Steelers/Penguins montages is an understatement. The music almost made me embarrassed to have my teams featured in the videos. I have neither the time nor the technical know-how/software to put one of those montages together, but I always thought it would be cool to see some Steelers/Penguins highlights put to the theme from the movie "300". Either the audio from
this trailer
(the line "They came from the blackness" just begs for shots the Steelers/Penguins exiting the tunnel in their black unis) or the song "Just Like You Imagined" by NIN would do the trick. I don't know if you have someone among your extensive network of Yinzers who could pull this off, but I thought it would do the teams more justice. The music is a little more, how you say, masculine?" --
Phil R.
--The former roommate of Sahel Kazemi, aka Steve McNair's girlfriend,
currently resides in Pittsburgh
. Unfortunately, this story told me virtually nothing on the subject, so don't say I didn't warn you. [WPXI]
--Freddy Sanchez is
still a Pirate at the moment
, so the team's auction must not be complete. Bidders for his services include Colorado and San Francisco. So does that make Neil Huntington the fast-talking auctioneer? [PBC Blog]
--There's also spirited bidding for Matt Capps, and
Florida is the latest franchise to throw their hat into the ring
. [Fox]
--The Pens'
preseason schedule is out
, and it wraps up with...Detroit. I believe all of you are familiar with that team, no? [Empty Netters]
--Pittsburgh is grieving the
pending loss of KDKA's Sonni Abatta
to Fox 35 in Orlando. I know Mark Madden, for one, is beside himself. [Tuned In Journal]
--Pitt guard Jermaine Dixon, their only returning starter, injured his foot during summer league play and

could be out until September

. [PG]

--Is St. Louis defenseman Jay McKee going to be

the next Pittsburgh Penguin?

[Mark Madden/105.9 the X]

Update

: Looks like they're

crossing the t's and dotting the i's on the deal.

It appears we've got a new Penguin.

--The Wannstache just

got his 14th recruit for 2010

, 6'4", 215-pound TE Brendan Carozzoni of Cleveland's St. Ignatius. He chose the Panthers over WVU, Indiana, and a bunch of MAC schools. [Trib]

--The Spurs' recent pickups of Antonio McDyess and Marcus Haislip

could be bad news for Dejuan Blair

, says Bob Smizik. [Bob Smizik Blog]

--Grove City's Caleb Kolb, son of former Steeler Jon Kolb, was

named to the Asics High School All-American wrestling team

. The nation's 20th-ranked recruit, he'll be wrestling collegiately at Nebraska. [AlliedNews.com]




AND FINALLY...

As requested on Thursday, keep that feedback rolling in. Lots of great suggestions so far. Remeember, I want to hear from you. Yes, you!

Email: Mondesishouse@gmail.com

Twitter

:

twitter.com/mondesishouse

Facebook

:

Facebook Group