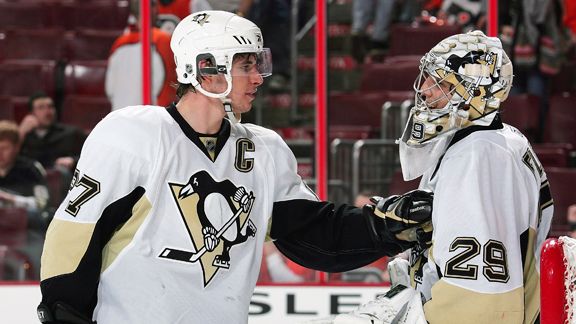 Much like a dominant starting pitcher or a stout NFL defense, a hot goaltender can neutralize almost anything a good offense can throw at them in postseason play. In fact, many a goalie has made a name for himself specifically during this time of year.
In Pittsburgh, it's usually Sidney Crosby or Evgeni Malkin that gets the headlines. Marc-Andre Fleury, despite his standing as a #1 overall pick and Stanley Cup goalie, gets very little credit for his contributions to this day. I think merely the title of Scott Burnside's ESPN column, "
No more doubts about Penguins goalie Marc-Andre Fleury
", would seem to back that up. But on this occasion, Tuesday night's Game Four was all about the man we affectionately call MAF.
The Flower was nearly perfect, save for a Daniel Carcillo third-period goal, in leading the Penguins to a hard-fought
3-1 victory in Philadelphia
that puts the Flyers on the brink of playoff extinction. This came despite a Penguin power play that went 0-for-5, only to be outdone by Philly's 0-for-8. This came despite Evgeni Malkin somehow not getting a shot on goal. This came despite the Penguins' first goal having a legitimate chance of being taken off the board, and despite getting outshot 46-26. BUT...what happened happened, and the series sits at 3-1, Penguins. It's not always going to be a cakewalk. In fact, last night was intense of a game as you'll ever see. Deal with it, Philadelphia. The better team won.
The Flyers were desperate. That was obvious with the extra body blows they delivered to Fleury every time they crashed the net. But the 24-year-old with the pleasant disposition stood tall and turned the Wachovia Center into the quietest gathering of 19,883 people you might ever see in a lifetime for a majority of the evening.
So now the series shifts back to Pittsburgh, with the Penguins having the opportunity to escort the Flyers into golf season on home ice. The game is scheduled for 7 PM on Thursday. Flyer golf season is scheduled for 8 AM on Friday.
Addendum:
Apparently the Versus broadcast was very pro-Flyer last night, which is a surprise to no one. But I did get an email from a reader named
Billyseth
who has a complaint with the local broadcast. Please, read on:
"I'm writing you tonight in an attempt to voice a complaint that I feel most Pens fans have, but is never spoken of outside of bars and people's homes. The person who is controlling the camera angles for FSN is doing his damnedest to ruin Penguin broadcasts. Anytime there's an opportunity to zoom in on an individual player, he takes it. Tonight, for example, he nearly ruined Crosby's goal by zooming in on Matt Cooke coming out of the penalty box. Rather than seeing the brilliant steal and pass Kunitz made to Cooke, we only saw Cooke receiving the pass. This has gone on for far too long and it needs to stop. I desperately hope you will mention this on your website on the off chance that this nonsense will stop. When will FSN learn that hockey fans would much rather see a play develop than a close-up of the guy carrying the puck."
Also got an in-person report from
Matt E.
about our friends to the East that should be heard:
"Just got back from Game 4. Also went to Game 3. Live in Philly now. Let me say, that Wachovia Center crowd is WILD. I have been to Pens-Flyers, Steelers-Eagles, and Pirates-Phillies, and the Flyers fans are by far the craziest. There may only be 19,000 of them in the entire city, but they come out in full force for these games. I will also say, though, that the arena parking lot and the subway station are absolute cesspools for Philly/ Jersey obnoxiousness/ classlessness. This all came to head on Sunday evening when my 54 year-old father and I got into a good old fashioned streetfight with some classic Philly douchebags. I'm not emailing you to brag, although the fight did have a much different outcome than game 3 did (the old man and I looked like Caufield and Godard), but instead to share a quote from a Flyers fan after the melee:

"C'mon you a**holes! Everyone in that arena knows you guys are gonna win this series, we don't need that garbage going on here, too."

So while the crowd's intensity cannot be denied, the authenticity of how "Flyered Up" they really are seems suspect to me. And on top of that, for as many pacifiers and signs these people make for Cindy Criesby, nobody's whining compares to theirs. 6 of the 8 phone calls I heard on sports radio on the ride home complained about the refs when the Flyers were 0-for-8 on the power play tonight. These fans make me sick. That team makes me sick. Mike Richards makes me sick. He might be a worse person than Ray Lewis. Let's win the cup this year. I might be drinking the Fleury-Aid, but I think we can do it. Let's go Pens."

Send your news, tips, and links to Mondesishouse@gmail.com.