I have some major-league catching up to do, and that means covering a plethora of topics in a short amount of time. A few discussion points for your Monday morning:
1. The Penguins, famously
left for dead a few months ago by Gene Collier,
now have
home-ice advantage
in the NHL playoffs for their upcoming series against the Flyers. I hope they don't read the papers.
2. Byron Leftwich is
headed to Tampa Bay
for $7.5 million over two years, plus the chance to start. Considering his other option was to return to the Steelers at the minimum, this was probably an easy decision.
3. The Pirates had another up-and-down weekend,
crushing the Reds on Saturday
and getting
three-hit by Aaron Harang on Sunday
. Jack Wilson, Freddy Sanchez and Adam LaRoche turned a triple play yesterday. The Pirates now stand at 3-3, a pace that would break the 16-year Curse of Barry Bonds.
4. The Buccos' home opener is slated for 1:35 today, with Zach Duke and Brian Moehler taking the respective hills for the Pirates and Astros. Andy LaRoche will be planted firmly on the pines. Dejan has the
full lineups and details at the PBC Blog
.
4a. Ron Cook scores a
rare interview with Kevin McClatchy
in this morning's PG.
5. The Pitt spring game took place on Saturday, and
Pitt Blather was all over it
. Looks like the Steelers won't be the only dominant defense in town this year.
6. The PensBlog is promoting
Rinkotology
, an interactive fundraiser to benefit the Lemieux Foundation, so check that out and help the cause.
7. I taped a brief podcast with ESPN's Dave Dameshek which also ran on ESPN 1250 Sunday morning. We cover the early-season results of the Pirates, the end of the Pitt Panthers basketball campaign, and much more. You can catch that
here
if you're so inclined.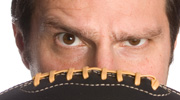 Send your news, tips, and links to Mondesishouse@gmail.com.