Down 57-48 with 16 minutes left in the game, Pitt decided that yes, they did want to keep that #1 seed in the NCAA tournament possible and outscored Marquette 42-18 the rest of the way en route to a
90-75 win at the Pete
. That's 20 in a row at home and 14 wins in the conference, a school record. Mike Tomlin was clearly impressed. Or perplexed at whatever Mark Nordenberg was saying.
Other than a few highlight-reel dunks, this was vintage Pitt: pounding the glass, blocking shots, and hitting big shots in big moments. Dejuan Blair led the way with 23 and nine boards and was one of five Panthers who hit double figures. Sam Young added 18 and eight, and Levance Fields contributed 17 points and nine assists. Yeah, I'm going to miss that trio next year (assuming Blair leaves, of course). But don't forget, Dante Taylor's going to soften that blow:
Pitt moves to 27-3 and has just one game left: a Saturday meeting with UConn at the Pete, with a noon tip. Better go easy on Friday night so you don't sleep through that one, you party animals. Remember, Pitt can still take the Big East regular season championship with a win over the Huskies and a Louisville loss Saturday at West Virginia.
By the way, Pitt's in the mix on the
new SI cover
:
Former Panther Brandin Knight
got his jersey retired before the game
. It's only the fourth time Pitt has retired a player's jersey, with Don Hennon (1956-59), Billy Knight (1971-74) and Charles Smith (1984-88) the only others in that exclusive club.
And one last thing: any Pitt fan will want to listen to Dave Dameshek's
"Strawberry Fields" Pitt basketball song
. I didn't know Blair could play the guitar, too. He CAN do anything.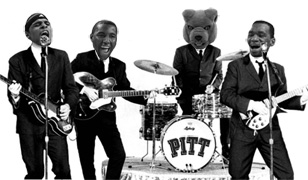 Send your news, tips, and links to Mondesishouse@gmail.com.