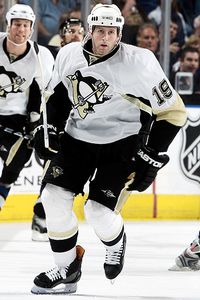 A plethora of Pens fans finally got their wish, as perennial whipping boy
Ryan Whitney was just shipped to Anaheim
in return for wingers Chris Kunitz and Eric Tangradi. The move also prompted the Pens to drop forward Chris Minard in order to make room on the roster.
Early reaction has been mixed but leaning towards the negative side, mostly in the camp of the Penguins not getting enough in return for a defenseman that has been highly regarded in the recent past. However, this might not be the last deal Ray Shero makes before the deadline, so don't be too quick to set this new roster in stone.
Another interesting angle is the Ryan Whitney scratch last night to be with his family in Boston. As it works out, Anaheim plays in Boston tonight. Conspiracy theorists, knock yourselves out on that one.
So what about the incoming players? Well, the 6'0", 195-pound Kunitz has 16 goals and 19 assists for the Ducks this season. His career averages are about 21 goals and 29 assists per season. He'll turn 30 in September. He was a Hobey Baker Award finalist in college in 2003 at Ferris State University, he won the Stanley Cup with Anaheim in 2007, and he played for Team Canada in the 2008 World Championships. He's being marketed by Dan Byslma as a gritty player.
The 6'4", 220-pound Tangradi, 20, was ranked as the
#2 prospect in the Ducks organization
. This season, he's accumulated 38 goals and 49 assists in 52 games with the Belleville Bulls of the OHL. The Philadelphia-born winger also played for Team USA in the 2009 World Junior Championships in Ottawa. I would think Tangradi could be the real x-factor in this trade, as his seems to possess some genuine upside. Unfortunately, his time will not come for a while, so that really doesn't help the cause much right now. And that's all most people care about.
Penguins send Whitney to Ducks for Kunitz
[CBC]
Send your news, tips, and links to Mondesishouse@gmail.com.