At last, the long wait is over. No, I'm not talking about
Walt Harris finally getting back into coaching
(although that's big news, especially when it's a Pittsburgh-area high school; can you imagine Wanny recruiting Walt's players?). I'm talking about Super Bowl XLIII, SB43, the Six-Pack.
I've tried to cover the on (and off) the field events to the best of my ability the past two weeks, so if you're just joining the party, click this
Pittsburgh Steelers tag
to get a full recap of everything that's gone down. It's all the towels, all the videos, all the links, and all the interesting emails in one place, from The Terrible Shamwow to The Pop Rocks.
As for how the Steelers got to this point, that's a tale that could take hours to tell. Click on this link for a
game-by-game recap of the 2008 season and the playoffs
.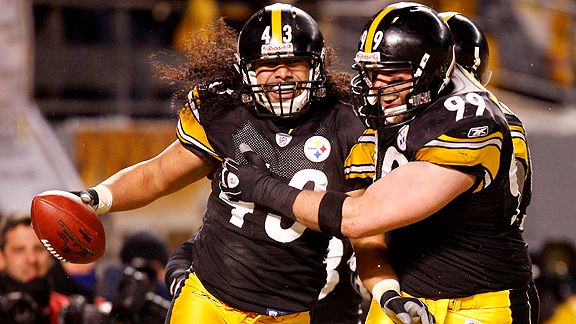 To all of the new readers the site has picked up over the past few weeks, I hope you'll stick around into the offseason and beyond. It's been nice having you around. Now let's settle in with some of our finest Pittsburgh gameday cuisine for an entire day of Steeler Mania.
Send your news, tips, and links to Mondesishouse@gmail.com.