PITTSBURGH STEELERS
SUPER BOWL XLIII CHAMPIONS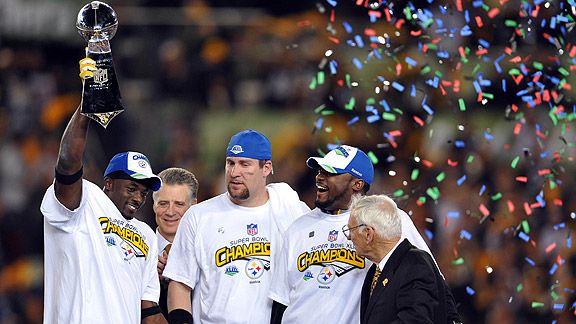 STEELERS (15-4) 27
CARDINALS (12-8) 23


ROETHLISBERGER 21-30, 256 YARDS, 1 TD/1 INT
PARKER 19-53
HOLMES 9-131-1 TD
The Best Super Bowl Ever? Probably. But anybody who watched this team will tell you that what transpired Sunday night was just another victory for the 2008-09 Pittsburgh Steelers; it merely happened to be on the world's biggest stage. The Steelers' sixth Super Bowl win followed the script that's become their trademark: a close game in which one Benjamin Todd Roethlisberger stepped up and mercilessly stole from the opponent in the closing moments.
Before the game, during NBC's 118 consecutive hours of pre-game coverage, resident NFL creep turned analyst Rodney Harrison said that Roethlisberger was not a great quarterback, but a great football player. Those are exactly the type of statements that look all the more absurd after a performance like we saw down the stretch from #7 in Super Bowl XLIII. Ben Roethlisberger is a great football player
and
a great quarterback.
Sure, Santonio Holmes was the MVP, and he deserves all the accolades he received. But as a Steeler fan, you can't look me in the eye and tell me there's any other quarterback in the league you'd rather have on your side once Larry Fitzgerald trotted 64 yards for the Cardinals' go-ahead touchdown with 2:37 remaining. You can have your Mannings, you can have your Romos, you can have your Breeses and your fantasy heroes; when you need to win the game, there is no go-to quarterback who delivers more consistently than Ben Roethlisberger.
The Steelers' offense, which had scored just three second-half points, picked a good time to come to life. After it looked like the Kurt Warner-to-Fitzgerald connection would be the story that you'd see in Super Bowl highlights/nightmares 30 years from now, Roethlisberger, Holmes, and Company authored one last chapter to the ultimate reality show that is the Pittsburgh Steelers. They are drama personified. And now, the whole world was let in on the secret that we've known since September. Congratulations to the Steeler organization on winning their unprecedented sixth Lombardi Trophy.
To the bullet points, in drive-by-drive style....
1.
Pregame
: As previously noted, Rodney Harrison's statement nearly got the rest of the NBC crew killed by the throng of Steeler fans surrounding the makeshift set. You should never taunt a rabid pit bull (or in this case, pit bulls). Of course, no one ever accused Rodney Harrison of having good judgment. I'd probably call this the simultaneous highlight/lowlight of the pregame shows.
Pregame last-minute party shopping takes us to Giant Eagle, where I spot four different Steeler jerseys within 10 seconds of their automatic front-door swinging open: Willie Parker, Santonio Holmes, Lawrence Timmons, and Ike Taylor. As I've said on many occasions, Steeler fans are unmatched in the variety of jerseys they sport. Unfortunately, no 14 Sweed jerseys to be seen today.
By the way, Eat 'n' Park restaurants closed at 3 PM on Sunday. If you were looking to bring a Strawberry pie to your party and didn't pre-book it, it appears that you're out of luck.
2. The pregame entertainment kicks in, highlighted by Jennifer Hudson's National Anthem:
3. Two plays into the game, and Hines Ward has a 38-yard catch under his belt. As it would play out, this would be one of only two catches that Ward would have in SB43 But it was a nice psychological boost for the players and fans to get Ward involved in such a big way so early.
4. Ben hits Heath Miller for 21, the first of five catches Miller would have in a huge Super Bowl performance. Roethlisberger is looking sharp and putting SBXL in his rear-view mirror.
5. First and goal always seemed to equal trouble for this specific team. Sure enough, we find ourselves still camped out at the goal line on third down. Big Ben crosses over the goal line with help from Justin Hartwig, and Steeler Nation rejoices. But hold on...Ken Whisenhunt tosses a red hanky on the field, and the challenge is up...AND GOOD! The touchdown comes off the board as Roethlisberger falls to 1-for-2 lifetime on Super Bowl goal-line TDs. Seattle fans sigh.
Mike Tomlin then puts his playoff dice away and goes for the extra point-sized field goal.
3-0 Steelers
, and they're looking sharp.
6. The Cards' offense sputters in a five-play drive, the only time they would touch the ball in the first quarter. Edgerrin James touches the ball twice for three yards, and Larquan Fitzboldin is not heard from. I like this start.
7. The Steelers get the ball back at the 6:13 mark of the first, leading off with a 25-yarder from Ben to Santonio. Roethlisberger then goes for the jugular with a longball to Nate Washington, but one of the flying Cromarties foils that plan. Ben then channels his inner sandlot QB with a classic improv toss to Heath Miller. A few plays later and the Steelers are on the Cardinals' seven-yard-line, knocking on the door as the quarter ends.
3-0 Steelers after one.
8. Heath Miller goes for four yards, only to be tackled by Gerald Hayes, who will forever stick in my mind for omitting his Pitt roots from his Super Bowl introduction. What's up with that?
9. Gary Russell vaults in on 3rd-and-1 for the first TD of SB43.
10-0 Steelers
after Guy Fieri kicks the extra point.
10. The Cardinals get the ball to Edgerrin James on four of the first six plays of their second drive. I can live with that. I'd rather have to get beat by an aged and grumpy Edge than a Larry Fitz in his prime. Unfortunately, Anquan Boldin joins the party with a 45-yard catch taking the Cards to the one-yard-line. And he managed to do it without screaming at any coordinators. Grandpa Kurt, after tripping over one of his linemen, tosses a TD to Ben Patrick moments later, and we've got a ballgame.
10-7 Steelers.
11. The Steelers finally get stopped on offense, but not before a 22-yard pass to Santonio. Mitch Berger is brought on for a 43-yard punt that gets returned 34 yards by Woodland Hills' Steve Breaston, resulting in a net of 9 yards of field position. He's not the worst punter in the league by accident, folks.
12. The Cardinals somehow squander a prime opportunity starting in Steeler territory with a drive that goes backwards 17 yards, the highlight being a chop block by The Edge, with an assist to Nathan Hodel and his false start. Larry Fitzgerald is once again invisible as Dick Leabeau dusts his future Hall of Fame bust.
13. 2:46 to go in the half, and the good guys get the ball back in their hands. But worry not, the Divine Freak Play would intervene, and a batted Roethlisberger pass ends up in the hands of Arizona's Karlos Dansby. The Cards have 2 minutes and are just 34 yards away from taking the lead.
14. 59 seconds to go in the first half, and Larry Fitzgerald Jr. finally gets his first catch. His objective dad can finally have something to write about in the newspaper that no one claims to have ever read. The bigger story is that The Buzzsaw stands 12 yards away from paydirt.
15. Boldin catches two balls but leaves the team a yard short...which would become a big deal because....
16.
JAMES HARRISON PICKS OFF KURT WARNER AND RETURNS IT 100 YARDS FOR A TOUCHDOWN!
17. Of course, being that this was a Steeler touchdown, there has to be some controversy/replay involved. We can't just score, there has to be a government investigation every time a Steeler crosses the goal line. But the great Larry Fitz did not stop Silverback short of the goal line, and the flag was against the Cardinals, so the
Steelers take a 17-7 lead into the half.
18. It's halftime, and you know what that means....Bruuuuuuuuce! He moves around pretty well for a guy turning 60 this year. At least better than Favre did.
19. I spend five minutes cutting out 3-D glasses during the second quarter, then I completely miss the ad when I'm interrupted by a phone call. Oh well, I guess I'll just have to save them for the Steelers' appearance in SB44.
20. The Cardinals receive the kickoff, and move the ball about 26 yards in four minutes. The game plan in heavy on Edgerrin, and as I've said numerous times, I'm content with that.
21. The Steelers get the ball back and proceed to monopolize possession for the next eight minutes. Of course, it helped that the Cardinals got not one, not two, but
three 15-yard penalties on the drive
. Two of them were legit, but the roughing the QB on Dansby...ehh...
22. The impotent Steelers goal line offense comes through once again in a bad way, and Fieri is summoned from a Tampa bar for his second field goal. But wait! Mitch Berger got Rickrolled by an angry Cardinal while innocently holding the kick, which puts the Steeler O back on the field. At that point I wondered what Berger is doing to defenders to make them so angry. First he gets spit in his mouth in the Baltimore game, and now he gets plowed over like few holders ever have. Is he a closet trash-talker?
23. Just like they drew it up, the Steelers go one yard on three plays. Way to take advantage of an opportunity, guys. Fieri nails it from 21, and Berger walks away unharmed.
20-7 Steelers,
and the end is in sight. We move to the fourth.
24. The Cardinals putter around with a few passes to Boldin mixed in with some penalties. The Steelers get the ball back, so all we have to do is feed it to Bettis and we'll be holding the Lombardi Trophy in no time.
25. Whoops, Bettis retired three years ago, and we have no line, despite what you've heard to the contrary. Power running down a team's throat is no longer an option. Three and aht. Blah.
26. The Cards take over at their own 13, 11:30 to go in the game. At that point, they finally realize that Larry Fitzgerald is actually on Arizona and only played for Pittsburgh in college. One completion to Fitz. Two completions to Fitz. Three completions to Fitz. I don't like the way this is going. Especially when Fitz leaps out of the state of Florida for a TD.
20-14 Steelers
.
27. Since Arizona blew by us in about four minutes, the heat was really on to hold the ball. Which means the Steelers would go for 4, -10, and 10, resulting in a net gain of four yards in three downs. Time to force another Mitchberger down your throat.
28. Warner hits Boldin for 11, and Ike Taylor picks the fourth quarter of a six-point game to have a token brain freeze and tack on 15 with a personal foul. The Cardinals fully have momentum, and the collective sphincters of Pittsburghers are in their throats. Somehow, some way, the Steelers hold, and Whis opts to punt with time winding down.
29. The Steelers take over at their own one yard line with 3:26 left. Following an incompletion to Hines, Willie Parker nearly gets hit for a safety, as the offensive line once again shows their dominance. On third down, Ben and Santonio tag-team to save the day with a first down...BUT WAIT: that's holding on Justin Hartwig in the end zone, and that's a safety.
20-16 Steelers
. I'm scared.
30. That was a game-changer. Without the holding, the Steelers could very well have run out the clock. Instead, the Cardinals get the ball back with added momentum (sponsored by Gatorade's new G line).
31. At some point in the fourth quarter, they finally played the Troy Polamalu Coke Commercial, so let's interrupt the drama and shoehorn it in here:
32. The Cards have the ball at their 36 with 2:58 to go. Following an incompletion to Boldin, Warner finds Fitzgerald for a 64-yard TD. Every Pittsburgh fan's worst thoughts are realized, as the Cardinals now hold the lead with 2 1/2 minutes left.
23-20 Cardinals
. I'm speechless.
33. I was speechless, but still confident. Knowing that #7 was coming on to the field should calm any Steeler fan's nerves at a time like this. 2:37 to go, 78 yards ahead of us. Let's go.
34. Ben hits Mewelde for -1, and Chris Kemoeatu penalizes us for 10 yards. Not a good start.
35. Ben hits San Antonio for 14, followed by an incompletion to Nate Washington, who ended up with only one catch in the game, coming moments later. Two minute warning.
36. 1:08 to go, and we're on the 50. Fieri is fiercely warming up for the game-tying kick on the sidelines, his duties as TGI Friday's spokesman aside. Those Wasabi Buffalo Bites are going to have to wait.
37. Ben hits Santonio for 40. That's right, 40. The Steelers are officially in business, just six yards away from re-taking the lead.
38. Santonio nearly pulls off a tough catch in the corner of the end zone. Maybe next time.
39. Yeah, he caught the next one. I mean,
HE CAUGHT THE NEXT ONE! THE STEELERS JUST TOOK THE LEAD! I DON'T KNOW WHY I'M YELLING! 27-23 STEELERS!


40. Being that it was a Steeler touchdown, as I mentioned earlier, it has to be shrouded in controversy. This one was no different, and for Santonio, this was the second time this season that a crucial, last-minute TD of his was contested. And just like against Baltimore, it's gooood.
41. Kurt takes over at the 23 with 29 seconds left, but the Cardinals used all nine of their lives already. A LaMarr Woodley sack and subsequent Brett Keisel fumble recovery seal the deal. Ben goes into Victory Mode.
The Pittsburgh Steelers just won their NFL-record sixth Super Bowl.
42. The crowd is jubilant, and none other than Joe Namath (one of my favorite athletes ever) walks a gauntlet of players and fans to present the trophy to Roger Goodell, who then hands it off to an Obama-loving Dan Rooney, flanked by a backwards-hat-wearing Big Ben, Art Rooney II, and Mike Tomlin.
43. Santonio is MVP, and he deserves it. But Big Ben has now won two Super Bowls and both MVPs have gone to one of his receivers. Kinda funny how that worked out. But if the game would've held up with the 20-7 score, I think this was probably Harrison's to lose.
44. I switch the TV to local coverage, and
Pittsburgh is going nuts.
They turned over a car and lit a couch on fire in Oakland, which is apparently having an identity crisis and thinking it's Morgantown. Ken Rice pleads for a stop to the misbehavior. His words mean nothing to the crowd.
45. ESPN fully jumps on the SB43 bandwagon, ranking three of the game's plays among the Top 10 Plays in Super Bowl history, with Ben-to-Santonio #1 and Harrison's TD #3. I'd say that qualifies as the Best Super Bowl ever, at least in their eyes.
46. Ben and Santonio will both be
going to Disneyworld
. Last time around, it was Hines and Bettis. I guess this symbolizes a changing of the Steeler guard.
47. OK, some final thoughts:
--Five years in the league, two rings, and three AFC Championship appearances should put Big Ben on the fast track to the Hall of Fame. Period. 10 QBs have won two titles, and of those 10, only Tom Brady and Jim Plunkett are not yet in Canton. And at least one of those two are locks anyway.
--And that's a title within two years of hiring Mike Tomlin, who even fired me up with his post-Super Bowl crowd address. What a perfect fit for the job.
--Two titles in four years. Does that qualify as a mini-dynasty?
--Santonio Holmes grew up on Sunday. This is a guy who's made some
major
mistakes off the field as recently as a few months ago, but on Sunday, he officially arrived. Holmes had some huge touchdowns in the 2008 season, and hopefully carries his momentous postseason into 2009.
--If the Steelers would've ended up losing the game, it would've come down to the same weaknesses that have plagued the team all season.
First, they couldn't run the ball when they needed to; they can't stuff it in when they're close and they can't sit on it to kill the clock. They ran for 58 yards on 26 carries, a 2.2 average. How they managed to win a Super Bowl with that kind of output is unbelieveable. To boot, their offensive line committed numerous penalties and was responsible for the killer safety in the fourth quarter.
Second, special teams (aside from Skippy) were not a strength in the least. Once again, they allowed a long punt return, which luckily did not translate into points. Their kick returning is simply awful and intimidates no one.
This is the new NFL. The Steelers just won a Super Bowl with an average at best offensive line and some other glaring weaknesses. Fortunately, their defense was enough of an asset to overcome their liabilities. And having Ben Roethlisberger doesn't hurt, either.
--Gotta take your hat off to the Cardinals. I said they were possibly the worst team to ever qualify for the playoffs, and they sure shut me up. Few gave them a chance in this game, and they nearly pulled it off. If they can keep their key players around, they should absolutely contend in the NFC next season.
--Anyone else miss Myron on Sunday?
--My official prediction was 27-20 Steelers, and the only stat I predicted was that they'd hold Edgerrin James to 30 yards rushing. So I was off by three points and three yards, proving the "blind squirrel" analogy of predicting football quite well.
--There's going to be lots of stuff pouring in over the next few days/weeks, so keep checking back and feel free to forward your pics/links/emails/etc. I know we had several readers going to the game so I'm hoping to get their photos soon.
--I guess my closing statements would be to rest up for the eventual parade/rally and savor the moment. We're spoiled as Pittsburgh sports fans. We really are. To experience a Stanley Cup Final, a Super Bowl, and a #1-ranked college basketball team aiming for a Final Four in the last year is not a birthright. We are lucky to live in a town with so many skilled athletes and executives, which do nothing but bring our region together. And the glue that bonds everything would be fans like all of you, who display a level of passion that other cities envy. Thanks for being here along the ride, and please add your game thoughts below.
Send your news, tips, and links to
Mondesishouse@gmail.com
.