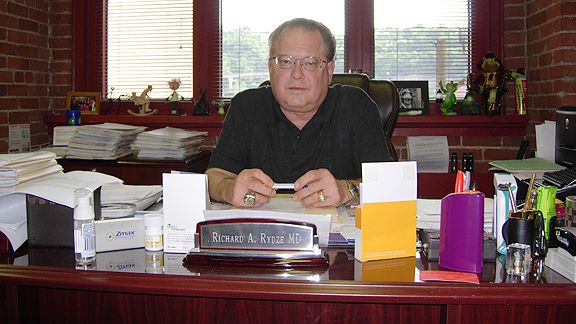 One of the most under-reported stories in Pittsburgh sports history has to be the case of Dr. Richard Rydze, the man who spent 22 years on the Steeler medical staff and then promptly split with the team in 2007. I distinctly remember a report that he had purchased $150,000 of HGH on a credit card, which probably didn't look good given today's touchy atmosphere on that topic.
Today, ESPN unveiled the
first ever in-depth interview with Dr. Rydze
, and it is a must-read for any Steeler fan. It's the headline story on their website as I write this. A brief excerpt:
"Because I was associated with the Steelers, the assumption was that I was giving everyone on the Steelers growth hormone or steroids," Rydze told ESPN.com in his first in-depth interview on the subject. "You say a team doctor for the Pittsburgh Steelers, and you are saying he is buying growth hormone from a pharmacy in Florida -- what the hell else are you going to think?"

Former Steelers doctor embraced HGH
[ESPN]
And in other Stiller news...
--Today must be the day to tell stories I've always wanted to hear more about, because Ron Cook penned a lengthy, front-page article on
what went wrong between Pitt and Joe Flacco.
Again, another must-read. [PG]
--If you're a Pittsburgher, it's snowing, and you're bored,
this is how you spend your time
. [With Leather]
--Potential Hall of Famers Dermontti Dawson and Rod Woodson will be
Honorary Co-Captains on Sunday
. I'm guessing they'll get a warm response, especially since
Woodson picked the Steelers to win
. [Steelers.com]
--Troy Polamalu
returned to practice
, while Justin Hartwig's participation was limited. [WTAE]
--
Meanwhile, the non-practicing list of Ravens was much longer, leading with LB Terrell Suggs and also naming Samari Rolle (groin), wide receiver Mark Clayton (thigh), defensive tackle Justin Bannan (foot), linebacker Jarret Johnson (calf), fullback Le'Ron McClain (ankle) and wide receiver Derrick Mason (shoulder and knee). [Beaver County Times]

--Word on the street is that DUI enforcers will be out in droves on Sunday. So drink those 27 beers responsibly. [Pittsburgh's Black and Gold] [Related: Iron City outsources canned beer!]

--To close: Myron Cope predicts a 20-9 Steeler victory! Double Yoi! [DC Steeler Nation]


Send your news, tips, and links to Mondesishouse@gmail.com.