It's time for a new link contest!
The rules are easy...send your interesting sports, entertainment, and bizarre news links and tips to mondesishouse@gmail.com
One winner chosen at random on September 12, 2008 will receive this week's prize: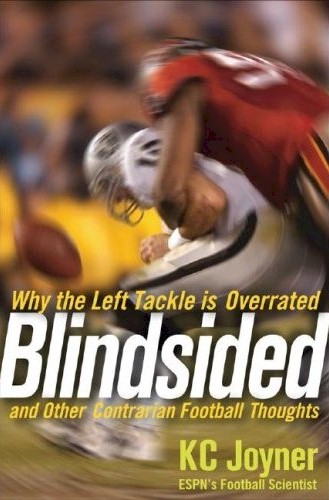 Joyner, a columnist for ESPN the Magazine, uses statistics, game footage and his own formulas to settle pro-football arguments ranging from whether it takes an elite running back to win the Super Bowl to whether the storied 1985 Chicago Bears defense is the best ever. Zealous football fans will appreciate the theories and extensively researched, sometimes surprising, conclusions. Joyner peppers his analysis and opinions with football history and a sense of humor. The league-owned NFL Films, Joyner writes, is "the propaganda arm of an effective socialist regime." Though he clearly loves the game, Joyner isn't awed by the macho, myth-making empire that is the NFL, taking the league to task over its blackout system and shabby customer treatment. In the end, this is a rich mix of statistical insight and thoughtful, clear-headed criticism.
CHAPTER LIST
PART ONE: DE-BUNKING MYTHS.
Chapter 1: What Is the True Value of the Left Tackle?
Chapter 2: How Can I Miss You If You Won't Go Away? -- Why the End of the NFL Dynastic Period Is Not Here.
Chapter 3: Is It Like Winning the Lottery, or Is It More Like Winning at a Bingo Hall?
PART TWO: STATISTICAL REVIEWS.
Chapter 4: Does the Creampuff Diet Work for NFL Teams?
Chapter 5: Does It Take an Elite Running Back to Win a Super Bowl?
PART THREE: A LOOK AT THE COACHING PROFESSION.
Chapter 6: The Darwinism of the Coaching Forest.
Chapter 7: Do Coaches Have a 10-Year Shelf Life?
Chapter 8: Marty Schottenheimer: Hall of Famer?
Chapter 9: It Takes a Coaching Acorn to Build a Coaching Tree.
PART FOUR: HISTORICAL ICONOCLASM.
Chapter 10: Who Are the Best Hall of Fame Candidates?
Chapter 11: Art Rooney Wasn't a Victim of Circumstance During His Team's 42-Year Championship Drought.
Chapter 12: Bert Bell's Gold Watch, or Can Someone Tell Me Why This Man Is in the Hall of Fame?
Chapter 13: The Greatest Defense of All Time. Period.
Chapter 14: The Greatest Wide Receiver of All Time. Period.
PART FIVE: AN NFL BUSINESS REVIEW.
Chapter 15: NFL Socialism vs. NFL Meritocracy -- a Cautionary Tale.
Chapter 16: Why the NFL's Blackout Rules Make No Financial Sense.
Chapter 17: A Call for a Historical Statistical Revolution.
Business owners - if you are interested in promoting your product or company, please email
mondesishouse@gmail.com
for more information