My one-man crusade demanding respect for Ben Roethlisberger over the past year-plus has been well documented on this site. It all started with the
Ben Roethlisberger = Rodney Dangerfield
post last November in which I compared the Steeler QB to the late, non-respected comedian. I was tired of the football know-it-alls constantly preaching the greatness of Tony Romo, Carson Palmer, Drew Bress, etc., and treating Roethlisberger like a lowly "game manager" in the Kyle Orton/Trent Dilfer category.
I worked with much diligence on the topic, and you were of great assistance, sending me link after link of what we perceived as slights against Ben. And just when I thought we were getting somewhere, Peter King once again placed him behind Palmer and Brees (who've combined for one career playoff win) in his 2008 player rankings.
The article took a look at five quarterbacks poised to fill the void created by a sidelined Tom Brady and a Peyton Manning who's clearly not himself. The candidates? Big Ben, Eli Manning, Jay Cutler, Philip Rivers, and Tony Romo. That's right, Brees, Palmer, and Derek Anderson were not even mentioned.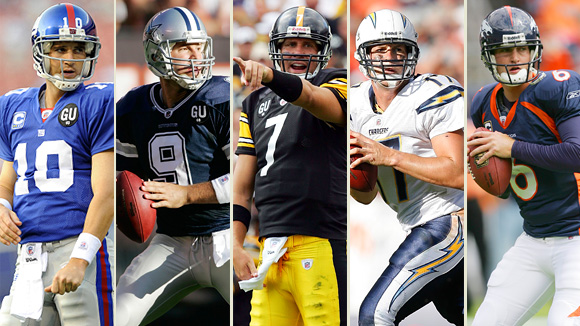 And who did this panel of scouts choose? In a close vote, Roethlisberger edged Manning, followed then by Cutler, Romo, and Rivers. I officially declare success in our collective cause.
Answering the question of "Which of these QBs would you want running your team right now?", I defer to ESPN's Matt Williamson, who clearly knows his stuff:
Matt Williamson: "Roethlisberger, and by a substantial margin. The other four are excellent young quarterbacks, but when comparing each player's overall body of work, none comes close to Roethlisberger's. He is the only one who has not only achieved, but sustained, excellence. And he continues to get better as Steelers coach Mike Tomlin puts more responsibility on his shoulders. He takes too many sacks -- and probably always will -- but by holding on to the ball Roethlisberger also converts downfield plays with astonishing frequency. At worst he ranks second, behind Cutler, in terms of physical abilities. In terms of playmaking skills, he's tops. Most impressive is Big Ben's winning percentage -- and his Super Bowl ring. More could be on the way. "
Well said, my friend.
And while we're talking Ben, guess who's leading the NFL in passing with a 136.3 rating and 75% completion percentage? You're right. The heir apparent to Brady and Manning.
In reality, articles like these means nothing, but as Steeler fans, we have an obligation to become upset at any perceived slight by a member of the national media. It has nothing to do with the outcome of the games, and we shouldn't get so riled up. But you have to admit, the ongoing debate of quarterbacks has given us plenty to talk about for a long time, no?