In life and in business, there are always times that you'll look back on as milestones. Sometimes when they happen, you'll immediately recognize them. In other instances, it may take a while for you to grasp the magnitude of the event. For me, I've been lucky enough to have several memorable occasions that have helped put this site "on the map" to some degree. But what I was able to partake in on Thursday morning is something that I will not only remember in my writing career, but in my life.

As you may know, I bleed black and gold. It's quite a serious condition, although it's fairly common in our area. I love anything and everything involving Pittsburgh sports. It fuels my passion for this site, a passion that increases exponentially when realizing how many like-minded followers of these same teams can share in my words.

I've had the pleasure to meet a number of sports legends in my young life. Mario Lemieux. Dan Marino. Bill Mazeroski. Joe Montana. All up-close-and-personal. But they were also abbreviated encounters. These are men that are constantly being pulled in 1,000 different directions. But I treasured each meeting, because, after all, I'm a fan at heart.

To this point, I have never had the pleasure of talking at length to someone directly involved in sports for the purpose of a website interview. I had successfully completed interviews with several sports media personalities, but never someone who had a hand in either the playing of the game or the front office.

A few weeks ago while out of town, I received an interesting email. I was asked if I had any interest in interviewing Mr. Art Rooney, Jr., Vice President of the Pittsburgh Steelers, former Personnel Director, and a part owner of the team.

Predictably, I was more than excited. This was one of the men who was an integral part of building the Steeler Dynasty of the 1970s! Franco, Bradshaw, Swann, Stallworth, Lambert…Art Rooney, Jr. scouted them all. And to add extra intrigue to my imagination, I reminded myself that he was the son of Art "The Chief" Rooney, one of the most beloved Pittsburghers of all time and a patriarch of the NFL!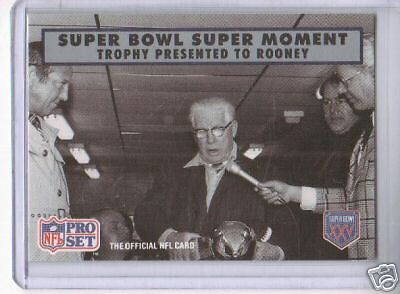 I immediately responded to the inquiry with a "yes" and patiently waited to hear back. I was put in touch with a representative of Mr. Rooney who would later help schedule a time for the interview.
I asked if this would be a phone interview or something that could be done in person. I was told that I would be welcome to stop by Mr. Rooney's office and ask some questions about his recently published book,
Ruanaidh
(the Gaelic spelling for Rooney), for a half-hour to an hour. Again, I was more than enthused. I was going to have a one-on-one with Art Rooney, Jr. on his home turf!

As this week played out, there's been a developing storyline dominating local (and at times, even national) news coverage about the Rooney family selling their shares of the Steelers. Knowing that Mr. Rooney was a part owner, I immediately feared the worst, thinking that the interview would probably be cancelled. But Mr. Rooney's representation assured me the day before that the interview would go on as scheduled, and that Mr. Rooney would not be prepared to answer any questions about the current events.

That was more than fair with me. I was glad to still have this opportunity, and realizing the sensitive nature of the situation, I was more than happy to oblige with Mr. Rooney's request.
The last hurdle before the interview was to conduct extensive research on Mr. Rooney. Yes, I knew a little about him, but not to the extent where I would feel comfortable conducting such a big interview.

I was sent a copy of Ruanaidh in advance of the interview, and it was thick. 483 pages thick, to be exact. It is accurately described as "Part memoir, part anecdotal history of Pittsburgh's North Side, where the author grew up, and part football book."

I was through just a few pages and I had to reference the convenient Rooney Family Tree in the front of the book at least half a dozen times. Like my Italian family, the Rooneys had multiple family members with the same first names. Luckily, Mr. Rooney and his collaborator, legendary Pittsburgh Press journalist Roy McHugh, used the abbreviation "AJR" to distinguish whenever they discussed "The Chief", Art Rooney. I wanted to make sure I had my facts straight!

So off I went on my journey through Ruanaidh. The book starts off with countless entertaining stories of the Rooney family and their friends and acquaintances from Pittsburgh's North Side. A more colorful collection of characters I could not imagine.

I made so many notes about individual anecdotes that there's no way I could do justice to all of them. Plus, I wasn't going to give away the best parts; you really do need to buy this book. But there were some interesting facts that immediately caught my eye, like AJR's prolific athletic career, one that included a Notre Dame inquiry from Knute Rockne and an offer from Penn State that included a share of the program concession on game days. Needless to say, this was before the NCAA ruled with the iron fist that they yield today. AJR ended up at Indiana Normal (now called IUP), where he played not one, not two, but FIVE sports - baseball, basketball, football, track, and boxing.

I also learned about how AJR would walk Imogene Coca's poodles, how he turned his back on a pro baseball contract with the Boston Red Sox, and how his affinity for chocolate resulted in a binge at Canonsburg's Sarris Candies so prolific that he became ill.

Fascinating stuff all, and this was before I tell you about the part where he buys a pro football franchise for $2,500 in 1933.

As the book progressed, so did the football talk, which I became totally immersed in. I learned about how the Steelers released a Pittsburgh kid "too dumb" to play for them named Johnny Unitas; I heard the fascinating story about how Tim Rooney got his name from a member of the Mara family (of New York Giant ownership fame); I chuckled reading that Brian Piccolo's father called and asked why the Steelers didn't draft his son; and I was interested to discover that the Steelers once contacted legendary Notre Dame coach Ara Parseghian about coaching their team.

The real meat of this memoir, however, came when Mr. Rooney dove headfirst into his recollections of building the Super Steelers dynasty. There was nearly a page on each marquis player, and even on some players that didn't turn out to be what the Steelers expected. Personally, I was fascinated at the tales of how Mr. Rooney mined so many small schools for top-notch talent, such as Mel Blount, John Stallworth, Mean Joe Greene, and Donnie Shell.

The '70s were high times for the Steelers and the Rooney family, and it was all the sweeter after so many down years. Then came the '80s, and the inevitable fall from grace. One by one, the future Hall of Famers went by the wayside. And one day, Art Rooney, Jr. would see his tenure with the Steelers come to an end with a statement delivered by his brother Dan: "I want you out of the day-to-day business."

Much more confident in my knowledge of Mr. Rooney, his family, and his exact place in Steeler history, I set off to meet him at his South Hills office. My appointment was scheduled for 9:30, but I arrived at 9:15 just to be safe.

I found the office that matched the address I was given, and entered. There was no name on the door, so I was hoping it was the right place. As I opened the door, my first glimpse was that of Steeler memorabilia. Yep, I think this was the right place.

Mr. Rooney's secretary greeted me and informed him of my arrival. As I stated earlier, I've met many sports figures, so I don't tend to get star-struck or nervous. But this was different. This was territory where I've never ventured. I had no idea what to expect.

Mr. Rooney told his secretary to send me in, and he greeted me with a big smile and a hearty handshake. I immediately felt much more relaxed and at ease.

As I introduced myself and settled into my chair, it was Mr. Rooney who was asking all of the questions. He wanted to know more about me, more about what I did. I started by telling him that I attended Washington and Jefferson College, just like one of his sons, and that I played baseball under former Steeler John Banaszak during my time there.

Immediately, this drew a positive response from Mr. Rooney, who then remarked that several other members of the Rooney family had also attended my alma mater. He then added that he was close friends with a professor named Richard Easton - the very same man whose encouragement during his challenging composition course helped inspire the writer you see today.

Beyond that, we found that we had more in common. The Rooneys were North Side folk, just like my father and his family. And my father, who previously ran a small newspaper during the '70s, had interviewed Mr. Rooney's father (AJR).

Mr. Rooney told me about how the book was 12 years in the making. He showed me the journals where he wrote his notes. He took me on a tour of his office, filled with Steeler mementos, photos, and artwork. He couldn't have been more accommodating.

I had written a list of questions the night before which I wanted to use during my interview. But the way we hit it off, they seemed all too formal. I then realized that this would not be a simple Q&A; this evolved into a conversation between two men who love the Pittsburgh Steelers.

I told Mr. Rooney more about my website and about how the audience is largely a young crowd who had heard about the Super Steelers from their fathers. I asked him why they would be interested in the book, and the answer was painfully obvious: this was the insider's story on the Steelers and the insider's story on AJR. It was an exclusive vantage point. Like any great story, there was conflict, whether it be Mr. Rooney butting heads with brother Dan or debating the merits of drafting a big back from Penn State (Franco Harris) with Chuck Noll. So if the idea of a Super Steeler insider describing how things worked appeals to you, I highly recommend you purchase this as soon as possible.

As I mentioned earlier, I was fascinated by the Steelers' ability to discover players from obscure schools and turn them into Hall of Famers. There was Joe Greene (North Texas State), Mel Blount (Southern University), and John Stallworth (Alabama A&M), to say nothing for solid contributors like L.C. Greenwood (Alabama AM&N), Donnie Shell (South Carolina State), and many others. This would happen over and over again during the '70s, and as Mr. Rooney described, it went back to Chuck Noll's draft philosophy: "The thing I care about is great athletes who are coachable and come to play the game."

I then wondered about how the Super Steelers would be affected by the current competitive structures of the NFL, namely the salary cap and free agency. "We would have never, ever kept the team together," he said.

An agent who represented a number of Steeler players at the time would, as it turned out, secretly bleed black and gold, and the Steelers "never lost a key player", Mr. Rooney told me. That relationship turned out to be an integral component of keeping their talented nucleus together for so long.

Even with the rule changes, the team philosophy has stayed the same over the course of time: building through the draft, as the Steelers did under Noll, remained on the same level of importance under Noll's successor, Bill Cowher.

With all of the successful drafts, what was Mr. Rooney's biggest regret as a scout? Walter Abercrombie immediately sprung to mind, but that was mostly due to injuries. But as Mr. Rooney would later reveal, "My dad never forgave me for taking Gabe Rivera over Danny Marino."

Mr. Rooney later got back to the question, giving a definitive answer of RB Greg Hawthorne, their 1979 first-rounder out of Baylor, who never quite put it together, totaling just 527 yards rushing in a nine-season career.

The best scouts and front-office guys around the league, outside of the Steelers? Gil Brandt of Dallas was "a great organizer," Rooney said. George Young, a five-time executive of the year with the Giants, was also at the top of Mr. Rooney's list. And "among working guys, Jack Butler of Blesto [scouting service] was the best."

Among contemporary executives, recent Green Bay architect Ron Wolf was the first name Mr. Rooney mentioned. Wolf earlier had a key role in personnel operations with the Oakland Raiders from 1966-75 and again from 1978-90.

As for organizations, the Rams wowed Mr. Rooney, as did Dallas, ironically two teams that the Steelers would face and beat in the Super Bowl in the '70s.

The topic then shifted to the Steelers' numerous lean years, that gap between AJR buying the team in 1933 and hoisting that first Lombardi Trophy on January 12, 1975. Mr. Rooney's book described Pittsburgh fans' anger directed in the Rooneys' direction over that time, and I asked him: can he sympathize at all with what the Pirates are going through?

"Oh my gosh, yes. You had to duck down back alleys," Rooney said. "Like Adlai Stevenson once said in losing when he ran for President", Mr. Rooney said, "I'm too big to cry and too serious to laugh."

"I think of the Pirates all the time," Rooney added. In fact, from 1964-1971, an eight-year span, the Steelers had eight consecutive losing seasons, including back-to-back records of 2-11-1 and 1-13 in 1968 and '69; so he can definitely relate to the Pirates' current woes on some level.

At that point, I brought up the recent debate we had on this site about what's a fan and what isn't a fan, and Mr. Rooney agreed with my take that fans were angry with the losing because they did care about the team, and also agreed with my take that apathy would be a far greater disapproval of an organization.

Of course, as Mr. Rooney noted, the success of the 1970s raised expectations for the organization, and history has not been as kind to memories of the 1980s Steelers. But as he would also note, the Steelers had only three losing seasons in the '80s, and made the playoffs four times.

But did he ever dream the NFL would become the global entity that it is today? "No, no. I thought that you could consistently get 30-40,000 season tickets sold, TV…but the league, the way we were, we could all compete, we could all make a living. But I never saw this kinda stuff. Some of my brothers did. I was a North Sider. I didn't have the vision that Dan or Tim had."

I next asked Mr. Rooney what recent Steelers were in the mold of the '70s vintage. "Well, the quarterback [Ben Roethlisberger], I wish we had him in the '80s. Faneca could've played. Hines Ward definitely would've been a player, but Hines Ward wasn't a Swann or Stallworth. But he's a player."

I'd read a lengthy description of how Chuck Noll disliked "agitators", specifically citing the trade of talented WR Roy Jefferson as a result. I asked Mr. Rooney to discuss that in greater depth:

"Roy was a great player, went to a couple other teams, Super Bowl teams, was an All-Pro; he's now very mellow, a sensitive guy. After I wrote that, I met him again at our Legends dinner. He was such a mellow, nice guy. But he was a tester, a real tester. He's exactly what Chuck said. He was probably one of our best 4-5 players. He said that, and he kept his promise. I know we got a couple players for him, and they were OK, but they were not long-term players."

But how much of a concern is conduct in scouting now, given the climate of the NFL?
"That's a good question. The main thing, with films, scouting…you very, very seldom made a mistake on talent in the first two rounds. But the thing that's killer, killer, killer is the intangibles. And how do you judge them? We had questions we would ask. You would try not to interrogate the [college] coaches. Is the team value greater than his personal goals? Will he sacrifice?"

I then moved to a few quick topics less related to the Super Steelers but still of great interest to me. What about Joe Paterno, the legendary Penn State coach who prepped Jack Ham and Franco Harris for the Steelers? What was JoePa's relationship with the Black and Gold?
They had a great relationship, "so great that Dan once tried to hire Joe," said Mr. Rooney.
And how about his favorite stops from a life spent scouting on the road? "Nebraska, for good players and good steakhouses," said Mr. Rooney.
And places that he really didn't look forward to visiting? Oregon ranked first on his list. One of the scouts once told Mr. Rooney, "I spent a whole week at Oregon State one day."
What about the factoid that the Rooneys were offered the New York Yankees at a price of $6 million by CBS in the '70s? "Oh yeah," confirmed Mr. Rooney, "they actually came back a second time."
Any regrets at passing on the Bronx Bombers, given that they're worth approximately $1.2 billion? "Yes," said Mr. Rooney, saying that his father "just didn't use his head", while noting that brothers Tim, Pat, and John had proven their ability to run the family's race tracks and thought they would have been more than capable of handling the baseball franchise.
In addition to the Yankees, the Rooney family was also offered the Los Angeles Dodgers by the O'Malleys, another family-run pro sports franchise, as well as the San Francisco franchise that would become the Golden State Warriors of the NBA.
The story about Jimmy Carter pinching Mr. Rooney's wife (Kay) on the rear end at a Steelers White House visit? Another absolutely true story. I asked if he was angry when finding out about it after the fact, to which Mr. Rooney said, "No! He was a hell of a nice guy," while describing Carter's hospitality during their visit.

As our time moved closer to an end, it was finally time to try and address the conclusion of the book, which was Art's dismissal from the team by brother Dan in 1986:

Any advice for those in family business, I asked?

"Yeah…just don't hate each other. Go out of your way to be fair," Mr. Rooney said.

And the ending, was it difficult?

"Every adjective you want to think of," he quietly added.
Was there something specific that led to that?

"I'm afraid there is. Over the years, things built up. A power type thing. They tried to put it all on Chuck Noll. I'm not buying that."

Of the end, a frail and tired-looking AJR told Mr. Rooney, "I can't make things happen any more," and added, "There can be only one boss."

And with that, nearly two hours after my arrival, the interview (intended to last between a half-hour and an hour) was over. Mr. Rooney had another appointment, otherwise I think we would probably still be talking.
He showed me a few other unique pictures around the office, signed and inscribed a beautiful hardback copy of Ruanaidh for me, and strongly hinted that our paths may cross again in the near future.

After all was said and done, I think it's safe to say that we both enjoyed our morning. With everything that's been going on of late, I think it was refreshing for Mr. Rooney to revisit some of his finer moments with a relative newcomer like myself.

I know I have a tendency to be long-winded (I think we're well over 3,400 words at this point), but there are times to brief and then there are times to include all of the details. No, I'm not a full-time journalist that does this kind of thing day-in and day-out. I did not go to school for journalism. But I was lucky enough to find an audience that cares about the same things I care about. And together, our presence was able to attract a personality as big as Mr. Rooney for a conversation. It's my hope that this is the first of many such conversations that I can provide in the future. I hope you enjoy reading it as much as I enjoyed researching, conducting, and writing it.

------

To Mr. Rooney: I would like to personally thank him for the time he took with me and for the wonderful interview he shared with all of us.

To the readers, I highly encourage you to visit Mr. Rooney's website at
www.artrooneyjr.com
. It is filled with exclusive photos and content you will find nowhere else.
Finally, I highly recommend you to try your best to attend Mr. Rooney's book signing at
Joseph-Beth Booksellers
in the South Side. It will be held on July 23 at 7:00 PM.