Welcome to the first installment of "The Legacy Of...", the new series in which we will discuss the legacies of Pittsburgh athletes who moved on to greener pastures.
I'll give you the facts, including details on the player's acquisition, his Pittsburgh career with all of the highs and lows, and the time when he moves on. After that, you can vote on his legacy and discuss it at greater length in the comments section.
Our first subject is a controversial figure you're all familiar with: former Steeler QB Kordell Stewart.
Stewart came to the Steelers in the second round of the 1995 draft out of the University of Colorado, where he set several school passing records under coach Bill McCartney. The highlight of his college career would be "The Miracle at Michigan", a play so spectacular that it has its own
Wikipedia page
.
CAREER IN PITTSBURGH
Drafted by Bill Cowher with the second-round tag, Stewart was a luxury afforded to a team that already had Neil O'Donnell, Jim Miller, and Mike Tomczak manning the quarterback position. But Stewart was no ordinary quarterback. His unique set of skills was quickly translated by Myron Cope into the nickname "Slash", as he was a three-way-threat of rushing, receiving, and passing. The Steelers used Stewart in a variety of formations, and usually they resulted in something exciting.
His rookie campaign included a touchdown pass, run, and throw, but his mere presence was enough to distract opposing defenses and open up the offense for teammates such as Bam Morris, Erric Pegram, and Yancey Thigpen. Stewart was on the receiving end of a touchdown in the AFC Championship against the Colts and was a part of the Super Bowl XXX Steelers, the only Super Bowl appearance of his career.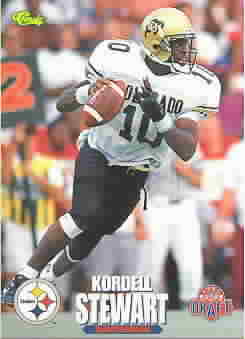 As seen on QVC the night of the draft, the Kordell rookie card!
In 1996, with O'Donnell collecting fat paychecks from the 1-15, Rich Kotite-led New York Jets, Stewart was involved in a three-way battle for the starting QB job, which was "won" by Miller. Miller lasted all of one half before Cowher had seen enough, turning to Tomczak for the rest of the season. Stewart was again utilized in the Slash role, rushing for 171 yards, gaining another 293 as a receiver, and finding the end zone eight times.
Some may feel this should crack the "undeserving of an action figure" list from a few days ago
With Tomczak on the way to the Old Quarterbacks' Home, Stewart took advantage of the opening and was named the starter for 1997. And did he ever take advantage. Let's take a look at his 1997 stat line:
11-5 regular season; 3020 yards passing; 21 TD/17 INT; 476 yards rushing; 11 rushing TD
That's right. Kordell accounted for 32 touchdowns in the 1997 season. That's two a week, for those of you scoring at home.
What was a fantastic regular season would unravel in the playoffs, the point in the season that would ultimately prove to be Stewart's achilles heel. The Steelers escaped a first-round playoff matchup with the Patriots by a 7-6 margin; Stewart threw for just 134 yards and completed only 45% of his passes, but he did score the Steelers' lone touchdown. His performance in the AFC Championship left a lot to be desired, throwing three picks and watching as the Denver Broncos celebrated their Super Bowl berth on Three Rivers turf.
I have no pics of the AFC Championship, so you'll have to settle for this Kordell beanie baby, which couldn't have done much worse than his namesake against Denver
In 1998, with high expectations, Kordell and the Steelers fell flat on their faces. The losses of Offensive Coordinator Chan Gailey, WR Yancey Thigpen, and 3/5 of their offensive line was simply too much to overcome. What was an AFC Championship team a year before was now 7-9.
Starting all 16 games, Stewart threw for just over 2,500 yards, 11 TD, and 18 INT. This was the season that led to the desperation of drafting WR Troy Edwards in the 1st round of the 1999 draft, with hopes that all Kordell needed was another weapon. Unfortunately, we all know how
that pick worked out
. This was also the season where Kordell famously
cried on the sidelines
.

The Hills-exclusive 12" Kordell figure. I wish I was making this up. With decisions like that, no wonder Hills is out of business.
1999 brought a fresh start, but Stewart failed to rise to the occasion. 7-9 became 6-10, and Steeler Nation was growing impatient. It was during the '98/'99 time frame that the infamous
rumors about his sexuality started to surface
. Funny that they never surfaced during a winning season, no?

Pretty much the worst idea ever conceived for a card
Dr. Cowher's prescription for a struggling QB dogged by gay rumors while getting beer dumped on his head by the "home" crowd? One dose of Kent Graham.
Graham arrived via free agency in 2000 from the New York Giants, who felt no need to keep a quarterback with a career passer rating of 69. And he was no savior during his time here as a starter, which I mostly remember as a mixture of injuries, slow footwork, and defeats. The door was open for a Kordell Stewart Revival, and he took full advantage, saving the day in a 21-20 victory over what would be a 12-4 Oakland Raiders squad, and leading the Steelers to a 9-7 finish.
ESPN: The Mag, firmly in Kordell's corner since declaring him "Next" around 1998 or so
The 2001 Steelers had a QB depth chart of Stewart, XFL castoff Tommy Maddox, and college hero Tee Martin. With Graham underachieving in a whole new city (Washington), it was Kordell's team once again. And once again, his roller coaster career took an upturn. The Steelers finished 13-3 under Stewart, a Pro Bowler and team MVP. He threw for over 3,100 yards and ran for 537, accounting for a total of 19 touchdowns. And then...the playoffs came.

Round One was a pretty easy 27-10 win over Baltimore, but Stewart was less-than-spectacular, throwing for 154 yards, 1 TD, and 1 INT. It was on to the AFC Championship against New England to try and erase bad memories from the 1997-98 AFC title bout.
The game was a
disaster in nearly every facet
. Steeler special teams came apart at the seams; the referees had one of the worst performances in modern history; Jerome Bettis ran for 8 yards on 9 carries; and Stewart accounted for three interceptions. It was the beginning of one era (New England/Brady) and the end of another. Kordell's days as a Steeler would never be the same.
Although he started 2002 as the starter, Stewart would not have that title for long. He was replaced by the fourth game of the season by the gunslinging Maddox, who went on to throw 20 TD in 11 starts and lead the Steelers to the second round of the playoffs.
THE END IN PITTSBURGH
Following the 2002 season, it was clear that the marriage of the Steelers and Kordell Stewart had come to an end. He was unhappy being the backup and the Steelers and the city were enthralled by the riches-to-rags-to-riches story of Maddox, who started his career as a first-round pick in 1992 with Denver.
HIS POST-PITTSURGH CAREER
Released from the Steelers, Stewart signed with the Chicago Bears in 2003, where he lasted all of one season under Dick Jauron. Kordell had a 2-5 record as the Bears' starter, throwing 7 TDs and 12 INTs after giving way to Chris Chandler and later Rex Grossman.
Seriously, how many Bears fans are going to spend $225 to commemorate Kordell's two wins there?
Once again, Stewart found himself a free agent, and in 2004 he joined the Baltimore Ravens and Brian Billick. He was the backup to Kyle Boller (and Anthony Wright), and did not throw a pass in a Raven uniform. He did, however, win NFL Special Teams Player of the Week honors for his impromptu punting performance while filling in for an injured Dave Zastudil.
Say what you want, the backwards purple visor look works
In 2005, Stewart was back with the Ravens, but not for long. He was released in early November as the Ravens opted to go only two-deep at the QB position. Kordell Stewart's NFL career was over.
Following his NFL career, Kordell Stewart has mostly flown under the radar. He did briefly appear on TV as part of the Pros vs. Joes series, trash-talking and subsequently running over some random dude:
ESPN's Hashmarks also reminded us in November of last year that it was Kordell Stewart's presence that allowed the Ravens to cut QB Derek Anderson, now the face of the Cleveland Browns. So in a way, he's still affecting the AFC North hierarchy.
And as recently as a few weeks ago, Kordell was back in the news courtesy of a book-pushing Plaxico Burress, who said that Kordell's performance was affected by the gay rumors.
YOUR TURN
So that's all the information I have. At this point, the discussion is in your hands. Do you have mostly good or mostly bad memories of Kordell Stewart as a Steeler? We're putting it to a poll, and there's no wiggle room: it's either a thumbs-up or a thumbs-down. What wins out: two AFC Championship appearances and the fun-loving Slash, or two AFC Championship defeats and numerous disappointing seasons in-between?