by The Backyard Scrawler
backyardscrawl@gmail.com
I hate mock drafts … there, I said it. I love the draft; hate the mock. At least I have something else in common with Mike Florio, the hot-shot lawyer and WVU football fan with the best pro football blog out there. (I would, however, trade my nacho-cheese stained Owen Schmitt jersey for his law degree any day.)
Mock drafts have gained steam in turning sports fans into purveyors of prognostication. Not on the same level as, say, filling out your March Madness bracket, but it has become an obligatory practice for anyone who follows the NFL Draft. Perhaps that's not also to say your girlfriend's Mock Draft will be more accurate than yours despite her basing it on the most colorful names: 1. Flacco, 2. Booty, 3. Lichtensteiger, 4. Gholston, 5. Cherilus, 6. Zbikowski and 7. Gonzaga … oh, wait.
Knowing that any website that covers the NFL Draft is not worth its weight in salt without a Mock Draft, I bequeath to you The Official Mondesi's House Mock Draft. Any misfires I blame solely on Raul for not supplying me with sufficient funds to hold a stopwatch at the Combine and break down film in my basement for three months.
I also added who the Steelers would if there were hypothetically switched with each team's spot before them. I also didn't account for trades, another reason why I hate mock drafts.

#1 Miami Dolphins – Jake Long, OT, Michigan
Still waiting on Bill Parcells to pull that $58 million away from Jake and say "Whoops, sorry, we meant Chris Long." … Steelers at #1 – Glenn Dorsey

#2 St. Louis Rams – Chris Long, DT, Virginia
Long played in the 3-4 at Virginia but seems more than capable to play on the edge where the Rams need help. Glenn Dorsey may be better but the Rams are set inside with last year's first-rounder Adam Carricker. … Steelers at #2 – Glenn Dorsey
#3 Atlanta Falcons – Glenn Dorsey, DT, LSU
Best defensive player in the draft. But will a new GM bite on Matt Ryan? … Steelers at #3 – Glenn Dorsey.
#4 Oakland Raiders – Darren McFadden, RB, Arkansas
Boy-wonder Lane Kiffin would rather not, but as long as Skeletor-impersonator Al Davis is in charge
I think he'll go with Run-DMC just to spite the young Kiffin and remind everyone that he still rules over Castle Grayskull … Steelers at #4 – Darren McFadden (or trade down).
#5 Kansas City Chiefs – Vernon Gholston, DE, Ohio State
Poor Herm Edwards needs all the help he can get to "Play …To … Win … The … Game." If I'm Larry Johnson, I'd be begging for the second-best in deep pool of OT but, "HELLO!" Gholston you can't pass up … Steelers at #5 – Vernon Gholston.
#6 New York Jets – Matt Ryan, QB, Boston College
The Steeler fan in me can't bear seeing Ryan going to the Ravens, so J-E-T-S please, please, please take Matt Ryan at #6. He'll study under Pennington for a year, kick Kellen Clemens to the curb and be the franchise QB behind that revamped OL in two years.
… Steelers at #6 – Branden Albert.
#7 New England Patriots – Keith Rivers, OLB, USC
As much as I'd like to move Mr. Irrelevant up to #7 for more spygate punishment, I suppose the Cheatriots need a shot of life in that geriatric linebacking corps; heck, one already had a stroke
… Steelers at #7 – Branden Albert.
#8 Baltimore Ravens – Leodis McKelvin, CB, Troy
Unless the Ravens trade up to get Matt Ryan, Brian Brohm and Joe Flacco won't go this high so Leodis and your 4.38 speed, you can have all the crab cakes and punt-return TDs vs. the Steelers a guy could ever want. … Steelers at #8 Branden Albert.
#9 Cincinnati Bengals – Sedrick Ellis, DT, USC
Hope ya got a good attorney, kid. … Steelers at #9 Branden Albert.
#10 New Orleans Saints – Branden Albert, OT/OG, Virginia
The Saints addressed CB in the offseason by signing Randal Gay and their tackles and guards are all returning starters –– if that's a good thing –– but the multi-purpose Albert should be ready to supplant any one of them quickly … Steelers at #10 Branden Albert.
#11 Toronto, err, I mean Buffalo Bills – Devin Thomas, WR, Michigan State
That's right, the Bills are that desperate for a wide receiver. This year's Ted Ginn pick. Although with McKelvin off the board they'll probably trade down here … Steelers at #11 Chris Williams.
#12 Denver Broncos – Ryan Clady, OT, Boise State
This guy fits the Denver's zone-blocking technique as the Broncos begin to rebuild their offensive line. Draft day goof: someone put a Happy Meal bag on stage as he walks out to shake hands with Roger Goodell. You know, just to check … Steelers at #12 Chris Williams.
#13 Carolina Panthers – Chris Williams, OT, Vanderbilt
The draftniks are torn on Williams or Jeff Otah but Williams seems to be more of the "true" left tackle that a team like Carolina needs since Travelle Wharton and Jordan Gross are not sufficing … Steelers at #13 Chris Williams.
#14 Chicago Bears – Jeff Otah, OT, Pitt
Now, Otah goes by default. Four-fifths of the Bears line is over 30. They need him. … Steelers at #13 Jeff Otah.
#15 Detroit Lions – Rashard Mendenhall, RB, Illinois
No, Lions, you can't draft another wide receiver; they won't allow it. And, yeah, you should probably take Florida DE Derrick Harvey here, but do you really want your first-round pick hanging out with position coach Joe Cullen?
Nice knowing ya, Tatum Bell. … Steelers at #15 Derrick Harvey.
#16 Arizona Cardinals – Jonathan Stewart, RB, Oregon
Ed Bouchette thinks the Steelers should take Stewart, a "banger" and a" thumper," if he falls to 23. Not if Ken Whisenhunt and the "Steelers of the West" have anything to say about it. … Steelers at #16 Derrick Harvey.
#17 Minnesota Vikings – Derrick Harvey, DE, Florida
The early steal of Mondesi's House Mock Draft goes to the Vikings. Kenechi Udeze has leukemia and Erasmus James has "bust"-emia so Harvey is their man. … Steelers at #17 Derrick Harvey.
#18 Houston Texans – Dominique Rodgers-Cromartie, CB, Tennessee State
With two running backs off the board and Dunta Robinson's ACL a question for the start of the season the Texans need a corner. … Steelers at #18 Phillip Merling.
#19 Philadelphia Eagles – Kenny Phillips, FS, Miami (FL)
He's from "The U" so naturally Andy Reid's kids are going to love him. They also need someone to replace Brian Dawkins after he retires. … Steelers at #19 Phillip Merling.
#20 Tampa Bay Buccaneers – DeSean Jackson, WR, Cal
If the Bills don't take Thomas at #11 he'll fall here. Jackson is thought of by many as a gamble but the Bucs need a WR with Joey Galloway and Ike Hilliard entering their twilight years. … Steelers at #20 Phillip Merling
#21 Washington Redskins – Phillip Merling, DE, Clemson
Both of the 'Skins defensive ends are over 30. This is a can be considered a steal if he falls this far. … Steelers at #21 Phillip Merling.
#22 Dallas Cowboys – Felix Jones, RB, Arkansas
The play from that Diet Pepsi Max commercial – "60-stretch far-uuuuuuugh" – is designed for Jones. Jerry, Pac-Man and Felix … these Cowboys are going to be no yawners to say the least. … Steelers at #22 Kentwan Balmer.
#23 Pittsburgh Steelers – Kentwan Balmer, DT, North Carolina
Let's cross a few off the list here: First, the best CB available Aqib Talib (watch this YouTube and you'll agree). As pointed out by Gene Collier, the Steelers need an ultra-strong defender who can hoist an airborne receiver, whose feet would land inbounds, carry him across the field and choke-slam him into the Gatorade, thus taking advantage of the now defunct force-out rule. That likely won't happen unless the Steelers take The Big Show with their first pick.
Then you have all the WRs available (Limas Sweed, Malcolm Kelly and James Hardy), none of which are the second coming of Plaxico Burress and if you are drafting Hines Ward's replacement they don't come in the first round. I'm not quite sold on OT Gosder Cherilus (I don't care how mean he is). While the pool of OTs is deep this year there shouldn't be much disparity between the sixth-best OT at pick #23 than what will be available at #53. A deep pool is all the more reason to wait. There's more research here on why not to take an OT with this pick by clicking here.
That leaves pass-rushing OLB Quentin Groves out of Auburn and DT Kentwan Balmer out of North Carolina, and while Groves may be better coming off the edge, Balmer seems to be a better answer to address the interior defensive line needs with Aaron Smith, Casey Hampton and Brett Keisel all in their 30s next fall. Balmer has the frame to add weight (6-4, 308), can play end in the 3-4 or tackle in the 4-3, much like the inside/outside versatility and athletic upside that last year's first-round pick Lawrence Timmons exuded.
#24 Tennessee Titans – Limas Sweed, WR, Texas
What better weapon to surround QB Vince Young with than his college pal.
#25 Seattle Seahawks – Lawrence Jackson, DE, USC
The officials from Super Bowl XL also fixed the Draft so that Seattle couldn't get the Steelers' pick Balmer, instead the Seahawks settle for a needed pass-rusher in Jackson.
#26 Jacksonville Jaguars – Quentin Groves, OLB/DE, Auburn
"Pass-rushing defensive ends get overdrafted," said Jags GM Gene Smith. Yeah, but they need one bad. Have fun tinkering with Groves in that 4-3.
#27 San Diego Chargers – Gosder Cherilus, OT, Boston College
The Chargers would be better off trading down or going with the "best player available," but OL is their biggest need so we'll give them Mr. Mean.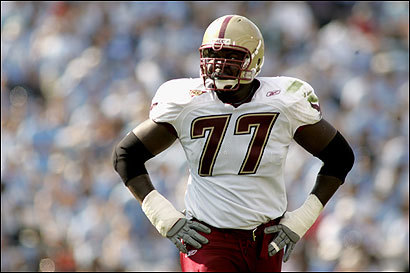 #28 Dallas Cowboys – Mike Jenkins, CB, South Florida
Mike Jenkins playing CB just in case Pac-Man Jones doesn't work out is like the Spears family hiring a nanny just in case Britney doesn't pan out as a good mother.
#29 San Francisco 49ers – Sam Baker, OT, USC
I always thought RB Frank Gore was underrated because of how badly his offensive line gets beat off the ball. Baker can be a difference-maker.
#30 Green Bay Packers – Antoine Cason, CB, Arizona
Brett Favre, the Wrangler-wearing, tractor-driving gunslinger from Kiln, Miss., retires from the National Football League. That following year, the Packers select Antoine Cason, the PlayStation 2-playing cornerback and cousin of Ken-yon Rambo from Long Beach, Calif. … It's the Cirrrrrrrrrrcle of Life.
#31 New York Giants – Jerod Mayo, LB, Tennessee
Some have Mayo going as high as #15 to Detroit and the Giants are typically a "best available" team.