Cancel your plans for Saturday night, because the Pitt Panthers are in the Big East Championship game again. Last night's victim: the ---CLANG---Marquette ---CLANG--- Golden---CLANG---Eagles, 68-61.
If you didn't watch the game, hopefully my weak attempt at humor assisted you in a description of what happened. Marquette shot 19-61 (31%) from the floor to Pitt's 49%, including a 3-16 showing from Dominic James, 3-10 from Lazar Hayward, and 1-7 from David Cubillan. Pitt, who's suddenly remembered how to play smothering defense again, could've put the game completely out of reach by halftime if they were able to make a few foul shots, as noted by the very entertaining Bobby Knight.
Instead, their 13-point halftime lead was whittled down to four at one point, and the game looked like it could've gone either way. But Pitt was obviously comfortable playing in their home-away-from-home, as they ironically iced the Eagles down the stretch with made free throws.
Fouls were a major storyline throughout the evening. Marquette stud Jerel McNeal was in foul trouble all night, but then again, so was Pitt's DeJuan Blair, who couldn't breathe on an opponent without getting whistled for it. Blair played just 10 minutes, with Tyrell Biggs bailing him out with a quality 31-minute relief performance out of the bullpen.
The star of the show was Sam Young, who's simply taken his game to another level this week. His 22 points and countless ball-fakes stole the show at Madison Square Garden, a place not familiar with watching exciting basketball these days.
Young's game aside, this was truly a team win for Pitt. Levance Fields, Ronald Ramon, Keith Benjamin, Gilbert Brown, and the two-headed big man all contributed on some level, as opposed to Marquette, which had one starter score in the first half.
Tonight's championship tips off at 9 PM EST on ESPN. Hopefully no tornadoes hit MSG like they did last night for the SEC Tournament at the Georgia Dome: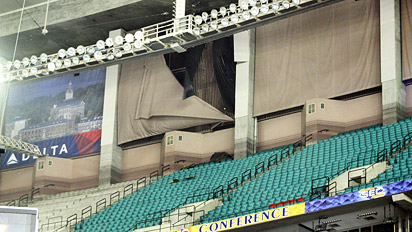 Pitt tops Marquette to face Georgetown for Big East title [PG]