Note the humble nickname on his locker: KING.

Before you go any further, please note that these hypotheses are being formulated by an Ohio State fan. I've spent many a day on
ESPN
,
Rivals
, and
Scout
trying to get a pulse exactly what is going with Terrelle Pryor. I've been watching the news and taking in the obsession that is consuming nearly every Buckeye fan across Ohio and the nation.

I've finally gotten to the point to where I can just relax because I'm about 90% sure that Pryor will not be a Buckeye. My hunch is telling me he's going to Pitt. And before you "x" out of this website laughing, hear me out. The more I research and connect the dots, I really do think that Pitt not only has a shot but is an extreme dark horse in the race. And I've outlined a few reasons why:

--The mysterious untaken scholarship
With
Zack Stoudt leaving
and Andrew Taglianetti
still planning to grey shirt
, all of a sudden Pitt has an extra scholarship open. Can somebody please tell me why Dave Wannstedt is sitting on this last scholarship? There has to be a recruit left on their radar that they want to throw this bone to. Most schools would have unloaded this by now.
Unless there's some international recruit we are all unaware of, this makes no sense. Maybe he's got a 6'7", 340-pound o-lineman over in Romania he's looking at. But the smart money is he's saving that last scholarship for Terrelle.

--Letting Stoudt walk without a fight
Stoudt was a fine recruit joining a team with decent talent at this position. He threw for 3,547 yards and 34 touchdowns this past season. QB recruiting is far from a sure thing, so even a three-star recruit can make an impact down the road. Did Stoudt know something the rest of the public didn't? Pitt folded like a Wal-Mart lawn chair on this one.
You'll have to wait until Louisville visits to throw snowballs at this Stoudt
--It's the NFL, stupid
If it's all about the NFL, like I believe it is, why not play in the most NFL crazy city in the county? If you want to be the Pope someday, it doesn't hurt being a Cardinal for a few years in the Vatican of pro football.
If he stays in Pittsburgh, he instantly becomes one of the most recognizable athletes in the city. And that's saying a lot for a town that features Sidney Crosby, Ben Roethlisberger, Evgeni Malkin, Hines Ward, et al.
He's not interested in being a "college football" icon; to do that you have to stay and play. He's already got his eyes on the NFL, the stardom and the big money. Staying is Pittsburgh practically lets him keep one foot in the NFL and one in college football. Pittsburgh is where his star will burn brightest and make him most marketable.
The Dad
I really didn't even factor this in until I heard Penn State was the only one that "got" to him. I figured all along that Tressel, Rodriguez, and every other coach worked the parent angle. But when it was revealed that Mr. Pryor was basically ignored by the recruiters, I drew the conclusion that recruiting has just started. If he's going to take courtesy look at PSU, Pitt cannot be far behind, and I think he will be sold on what he sees. I know he's been to Heinz Field, but I think playing in front of Dad is his will be a high priority once it's said and done.
I believe him when he says he never really had a chance to concentrate on the recruiting process
When I first got interested in the saga I was very quick to judge him. All I really saw was highlights on FSN and video footage on Rivals. I applied the "star" player label before even seeing any interviews. I know he has swagger and has many cocky tendencies on the field, but he convinced me after his "deciding to not decide" press conference that he really hasn't given a true thought as to what he is really looking for. I believe the boy really is clueless, even with the fine tutelage of one Charles Batch. As far as I'm concerned, it's tied at halftime. With all things being equal, I believe that Pitt will step back up to the plate and land the big fish.

He will get sick of Rich, Jim, or Joe
I love Tressel to death, but he is a tenacious recruiter and this can make his relentless style look more like harassment. Another thing that's hurt OSU is Tressel Ball. It's not the most exciting style of football and Terrelle knows that.
Dick-Rod is a slime ball, plain and simple. I'm guessing his act has worn thin. Pryor's dad seems like too much of a nice guy to fall for Rodriguez's used car salesman tactics.
JoePa is JoePa, plain and simple. Sending Tom Bradley as his surrogate will make Pryor second guess as to who is actually running the show. And joining the 42nd ranked recruiting class seems very unappealing, especially with their style of offense. Friends don't let friends join the Lions.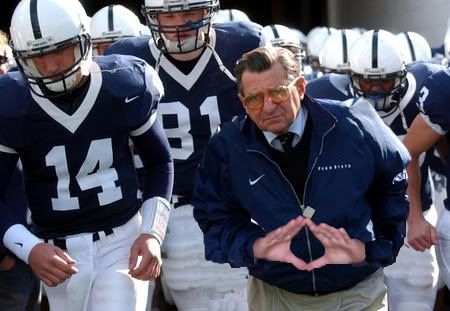 Paterno: a closet Jay-Z fanatic

Heinz Field will be packed and he knows it. With Pitt landing so many stud area recruits, it's a no-brainer that attendance will skyrocket if Pryor is a Panther. 65,000 is good enough for Big Ben, why not him?
Even Steely would show up to watch Terrelle
Of course this is all speculation. I basically know jack squat when it come to the ins and outs college recruiting. I just wanted to write a fun article to get a little discussion going. Too many columns written about Pryor are way too serious. It's about time we started having fun with this roller coaster ride. I'm very anxious to see how this all turns out. I just hope Senator Tressel has a ace in the hole, because this Buckeye fan believes he's gone.