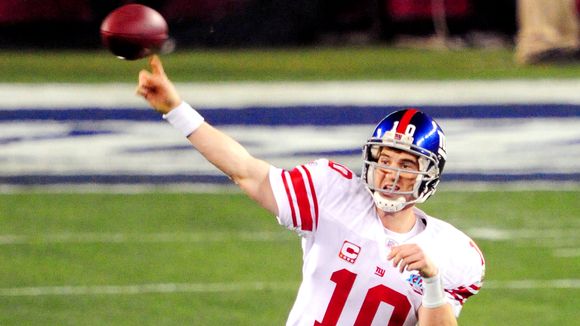 Yeah, that
19-0 trademark application
is going to have to wait.
In a series of events that I never thought I'd see, the
Giants downed the Patriots, 17-14
, in one of the most exciting Super Bowls ever. Honestly, would you have believed these two facts if I told you before the season started:
--Eli Manning leads the Giants on a Super Bowl-winning TD drive, ultimately throwing the difference-maker to Plaxico Burress.
--Tom "Colonel" Coughlin rises from the dead once again and ends the season soaked in Gatorade.
No, I wouldn't have believed me either.
Some knee-jerk reaction and discussion points:
--Everyone's talking about the decision by Bill Belichick to go for it on 4th-and-13 from the Giants' 31 . But here's a good question: does he go for the 49-yard field goal if Adam Vinatieri's still on the roster? I say YES.
--If you didn't realize yet that the Dolphins were a horribly-run organization, did Wes Welker's 11-103 line remind you? I think it's pretty safe to say a 2nd and 7th round pick for the 112-catch receiver was a pretty lopsided trade.
--Cheerleader of the game: Peyton Manning. And in another location, Mercury Morris.
--How many Steeler fans will now pine for Brandon Jacobs?
--Prediction: David Tyree makes a TON of money for the rest of his life signing photos of "The Catch".
--Michael Strahan, Amani Toomer and Jeff Feagles finally get rings. And for Junior Seau, it's 0-2 in the Big Game.
--Anyone notice how many late pushes and shoves were delivered by Rodney HGHarrison?
--Speaking of ground games, the Pats' leading rusher, Bony Maroney, had just 36 yards.
--It's amazing how human Tom Brady looked when his line gets pushed around. Remember that the next time you want to dump your beer on Big Ben.
--Jordin Sparks looked very nervous before and after the anthem, but I think she did a pretty good job, no?
--And finally, did you enjoy Big Ben's American Idol commercial?
More coverage and discussion coming throughout the day. Please feel free to add your two cents.