While recently perusing eBay, I stumbled across an incredible item: a
$40,000 Sidney Crosby rookie card
. In all of my years, I've never seen a hockey card priced so high, let alone one of such recent vintage.
I clicked to look at the other items this seller was offering, and I was amazed at what I saw - nearly 100 items that were all high-end Sidney Crosby hockey cards. Aside from the $40,000 card, there's one priced at $9,250, one priced at $6,000, and two priced at $3,000. As I dug further, it turns out that the seller operates what's known as "
The Sidney Crosby 87 Store
".
Fascinated, I sent the seller an email and asked him if he'd be interested in an interview for the site. Other than the Penguins and the companies that pay him for endorsements, I can't imagine many other individuals on the planet that have more money riding on Sidney Crosby. I had a plethora of questions for him.
So sit back and enjoy a few questions with Dany Murray, a French Canadian from Montreal and proud owner of the finest Sidney Crosby items on Earth. His wife was kind enough to translate the questions for him, and his answers exude the kind of excitement that Sidney Crosby creates.
1. Your eBay store is amazing. I must ask: are there any pieces of Sidney memorabilia that you keep for yourself?
Not for now! But that might change soon because I'll probably keep the
team autographed Oceanic jersey
for me at the end of the month! I haven't decided yet.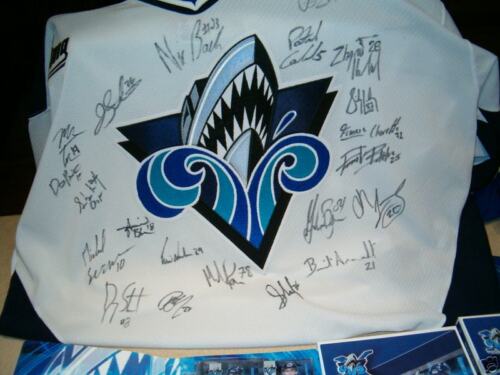 2. What originally caught my eye was the $40,000 Sidney rookie card. Tell us why you feel this card is so important and worthy of such a price tag.

Last month the finest known T206 Honus Wagner baseball card
sold for a record $2.8 million
.
I don't want a million dollars for my card but I know what its potential is!
I can afford to keep this card but I don't know what to do with a card fit for a museum at home! This is the best hockey player, combined with a very low print run of 10, with the biggest game used patch card, the only rookie year, the most recognizable Crosby patch with a perfect autograph!
Finally, it's simply the finest known autographed patch card ever of our era's finest players!

All's in play to have the best hockey cards ever produced.

I set a high price because in 25 years from now, this card will probably be worth about 100k-200k, if not 1 million for being the best card ever produced. Nobody knows where these cards will be in 50 years from now! For comparison's sake, a 1979 Gretzky RC sells for $650 and has a print run of +-100,000 cards. Some Albert Pujols autographed and serial #d of 500 RC sold for approximately $12,000 two years ago!
I predict an incredible future for these rare cards serial numbered of 25 or less because HOF will be impossible to find and will sell at insanely high prices! They are already worth way more than gold!

3. Are you a Penguin fan, or strictly a Sidney fan?

I was a Quebec Nordiques fan before but when I lost my team, I also lost all interest in hockey!
I then heard about this young phenomenon and he sparked a new interest in the game…I liked watching hockey games again!
I am now a devout Pens fan and have learned to love the entire team! I am from Quebec and there are many Quebecers on that team, including coach Therrien, the goalie Fleury, Michel Ouellet and Maxime Talbot! Also interesting is the fact that Sidney played 2 years in the Quebec Minor League LHJMQ! How can I not be a Pens fan right- you have my dream team!

4. What is your favourite Sidney moment from a game?

His winning goal in overtime against the Montreal Habs!
A rare game played with Mario the first game against his favourite team as a young boy the Habs and his first winning overtime goal!
It was extremely cold outside and 50 people were waiting at the doors to see the game. When Sidney saw that, he decided to go to the corner store and get some coffee for everyone. He has such a big heart!

6. Have you ever been to a Penguin game in Pittsburgh?

Not yet, but I hope to in the near future!
7. Have you ever met Sidney in person?

No. Maybe I'll get to meet him one day but that's not my goal. The most important thing is to see him play hockey. Don't miss out on the opportunity to see this phenomenon play!

8. Once his career is finished, assuming he stays healthy, where do you feel Sidney will rank among the all-time great of hockey? Does he have a higher ceiling than Gretzky or Lemieux?

I can only say this…Crosby will not be Lemieux or Gretzky…he'll be Crosby!
Crosby's more of a passer than a goal scorer so it's tough to compare the three! Both Gretzky and Lemieux were big goal scorers. I think he'll end up being the best passer of all time regardless of who he's compared to!
I already consider Crosby the most dominating player of the 4 major sports! He already dominates the NHL at 19 years old! I can't imagine how good he'll be at 25!
I hope the fans realise how good this guy is and how much they should make an effort to go see him play, especially after this year. He'll make you love watching hockey!

9. I imagine you've met a number of die-hard Crosby fans as a result of your store. Do you find yourself constantly bidding against the same devoted Sid collectors for high-end items?

EBay made some changes recently and we are no longer able to see the highest bidders on auctions over $200. So now it's impossible to know who you're bidding against. All I can say is that the market is so vast that you rarely bid twice against the same collector but you do get to know the die-hard Crosby collectors!

10. What is your favourite Sid item, and what is the Sid item that you haven't been able to acquire yet?

My favourite item is undoubtedly the $40,000 card because it's simply amazing! And I get an incredible sensation every time I hold this card in my hand! Maybe it's a lucky feeling, I don't know, but I guess you'll only see what it feels like if and when you get to hold it yourself!

I want to acquire a real game-used jersey if not the famous Team Canada stolen jersey! (see question #13 for more info about this jersey)

11. How far do you see the Penguins going in the playoffs this year?

I hope they will win the Stanley Cup because I'm a real Pens fan! Realistically speaking, I think they'll at least make it to round 3.

12. Any plans on expanding your business to offer memorabilia from some of the other high-profile young Penguins (Malkin, Staal, Fleury), or are you sticking with just Sid?

For now, sports cards and the EBay store are just a hobby for me. Unfortunately I don't have much spare time to take care of all that. I need to keep it small with high-end items because I can't list and ship 200 items a week! Also Crosby alone is already very expensive, so I prefer focusing on Crosby memorabilia only. That way, I can offer the largest and the most spectacular Sidney Crosby cards inventory in the world!
My plan is to keep it that way and increase the inventory with the nicest Crosby cards possible!
13. This is a question I have to ask: what ran through your head when you heard that Sidney's father has had his game-used jerseys stolen not once, but twice, while traveling?
If somebody wants to steal Crosby's jersey twice, than maybe he really is the king of the world! That's why I decided to start collecting his items! It all started here! The most incredible part is that the jersey is 5 minutes away from me! THE FAMOUS stolen Jersey! I know the owner and she doesn't want to sell it. I'll be first in line to buy the jersey if it ever it becomes available.
14. Finally, what is it about Sidney that made you such a fan?

Where do I start!
1) This guy is the REAL total package!
2) This goal:
http://www.youtube.com/watch?v=G9fsf0pMMUY
3) In his first year playing for the Rimouski Oceanic, he won six awards and four the year after!
4) He's amazing on the ice with so many points, records, special moves, trophies, playoffs, cups!
5) Every night after playing with the Oceanic, a bunch of fans would gather behind the arena and he stayed and signed autographs until there was not one person left!
6) He made the effort to learn French while playing for the Rimouski Oceanic in the Quebec Minor League.
7) He's the youngest in nearly every category. He is now the Youngest Captain ever to play in the NHL!
8) He's well behaved and patient with the media.
9) His entire life is dedicated to hockey!
10) He makes time for kids (hockey camps, practices, etc.).
11) Wherever Crosby is, the media is. He's like a real star! That's why we say "The Crosby Show"
12) He's the best investment for the next 10 years! Crosby's already proven that he's a better investment than shares on the stock market! Card prices have increased by 100 to 150% this past year and I expect them to increase again by another 60-75% this year!
13) He fills up every arena around the league!
14) I've only heard and read good comments about him as a person, both on and off the ice. No one has anything bad to say about him and that's the case since he's played with the Oceanic.
15) He always meets expectations! I expect at least 145 PTS this year if he stays healthy.
16) Crosby always improves. His stats keep on getting better with every passing year!
And THE most important reason…
17) HE ALWAYS WINS!
GO PENS!!!
Thanks to Dany for taking the time to answer my questions.
And remember, for the best selection of high-end Crosby items,