If I'm ever a Super Bowl-winning quarterback, I hope I never have two near-death experiences in the same offseason. Because I've seen what it's done to the perception of Ben Roethlisberger, and it's simply unreal.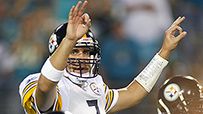 On June 18, I
wrote waaaay too many words
about Peter King's slap in the face to the Steelers QB in his "2007 Quarterback Rankings". He ranked Roethlisberger as the 17th-best QB in the NFL in 2007, behind such luminaries as Jon Kitna and Jay Cutler. Worst of all, he said his rankings took
winning
into consideration. Only three QBs in the league have won more playoff games than the 25-year-old Roethlisberger:
Favre, Manning, and Brady
. In the regular season, Roethlisberger was 14-0 as a
rookie
starter in 2004, and 9-3 in 2005. And two of those three losses were to Manning and Brady (the third was to Baltimore). It was a ridiculous argument.
The latest Roethlisberger diss comes from ESPN.com, in an article entitled, "
Cantonized
". It's a list of 50 players the WWL believes will be enshrined in Canton someday. Three Steelers made the cut, including #23, Alan Faneca; 31, Troy Polamalu; and 43, Hines Ward. Other than "the big three" QBs I mentioned above (Manning, Brady, Favre), other quarterback they believe will have a bust someday included Carson Palmer (38), Vince Young (39), and Matt Leinart (41). The list even had rookies who've never played a down in the NFL, such as Calvin Johnson (40) and Adrian Peterson (50).
Who was left off? I'm sure you know by now. And to safeguard themselves from columns exactly like this one, they had a response ready for
why they left Ben off their list
:
At first glance, it might seem preposterous to slam the Hall door in Big Ben's face so soon. But upon closer inspection, it makes sense. Roethlisberger proved to be an effective game manager in his first two pro seasons, and he has a Super Bowl ring to show for it. But his Super Bowl performance (9-for-21 with two picks) was dreadful, and then he regressed in 2006. Now the Steelers are losing personnel from their championship team, and nothing to this point suggests that Roethlisberger can carry an undermanned team on his shoulders to playoff success.
Notice something missing in this paragraph? How about "near fatal motorcycle accident", "appendicitis", and "serious concussion"? Or how about no mention whatsoever for Roethlisberger playing his best football in the 2005-06 playoffs? No, we'll just casually sweep that under the rug.
They categorize Ben as a "game manager", a backhanded compliment for a crap quarterback that can't help his team win games. While Roethlisberger did not have a great Super Bowl, he downed the aforementioned teams of Palmer AND Manning on their turf in the 2005-06 playoffs, in addition to beating a tough Denver team on the road. And he was a difference-maker.
ESPN would rather put their stock in Carson Palmer, a guy who's led his team to one winning season and two 8-8 seasons; Matt Leinart, who plays for the NFL version of the Pirates (perennially rebuilding...I know, THIS is the year!); and Vince Young, a running QB who could be the next Steve McNair...or the newest model of Kordell/Vick.
If that's not bad enough, they have Roethlisberger lumped in players who've accomplished nothing in the NFL on their list of players who missed their cut: Eli Manning, Tony Romo, Brady Quinn, Tony Romo, Jamarcus Russell, Vick, Mario Williams, etc.
This article isn't so much about what Peter King thinks or what ESPN.com thinks about Ben, because everyone's entitled to an opinion. This is more about how the country collectively seems to be so down on Roethlisberger. I can only hope that Ben reads or somehow hears about all the doubt lingering in the media. I feel like I've gone out on a limb in the offseason, because I seem to be in the minority of those who still believe in him. But somehow I don't think I'm crazy. When you consider what happened to him last year, I just can't imagine Palmer, Leinart, or anyone else having a great season after that. I simply feel that Ben gets zero respect for his accomplishments pre-accident. They're like ancient history. It's time to give Ben Roethlisberger some credit for what he's done in his short career. Tony Romo and Vince Young can only dream of such a level of success.